Table of Contents:
1. India, U.S. hold first maritime security dialogue
2. WB okays $625 mn for solar projects
3. China harps on consensus for India's NSG bid
1. Scientists crack pathway that makes brain tumour aggressive
2. Higher food inflation pushes WPI up
4. An IP policy with no innovation
2. Five key drivers of reducing poverty in India
1. The Business line:Education needs 'high impact' investors
2. The Economic Times:Goodbye FIPB, hello sectoral regulation
.
+++++++++++++++++++++++++++++++++++++++++++++++
Useful News Articles
A. GS1 Related
Nothing here for today folks!
B. GS2 Related
1. India, U.S. hold first maritime security dialogue
Topic: International Relations
Category: Indo-US Relations
Location: The Hindu
Key points:
India and the U.S. held the first round of discussions under the recently-constituted maritime security dialogue ( under the India-US Joint Strategic Vision for the Asia-Pacific and Indian Ocean Region) between officials of Defence and External Affairs ministries and their U.S. counterparts
Among the issues discussed were Asia-Pacific maritime challenges, naval cooperation, and multilateral engagement
The other initiatives agreed include the conclusion of a "white shipping" technical arrangement to improve data sharing on commercial shipping traffic and Navy-to-Navy discussions on submarine safety and anti-submarine warfare
2. WB okays $625 mn for solar projects
Topic: Governance
Category: Energy sector
Location: The Hindu
Key points:
The World Bank Board announced it had approved a loan worth $625 million for the government's initiative for rooftop solar power generation.
The Board also approved a co-financing loan of $120 million on concessional terms and a $5 million grant from the Climate Investment Fund's Clean Technology Fund
"The project will finance the installation of at least 400 MW of Grid Connected Rooftop Solar Photovoltaic (GRPV) across India," according to a statement from the World Bank."Despite energy shortages, and the high cost of backup supply, rooftop solar PV systems have not yet become widespread in India," according to the World Bank
3. China harps on consensus for India's NSG bid
Topic: International relations
Category: India-China Relations
Location: The Hindu
Key points:
The NSG has made serious political and technical standards with regard to accepting members. One compulsory standard is that the NSG members must be signatory states to the Non Proliferation Treaty (NPT) said China
Asking the U.S. to respect the efforts by China and India to resolve their boundary dispute peacefully, China said the two nations are wise enough to deal with it after the Pentagon accused Beijing of deploying more troops along the Sino-India borders
The U.S. military report also warned of increasing Chinese military presence in various parts of the world, particularly in Pakistan
C. GS3 Related
1. Scientists crack pathway that makes brain tumour aggressive
Topic: S &T
Category: Medicine
Location: The Hindu
Key points:
While a cure is still a long way off, scientists at the Indian Institute of Science (IISc) and the National Institute of Mental Health and Neurosciences (Nimhans) have found the pathway that makes the tumour cells more aggressive.
The team's study, published in a recent issue of the journal Neuro-Oncology, explains how IGFBP-2 (insulin-like growth factor binding protein 2), one of the proteins present in the extracellular fluids surrounding the cells, makes the tumour aggressive
IGFBP-2 makes the tumour aggressive by regulating the beta-catenin, which is shown to be very important for making tumour aggressive
Unlike IGFBP-2, which is present outside the cell, beta-catenin can shuttle in and out of the nucleus of the cell. When present inside, it influences protein production.
The researchers found that higher IGFBP-2 levels led to inactivation of another protein — GSK3, which impairs the degradation of beta-catenin inside the cell. Hence, beta-catenin can easily travel to the nucleus and induce production of new proteins that instruct the tumour cells to proliferate faster than normal, and start invading other tissues, an IISc release explained
Inhibiting IGFBP-2 could be a good therapeutic strategy
2. Higher food inflation pushes WPI up
Topic: Economy
Category: State of Indian Economy
Location: Business Standard
Key points:
The Wholesale Price Index (WPI) has risen to 0.34 per cent, for the first time since October 2014. This was led by higher food inflation especially in pulses, vegetables, and milk
Fuel inflation continued to fall, albeit at a slower pace, in April, while core inflation as measured by the CRISIL Core Inflation Indicator (CCII) rose to 1.82 per cent from 1.04 per cent earlier, driven by higher inflation in manufactured food products and beverages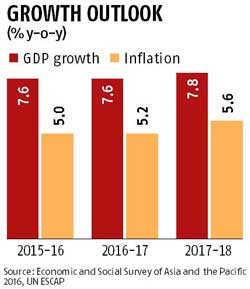 D. GS4 Related
E. Important Editorials: A Quick Glance
Topic: International Groupings
Category: NSG
Key points:
NSG membership has been a goal of India since the India-U.S. civil nuclear agreement was signed in 2008
Several major countries including the U.S., Russia, Germany, the U.K. and Australia have openly backed the bid, despite the fact that India is not a signatory to the NPT, widely considered to be a key criterion for NSG membership
 In 2015, India reached out to many other NSG members, including those such as Ireland and Sweden that are members of the pro-disarmament group, the New Agenda Coalition, and has traditionally been opposed to its admission
Thus the disappointment after the signal from Beijing last week  was hard-felt
However, this is not the end of the road for India's NSG ambitions
Much has to be done to bring China on board as was done to get India the NSG waiver in 2008
The government has to figure out how far it is willing to go to secure it
It will, first, have to reckon with the possibility that NSG members could object to an "India-specific" ruling, and that other non-NPT countries, including Pakistan and Israel, may also benefit from any flexibility that is shown in India's case
Second, there is a possibility that India could receive a "second class" membership, and not be considered a "nuclear weapons state" by the NSG
 The third, and most important, point is that membership of the NSG, a body set up specifically in response to India's nuclear test in 1974, will eventually require India to curtail its nuclear weapons programme. U.S. President Barack Obama's comments, made after the Nuclear Security Summit, that the nuclear arsenals of India and Pakistan are taking them in the "wrong direction", underscore this
 If India aims to be part of the elite NSG club, it must have a realistic idea of what the fee for full membership is, added to the diplomatic outreach required to win support from China. A full and transparent cost-benefit analysis is crucial
Topic: Environment
Category: Pollution Control
Key points:
After topping the list of cities with the most polluted air, Delhi's ranking has improved in the latest air quality assessment published by the World Health Organization
The top spot is now taken by Zabol, a city in Iran crippled by a vast disappeared wetland, dust storms, deforestation and desertification
But the problem of small particulate matter (PM) measuring 10 and 2.5 micrometres is still deep-rooted, and its health impact has been under official scrutiny only in recent years
Also, while Delhi has come to the 11th place for fine particulate matter pollution, many other cities in north India with a history of poor air quality are still high on the WHO list
This is unsurprising, as scientific studies point to distinct causative factors and atmospheric conditions in this part of the country that lead to very poor air quality
It is becoming clearer, for instance, that there is a higher risk of premature death from respiratory and cardiac conditions in several districts of Uttar Pradesh, West Bengal and Bihar, where living conditions are already difficult, and there is a large population suffering long-term exposure to PM and PM from a variety of sources, including household cooking
It is strongly quantified through research that air pollution increases the risk of death from chronic obstructive pulmonary disease, heart problems, lung cancer and other chronic ailments. This should prompt the Centre, which frames environmental law, to act speedily.
It has been known for long that the States along the Indo-Gangetic basin register higher levels of particulate matter pollution due to specific factors. Haryana, Punjab, Delhi and western Uttar Pradesh contribute a large part of the air pollution suffered by populations in the east too
A policy of mitigation should therefore aim to reduce the burning of solid cooking fuels and agricultural biomass, which takes place in the post-monsoon and winter seasons
This requires a coordinated approach involving the Centre and the States, and enlightened welfare policies relating to improved cooking stoves, solar stoves and cooking gas, low-cost heating facilities and affordable shelter. These measures would contribute to a reduction in the general burden of disease, and reduce the number of premature deaths linked to pollution
In fact, one government-funded study by IIT Delhi suggests that if India could meet its target for PM levels of 40 micrograms per cubic metre — which is not at all ambitious since the national average is about 37.3 — over 44,000 premature deaths could be prevented annually
It is important to curb the use of automotive fossil fuels, and promote public transport and non-motorised alternatives such as cycling and electric vehicles. Urbanisation also needs to become green, with eco-sensitive administrations providing paved surfaces, wetlands, parks and trees
Topic: Judiciary
Category: Principle of equality before law
Key points:
In an extraordinary order that reverses the fundamental constitutional guarantee of equal access to justice, the Supreme Court, late last month, directed parties (Star India and BCCI) to an ongoing civil litigation to each pay a fixed sum of money to enable them to have their cases heard, and potentially disposed of, at an early date
To impose costs on one of the parties at the end of a protracted litigation is common; it is meant, among other things, to act as a deterrent against litigants abusing the process and the system of the law
But to seek pre-deposits with a view to prioritising a certain kind of case over another, by granting early dates of hearing to those that are capable of paying huge sums of money, is simply staggering. It reinforces a scheme of classism that ought to have no place in any court of law, let alone the apex court of the land
Were this order to put in motion a convention of imposing deposits, it could quite conceivably lead to a situation where those parties with the deepest pockets alone would have their cases heard on priority
Were this order to put in motion a convention of imposing deposits, it could quite conceivably lead to a situation where those parties with the deepest pockets alone would have their cases heard on priority – providing equal access to justice inheres from this
Ensuring equal access to justice, as a practice note released by the United Nations Development Programme shows us, requires much more than improving an individual's access to courts and the guarantee of proper legal representation; it compels a definition of access to justice that partakes a necessity for just and equitable legal and judicial outcomes
4. An IP policy with no innovation
Topic:Governance
Category: National IP Policy
Key points:
The new National IP policy is flawed in terms of its one-sided view of IP as an end in itself
The policy fails to situate IP within the larger context of the innovation ecosystem, refusing to acknowledge that while IP could accelerate innovation in certain technology sectors, it impedes innovation in others
The entire edifice of the present IP policy is built on the flawed foundation of equating more IP with more innovation
The policy sounds almost militant when it proposes that despite our ancient "laudable" heritage where knowledge was freely and extensively shared, we must now make amends and convert each piece of our knowledge into an IP asset
It advocates that publicly funded scientists and professors must compulsorily convert all of their discoveries into IP assets, much before they have even written this up and published it in reputed science journals — and that their promotions be predicated on the number of IP applications made
We must encourage a plurality of approaches when it comes to IP and innovation; our scientists should be free to take this call on whether or not they wish to register IP. Doing so for the mere sake of it is stupid, quite apart from the fact that on an empirical cost-benefit analysis, most U.S. universities lose more money on IP registrations than they make through IP royalties.
The policy needs to be commended for taking note of our "informal" (rural) economy and the need to encourage the prolific creativity found within. Unfortunately, far from understanding the drivers of creativity and the modes of appropriation/sharing in this "shadow" economy, the policy leans towards the superimposition of a formal IP framework on this marginalised sector
Lastly, much in line with its powerful IP rights-centric approach, the policy recommends that the unauthorised copying of movies be criminalised. No doubt Bollywood requires some protection from pirates, but criminalising what is essentially a civil wrong (much like defamation) is tantamount to killing an ant with an elephant gun, not to mention the potential for abuse at the hands of our police
Indeed, the present policy could well be the classic poster child for IP formalism
Granted, India is lagging on several counts. When compared with its glorious past boasting pioneering innovations from the likes of Sushruta (the father of modern surgery) and Nagarjuna (metallurgy), India has hardly had any noticeable technological marvels in its recent history
But is the problem with the country's IP regime? Or does the malaise lie elsewhere? Could it be cultural, where parents put undue pressure on their children for that fat salaried job, as opposed to a risky entrepreneurial venture? The policy advocates that IP be taught in schools and colleges. But why? What we need in schools and colleges are courses on creativity, not on IP. Even if we lack resources to impart specific courses on creativity, let's at least ensure that we don't stand in the way of a natural flowering of creativity in our children. A truth tellingly captured by Mark Twain's sentiment: "I have never let my schooling interfere with my education."
Unfortunately, notwithstanding some of its praiseworthy proposals, such as expedited examination, an IP exchange and the proposal to encourage Corporate Social Responsibility funds into open innovation, this much-awaited IP policy is terribly short-sighted
Many decades ago, a two-member committee (headed by Justice N.R. Ayyangar) conceptualised a patent policy that formed the blueprint of the present patent regime. It was one that triggered the remarkable growth of our pharmaceutical industry, enabling it to earn the name "pharmacy of the world". It was a policy that was thoroughly researched, empirically validated and elegantly written in a little over a year
Topic: Environment
Category: Conservation
Key points:
With nations gathered in Bonn for the first round of post-Paris climate negotiations, India must consider where its interests lie and how it might best shape the post-Paris agenda
The Paris agreement neither replicates the 1992 UN Framework Convention on Climate Change nor is it guaranteed to end global climate change. It does not also cater to all of India's asks (or those of others) in the negotiations
It does, however, contain "hooks" and "place holders" to ensure that India can, if it so chooses, continue to shape the climate regime, for instance on the defining issue of equity
But to do this, it is critical, first, that we participate actively and thoughtfully in the post-Paris negotiations, using these hooks and place holders, and second, that we ratify the Paris agreement
The Paris agreement embodies a hybrid architecture combining "bottom-up" and "top-down" elements. Nationally determined mitigation and adaptation contributions comprise the "bottom-up" element and a system of oversight comprises the "top-down" element
States have autonomy in the form and stringency of their contributions. States are expected to ensure that their successive national contributions represent a progression from their previous ones, but the nature and extent of "progression" is nationally determined
These contributions are paired with an oversight system consisting of three components — a transparency system that ensures countries are doing what they agreed to do, a global stock-take process that periodically assesses collective progress towards the agreement's long-term goals, and a compliance system that facilitates compliance with the agreement
India has a compelling interest in having a rigorous oversight system. India and its economic growth are vulnerable to climate change. In the absence of a rigorous oversight system, India will be left with an imperfect method of ensuring that other countries are keeping their promises, the world as a whole is moving in the right direction, and countries are sharing the burden equitably
In relation to transparency, India needs a system that is rigorous yet tailored to its own capacity constraints. In relation to the global stock-take process, we need the consideration of equity. India could introduce benchmarks — qualitative and quantitative — in the global stock-take process
In assessing collective progress towards long-term goals, this would cast light on the relative sharing of responsibilities between parties. This is key for countries like India with limited historical responsibility for climate change, low per capita emissions, high energy poverty and much of our growth ahead of us
It is only if we participate thoughtfully in the post-Paris negotiations on the oversight system that we will have a system that strikes the right balance between rigour for all and flexibility for those who need it
India's ability to participate effectively in the post-Paris negotiations will be influenced by its approach to the ratification of the Paris agreement
Ratification of the Paris agreement, like its signature on April 22 by a record-breaking 175 countries, including India, signals a sense of ownership, commitment, good faith and continuing engagement
There is a gathering momentum towards the Paris agreement's early entry into force. Sixteen countries have ratified it, several others including Australia, Canada, China and the US have promised to ratify in 2016. Brazil and the EU have pledged to initiate domestic processes to do so
India has two choices. It could choose to ratify, engage and be part of the virtuous cycle of ever-increasing engagement, or it could choose to stall ratification, disengage and extract concessions in return for ratification
The latter approach will come at the cost of goodwill, and its benefits are unclear
2. Five key drivers of reducing poverty in India
Topic: Social Issues
Category: Poverty
Key points:
India is uniquely placed to drive global poverty reduction. It is home to the largest number of poor people in the world, as well as the largest number of people who have recently escaped poverty
Despite an emerging middle class, many of India's people are still vulnerable to falling back into poverty
India is home to 26% of the global extreme poor. This means that the world's ability to end extreme poverty by 2030 — an objective originally adopted by the World Bank and now a key element of the Sustainable Development Goals — hinges on India's ability to make strong and sustained inroads in reducing poverty
Following decades of lacklustre performance, growth accelerated in the 1980s and picked up steam after economic reforms began in earnest in the early 1990s
After 1991, per capita income grew nearly two-and-a-half times in real terms compared to the preceding three-and-a-half decades — from 1.8% per year to 4.3% per year. India is now among the fastest-growing economies in the world
The country is also home to the largest number of people who have escaped poverty in recent years, based on a poverty line set at $ 1.90 per person per day (in 2011 Purchasing Power Parity). Indeed, in contrast to the 1990s, the rate of decline in extreme poverty in India has not only outpaced the developing world as a whole, but also the middle- and lower middle-income countries as a group
That said, the poverty challenge in India remains broad, and sometimes contradictory. Even though there is an emerging middle class, many people who have escaped poverty are not yet economically secure, living precariously close to the poverty line
What's more, when the definition of poverty is expanded beyond what people consume to include other dimensions of well-being such as access to education, health care and basic infrastructure, poverty has a grip on a much larger proportion of India's people
Also, when we compare India to other countries, there is marked room for improvement. For example, even though India has grown rapidly, its growth has been less effective at reducing poverty than in some of India's middle-income peers such as China, Vietnam, Brazil and Turkey
India's performance on key non-monetary indicators of well-being such as child nutrition and improved sanitation facilities lags behind countries at similar stages of development. And estimates that look at the country as a whole can often mask very large differences in the standards of living among states.
What lessons do the past two decades offer for what it will take for the country to sustain progress and bring about deeper changes? Some of our recent research highlights five key requirements for sustainable poverty reduction and shared prosperity in India going forward:
Accelerating rural poverty reduction: With four out of every five of India's poor living in rural areas, progress will need to focus on the rural poor. In fact, rural India is not predominantly agricultural, and shares many of the economic conditions of smaller urban areas. Capitalizing on growing connectivity between rural and urban areas, and between the agriculture, industry and services sectors, has been effective in the past two decades and holds promise for the future
Creating more and better jobs: The road out of poverty in India has been built on the performance of the labour market, but also benefitted from rising transfers and remittances, and favourable demographics among other factors. Labour earnings have risen enough to move people out of poverty, but not into the middle class — more could be done. Future efforts will need to address job creation in more productive sectors, which has until now been tepid and has yielded few salaried jobs that offer stability and security.
Focusing on women and Scheduled Tribes: Two of the most worrying trends are the low participation of women in the labour market and the slow progress among Scheduled Tribes. India's women have been withdrawing from the labour force since 2005, and less than one-third of working-age women are now in the labour force. Scheduled Tribes started with the highest poverty rates of all of India's social groups, and have progressed more slowly than the rest. Both are at risk of being locked out of India's growth and prosperity.
Creating more 'good' locations: Where people live largely shapes their prospects in life. India's states continue to see large and growing differences in poverty levels and basic opportunities. More and more of India's poor are concentrated in the poorest states, and even within relatively prosperous states, certain pockets of deprivation persist where people are unable to share in the state's successes
Improving human development outcomes for the poor: This is central to improving their quality of life and income-earning opportunities. We cannot continue to assume that rapid economic growth will automatically translate into better human development outcomes. The recent past shows that some problems, such as undernutrition and open defecation, are endemic and not confined to the poor, and have not improved with economic growth
1. The Business line:Education needs 'high impact' investors
Topic: Social Issues
Category: Education
Key points:
The Indian education sector sees a combined expenditure of more than $ 100 billion annually
Yet, it receives a surprisingly small percentage of impact investments. Unitus Capital's India Impact Equity Investment Report 2013 estimates that equity investments made in education account for less than 3 per cent of share value among other investments.
This approximation seems abysmally low. Over 250 million children are currently enrolled in schools. In less than a decade, a substantial proportion of these children will comprise India's working age population projected to become one of the largest and youngest in the world.
This data points to the need for far greater, good quality and impactful education solutions that cater to all segments of society. Why are we not seeing impact investors whose objective is to invest in socially relevant products for the low-income population?
And why are education companies/social entrepreneurs not interested (in terms of number and influence) in designing and distributing products and services that cater to this segment of children?
Education enterprises and entrepreneurs who aim to provide products and services to government and affordable private schools face several challenges. Prime among them is limited access to government schools which is further complicated by drawn-out tender procurement processes, and long and unpredictable payment cycles
Affordable private schools (APS) pose another set of challenges. Run by various organisations these constitute a highly fragmented market. However, what they have in common is a limited ability to pay for anything additional to what they have already agreed to source at the start of their operations: RTE requirements that prescribe the inclusion of certain kinds of infrastructure which involve costs; and the absence of clear academic standards for grade-appropriate learning which complicates an education company's ability to gauge and offer the right kind of tools and services that could be impactful
When a company is able to circumvent these challenges it still needs to prove to schools that buy in to its pitch that its product or service has undeniable 'extra' value
But is it possible to create a clear value articulation for pedagogical products and services aimed at school children?
Evolving a set of common benchmarks would be the first step to inch closer to this goal. The aim should be to set absolute levels of age and grade-appropriate competencies so as to measure relative improvements in student learning levels and thereby assess investee impact
Reaching out to parents and giving them low cost options to receive updates about their wards' performance can be innovative. This could provide indirect incentives to APS to invest in good quality and impactful education solutions
The Economic Times: Goodbye FIPB, hello sectoral regulation
Topic: Social Issues
Category: Education
Key points:
The government's reported move to do away with the Foreign Investment Promotion Board (FIPB) makes eminent sense. The board was set up in early 1990s to have an extra check on foreign ownership sincesectoral rules weren't robust
Rightly, successive governments have put more sectors under the automatic route and set up sectoral regulators for thorough oversight
Robust regulation obviates the need for the FIPB. Already, more than 90% of foreign direct investment (FDI) is under the automatic route, and investors have to only inform the RBI
With a well-developed corporate sector, a sound legal framework and huge economic potential, India remains one of the most attractive FDI destinations. Making FDI approvals automatic would pay rich dividend
Ideally, the government should allow free foreign investment except in critical areas of national interest and sensitive sectors such as the media. Sectoral FDI caps, varying between 49% and 74% across sectors as diverse as insurance, defence projects and banking, have only led to a policy mess, opening up a profitable market for Indian businessman to become a passive partner of overseas companies wanting to set up shop in India as holders of economic interest owned by the foreign party
Removing caps and allowing majority control by foreign partners in sectors such as insurance is the way to go.
F. Concepts-in-News: Related Concepts to Revise/Learn:
FIPB
Grid connected Rooftop Solar photovoltaic
WB
WHO
Paris Agreement on Climate Change
IGFBP-2 (insulin-like growth factor binding protein 2),
NSG
NPT
WPI
National IP Policy
Purchasing Power Parity
Particulate Matter
G. Fun with Practice Questions 🙂
Question 1: 1.	Which of the following statement(s) is/are correct?
Purchasing Power Parity is determined in each country based on its relative cost of living and inflation rates
Purchasing power parity is used worldwide to compare the income levels in different countries
a) 1 only
b) 2 only
c) Both 1 and 2
d) Neither 1 nor 2
Question 2: Which of the following statement(s) is/are correct?
Particulate matter is the sum of all solid and liquid particles suspended in air many of which are hazardous
WHO designate airborne particulates a Group 1 carcinogen
a) 1 only
b) 2 only
c) Both 1 and 2
d) Neither 1 nor 2
Question 3: Which of the following statement(s) is/are correct?
The NSG was founded in response to the Indian nuclear test in 1974
NSG Rules forbid nuclear trade with a country which has not signed the Nuclear Non-Proliferation Treaty (NPT)
a) 1 only
b) 2 only
c) Both 1 and 2
d) Neither 1 nor 2
Question 4: Which of the following statement(s) is/are correct?
In India, wholesale price index is divided into three groups: Primary Articles, Fuel and Power and Manufactured Products.
Food Articles from the most weighted component of Primary Articles Group
The most weighted component of the Manufactured Products Group are Chemicals and Chemical products
a) 1 only
b) 1 and 2 only
c) All the Above
d) None of the Above
Question 5: Which of the following statement(s) is/are correct about Paris agreement on Climate Change?
The contribution that each individual country should make in order to achieve the worldwide goal of limiting increase in global temperature are determined by all countries individually and are called "nationally determined contributions" (NDCs)
The implementation of the agreement by all member countries together will be evaluated every 5 years, with the first evaluation in 2023
a) 1 only
b) 2 only
c) Both 1 and 2
d) Neither 1 nor 2
"Proper Current Affairs preparation is the key to success in the UPSC- Civil Services Examination. We have now launched a comprehensive 'Online Current Affairs Crash Course'.
Limited seats available. Click here to Know More."