In the results of UPSC CSE 2021, announced by the UPSC where women have secured the top three positions, Diksha Joshi hailing from Uttrakhand secured All India Rank 19th. After going through the rigorous journey of MBBS, where one has to study and work really hard, Diksha embarked on another incredibly arduous UPSC route again while still pursuing her internship at Doon Medical College. After four years of hard work and patience, and despite two consecutive failures, Diksha finally got what she desired. She passed India's most prestigious and toughest, the IAS exam and is set to become a part of the administration.
Here, in this article, we provide you with Diksha Joshi's background, preparation strategy, number of attempts, UPSC optional subject and more.
Diksha Joshi- Bio and Background
Family Background-
Diksha Joshi and her family are natives of Siloni village in Munakot block of Pithoragarh district, Uttarakhand. Her father Suresh Joshi is the state spokesperson of the Uttarakhand BJP. Her mother Geeta Joshi is a homemaker. According to Diksha, her family has been the pillar of support for Diksha in the entire journey of the UPSC. 
Expressing happiness on the success of their daughter, the family said that she would bring the benefit of her medical studies to the people along with the administrative service and as an IAS Officer she would work for the benefit of the people by giving her services with full devotion and efficiency.
Check IAS AIR 19 Diksha Joshi's Mock Interview with BYJU'S: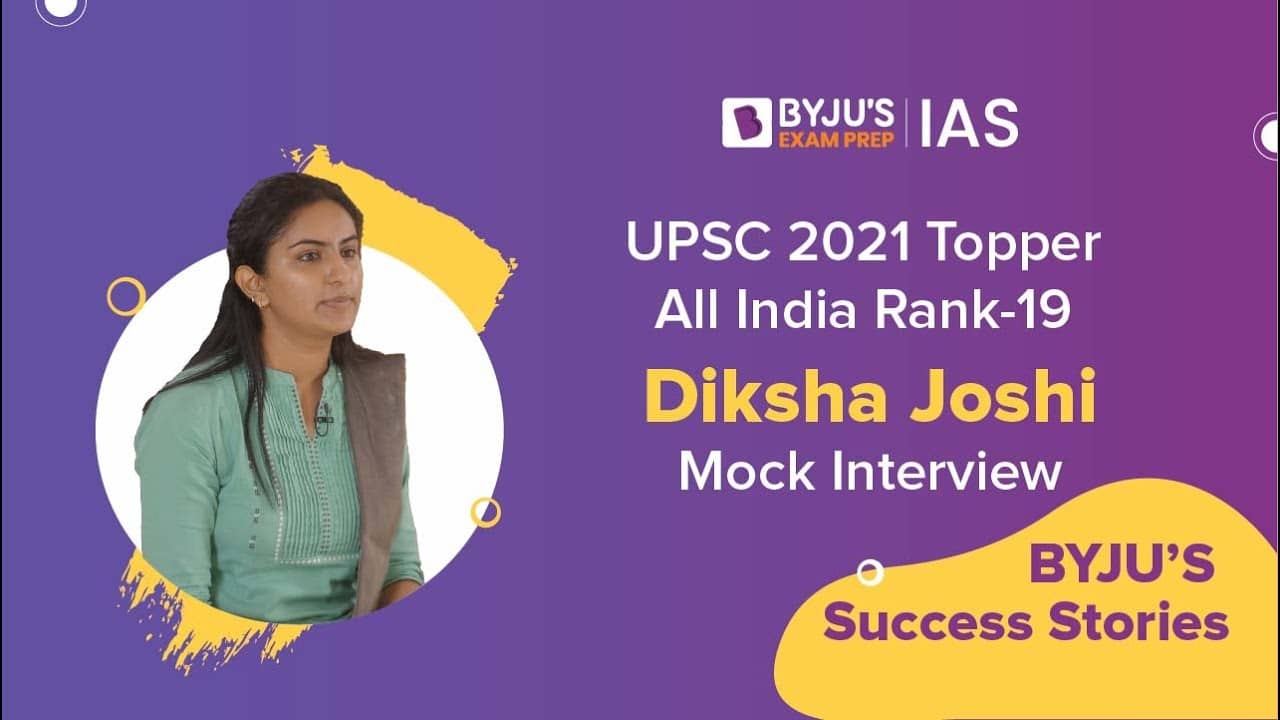 Educational Background- 
Diksha Joshi has been brilliant in her studies since childhood and has been a bright student.

She did her class 10 from Mallikarjun school in Pithoragarh and completed her schooling in Dehradun.

After school, she joined medical school and completed her MBBS at Himalayan Institute of Medical Sciences in Jolligrant of Dehradun district, Uttarakhand.

While doing her internship, she made up her mind to appear for the UPSC CSE exam.

Though she did not get success in the first two attempts, in the third attempt, Diksha cleared it with the top 19th rank. 
Optional Subject- 
Coming from a medical background, Diksha Joshi chose Medical Science as her optional subject. Check out the success rate of UPSC optional subjects on the given link.
On being asked about her ambitions Diksha said, "I was inclined towards Indian Administrative Service from my school days. But it was only during my medical studies that I realised that I should do this instead of the medical field, where I can give to society more. I thought that the health system can be strengthened by going to the administrative service. I started preparing for UPSC when was doing my internship."
Aspirants can go through the success stories of the top 5 IAS toppers on the links below –
Diksha Joshi: Preparation Strategy
Diksha has been preparing for civil services since 2019. This was her third attempt. Despite her failures in the first two attempts, she kept preparing for the exam with the same hard work and consistency. She scored a total of 1020 marks in the final UPSC list. The preparation strategy followed by Diksha Joshi is:
According to Diksha, she took coaching in her earlier attempts, but it was not of much help, so for this year's attempt, she relied on self-study.

She used to study for seven to eight hours a day. For this, she divided 24 hours into three parts, morning, day and evening. 

She set daily targets, weekly targets and monthly targets and sticks to the timetable.

She believes consistency is the key when preparing for the civil services examination.

She followed basic books like NCERTs and standard books for the exam and kept the resources limited.

As advice to the future aspirants, she says that as the exam time approaches, more emphasis should be placed on target-wise preparation for preliminary, mains and interviews.

She also emphasised on multiple revisions of the same topics for achieving success in the exam and becoming a UPSC Topper.

As a suggestion to the candidates appearing for the exam, Diksha said:
"My first suggestion would be that you should individualise your preparation. Rather than following someone else, you should be focused on your strength and weakness. Target those and prepare accordingly. The second would be, to have faith in whatever you are doing. These are the two primary suggestions that I have for UPSC aspirants,"
Start your IAS Exam preparation by understanding the UPSC Syllabus in-depth and planning your approach accordingly.
A few tips for UPSC exam preparation
Give yourself time

– set aside at least 1 year for the preparation of the UPSC exam and create an action plan on how to go about it.

Carefully Plan

: come up with a reasonable and doable study schedule in mind when you are to start your civil services preparation. Creating a plan, sticking to it and tracking the progress will help you achieve your goals smoothly.

Stick to fewer study materials

– refer to a limited number of books and study material to cover up your subjects. Out of the multiple resources readily available in the market, you need to pick the best and adhere to it for CSE exam preparation, otherwise, it will all confuse you.

Wise use of the Internet

– Although the internet is a fantastic source of knowledge and study material, its overuse can kill your concentration and can impact your study and performance.

Avoid being Anxious:

If a topic appears difficult and you become stuck, do not worry; think it through and you will gain an understanding of how to grasp that concept. It takes time to develop a preparation routine for Civil services exam preparation that works for you. 

Analyze your performance

: Identifying your individual strengths and weaknesses will assist in moulding the preparation effort in that direction. Work on your weakness and keep practising your strong subjects.

Avoid distractions

– get yourself a nice and quiet area to study so as to concentrate well.  concentration and understanding will greatly assist you in optimizing each level of preparation to meet your specific needs.

Practice and Revise

: Revision is key to landing up above all. Keep jotting down notes while preparing to help yourself easily go through all that you have learned again and again. For both the prelims as well as the mains, you must take mock practice examinations before taking the actual exam. This will assist you in gaining confidence and experience in appropriately phrasing your responses.

Current affairs

are perhaps the most important part of your UPSC preparation. So, give adequate focus to what is happening in the country and internationally.
Note: UPSC 2022 is approaching closer, supplement your preparation with the free Daily Video Analysis of The Hindu Newspaper by BYJU'S.
UPSC Topper 2021 Background

Name

Diksha Joshi

Civil Service Exam 

2021

All India Rank 

19

Number of Attempts

3

Optional Subject 

Medical Science

Native 

Pithoragarh, Uttrakhand

Education

MBBS, Himalayan Institute of Medical Sciences Dehradun
Note: You can make your current affairs revision robust using Free Monthly Magazines by BYJU'S.
All it takes is determination, unwavering focus and of course, a smart and guided approach to the IAS exam. Aspirants of UPSC 2023 can go through the following links for assistance in their preparation.