18 August 1945
The Japanese plane carrying Subhas Chandra Bose crashes in Taiwan leading to his death.
---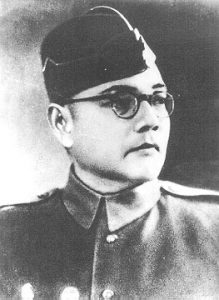 What happened?
On 18 August 1945, Netaji Subhas Chandra Bose boarded a Japanese bomber plane at Taipei, Taiwan (which was at that time Japanese-ruled Formosa) to escape to Manchuria. But the plane crashed just after take-off. Bose suffered third-degree burns and died in a hospital in Taiwan. But many Indians at that time refused to believe his death. Many commissions were established by the Indian government to investigate and find the truth about Bose's death or disappearance, but even today, a section of people refute claims of his death or its circumstances.
Background
Born in January 1897 in Cuttack (then the Bengal Province) to a wealthy family, Bose was a brilliant student.
He even cleared the Indian Civil Services (ICS) examination conducted in England at that time, but did not join the service as he did not want to serve the British government.
He returned to India in 1921 and joined the Indian National Congress.
He was imprisoned and sent to Mandalay in 1925 and released in 1927.
He became one of the young leaders of the party with an aggressive stance against colonialism. He stood for complete independence rather than just self-rule.
He was also not averse to the use of force against the British. He was the General Officer Commanding (GOC) of the Congress Volunteer Corps.
He took part in the civil disobedience movement and was again jailed.
He became the Mayor of Calcutta in 1930.
By 1938, he had become a national leader and was nominated for the post of the President of the Congress Party.
However, his ideals were radical and very different from Mahatma Gandhi's pacifist views and methods.
He was forced to resign from the party presidency owing to these differences.
He formed the All India Forward Bloc which became a faction within the Congress. It was an organisation with leftist leanings.
Bose had come to believe that an independent India would need an authoritative socialist government.
When the 2nd World War broke out, Bose escaped to Germany via Afghanistan and the Soviet Union. He had been placed under house arrest by the British government.
In Berlin, he founded the Free India Legion and the Azad Hind Radio.
In 1943, he left Germany for Japan after accepting the leadership of the Indian National Army which was predominantly formed of British Indian POWs.
The INA's strength increased with many expatriate civilian Indians joining it inspired by Bose's leadership. He proclaimed to the volunteers there, "Give me blood and I will give you freedom."
The INA declared war against Britain and the USA in October 1943. They allied with the Japanese in their offensive against the British in the North-East of India.
But they were forced to retreat or surrender after the British were able to get back Burma from the Japanese. Bose then returned to Singapore.
When Japan surrendered in 1945, Bose wished to go to Manchuria (in Japanese-occupied China) to contact the approaching Soviet troops. He took a Japanese bomber plane from Saigon in Vietnam to reach Manchuria. The plane made a stop at Taiwan for refuelling. But, soon after take-off, it crashed ultimately leading to Bose's death.
Inquiry Commissions
The news of Subhas Chandra Bose's death was met with scepticism in India. Many believed he would come back to gain independence for the country. Many inquiries were conducted by the government to find out what exactly happened on the fateful day of August 18, 1945.
In response to an RTI in May 2017, the government said that Netaji had died in the plane crash on 18 August 1945 in Taiwan. This was protested by many of Bose's family members.
Figgess Report 1946
Findings:
Bose died in a hospital near the Taihoku airport (Taiwan) on 18 August 1945 after his plane crashed.
He was cremated in Taihoku and his ashes were transferred to Tokyo.
Shah Nawaz Committee 1956/ Netaji Inquiry Committee
Findings:
Bose died in the plane crash on 18 August 1945 in Taihoku.
Khosla Commission 1970
Findings:
Concurs with the previous two reports on Bose's death.
Mukherjee Commission 2005
Findings:
This commission said that Bose's death could not be proved. It also said that the ashes which are claimed to be Bose's belong to another Japanese soldier. This report was submitted to the Parliament in 2006. It was rejected by the government.
Also on This Day 


---


1227: Death of Mongol conqueror Genghis Khan.
1800: Fort William College established in Calcutta by Lord Wellesley where thousands
of Sanskrit, Bengali, Persian, Arabic, Hindi and Urdu books were translated into English.
1900: Birth of Vijayalakshmi Pandit, the first woman President of the UN General Assembly.

See previous 'This Day in History' here.
Also See: