MS Excel is a commonly used Microsoft Office application. It is a spreadsheet program which is used to save and analyse numerical data.
In this article, we bring to you the important features of MS Excel, along with an overview of how to use the program, its benefits and other important elements. Few sample MS Excel question and answers are also given further below in this article for the reference of Government exam aspirants. 
To learn more about the other programs under Microsoft Office, visit the linked article.
Computer Awareness is an integral part of the syllabus for major competitive exams and questions from MS Excel may also be asked in these exams. To get the detailed syllabus for Computer Knowledge, candidates can visit the linked article. 
Looking for study material to ace the Computer Knowledge section in the various Government exams??
Refer to the following links and ace the upcoming competitive exams:
Basics of MS Excel
What is MS Excel?
MS Excel is a spreadsheet program where one can record data in the form of tables. It is easy to analyse data in an Excel spreadsheet. The image given below represents how an Excel spreadsheet looks like: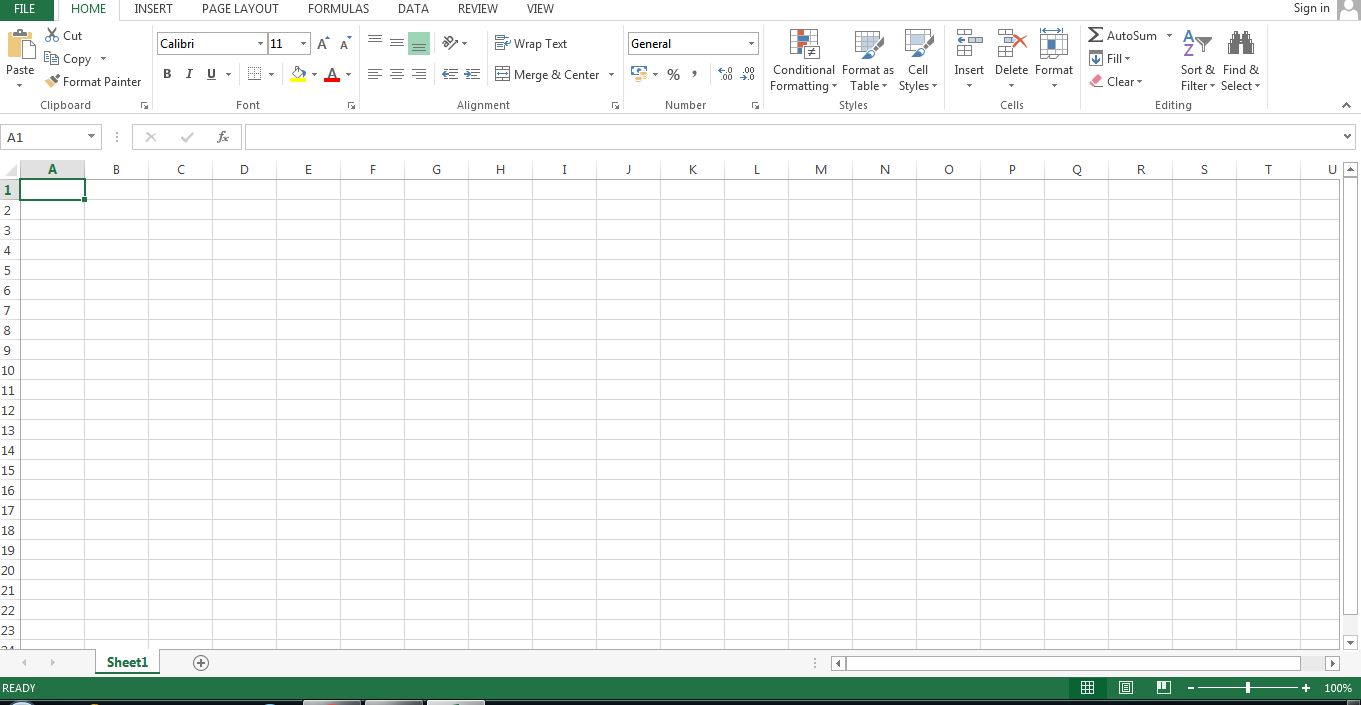 How to open MS Excel?
To open MS Excel on your computer, follow the steps given below:
Click on Start

Then All Programs

Next step is to click on MS Office

And then finally, choose the MS-Excel option
Alternatively, you can also click on the Start button and type MS Excel in the search option available.
What is a cell?
A spreadsheet is in the form of a table comprising rows and columns. The rectangular box at the intersection point between rows and columns forms a cell. Given below is an image of a cell: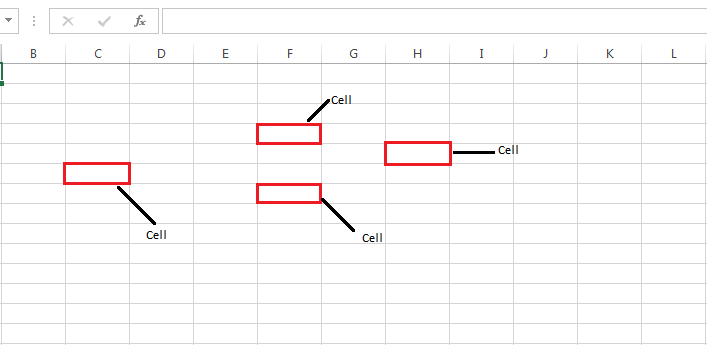 What is Cell Address?
The cell address is the name by which is cell can be addressed. For Example, if row 7 is interested in column G, then the cell address is G7. 
Features of MS Excel
Various editing and formatting can be done on an Excel spreadsheet. Discussed below are the various features of MS Excel. 
The image below shows the composition of features in MS Excel:

Home

Comprises options like font size, font styles, font colour, background colour, alignment, formatting options and styles, insertion and deletion of cells and editing options

Insert

Comprises of options like table format and style, inserting images and figures, adding graphs, charts and sparklines, header and footer option, equation and symbols

Page Layout

Themes, orientation and page setup options are available under the page layout option

Formulas

Since tables with a large amount of data can be created in MS excel, under this feature, you can add formulas to your table and get quicker solutions 

Data

Adding external data (from web), filtering options and data tools are available under this category

Review

Proofreading can be done for an excel sheet (like spell check) in the review category and a reader can add comments in this part 

View

Different views in which we want the spreadsheet to be displayed can be edited here. Options to zoom in and out and pane arrangement are available under this category
For those willing to learn more about MS Excel, can refer to the video given below and understand every small aspect of this program in detail.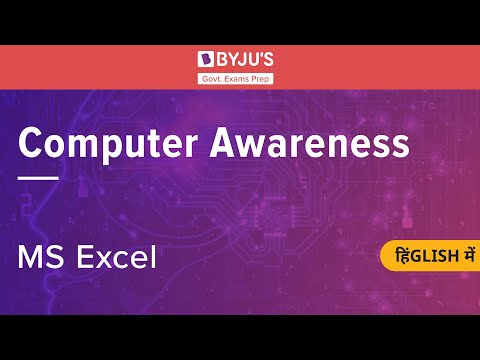 Benefits of Using MS Excel
MS Excel is widely used for various purposes because the data is easy to save, and information can be added and removed without any discomfort and less hard work.
Given below are a few important benefits of using MS Excel:
Easy To Store Data:

Since there is no limit to the amount of information that can be saved in a spreadsheet, MS Excel is widely used to save data or to analyse data. Filtering information in Excel is easy and convenient.

Easy To Recover Data:

If the information is written on a piece of paper, finding it may take longer, however, this is not the case with excel spreadsheets. Finding and recovering data is easy.

Application of Mathematical Formulas:

Doing calculations has become easier and less time taking with the formulas option in MS excel

More Secure:

These spreadsheets can be password secured in a laptop or personal computer and the probability of losing them is way lesser in comparison to data written in registers or piece of paper.

Data at One Place:

Earlier, data was to be kept in different files and registers when the paperwork was done. Now, this has become convenient as more than one worksheet can be added in a single MS Excel file.

Neater and Clearer Visibility of Information:

When the data is saved in the form of a table, analysing it becomes easier. Thus, information is a spreadsheet that is more readable and understandable.
Competitive exam aspirants must also be aware of other subjects which are a part of the Government exam syllabus. To review and analyse the same, refer to the links below:
MS Excel – Points To Remember
There are certain things which one must know with respect to MS Excel, its applications and usage:
An MS Excel file is saved with an extension of .xls

Companies with large staff and workers use MS Excel as saving employee information becomes easier

Excel spreadsheets are also used in hospitals where the information of patients can be saved more easily and can be removed conveniently once their medical history is cleared

The sheet on which you work is called a Worksheet

Multiple worksheets can be added in a single Excel file

This is a data processing application
Aspirants can also prepare themselves by regularly solving mock tests and question papers to analyse the standard of examination and excelling in them. Refer to the links below, for the same:
MS Excel Questions and Answers
Given below are a few sample questions based on MS Excel which will help candidates preparing for competitive exams to score more in the Computer Awareness section.
Q 1. The address that is obtained by the combination of the Row number and the Column alphabet is called ________.
Worksheet

Cell

Workbox

Cell Address

Column Address
Answer: (4) Cell Address
Q 2. Where is the option for page border given in the MS Excel spreadsheet?
Home

Insert

Format

View

Page Border cannot be added in excel worksheet
Answer: (5) Page Border cannot be added in excel worksheet
Q 3. Excel workbook is a collection of _______ and _______.
Worksheet and charts

Graphs and images

Sheets and images

Video and audio

None of the above
Answer: (1) Worksheet and charts
Q 4. What type of chart is useful for comparing values over categories?
Bar Graph

Column Chart

Pie Chart

Line Graph

Such charts cannot be created in Excel
Answer: (2) Column Chart
Q 5. There is an option to add comments in an Excel worksheet, what are the cells called in which comments can be added?
Cell Tip

Comment Tip

Smart Tip

Point Tip

Query Tip
Answer: (1) Cell Tip
Q 6. Which of the following symbols need to be added in the formula bar, before adding a formula?
*

$

%

+

=
Answer: (5) =
Q 7. Which keyboard key is used for Help in MS Excel?
ctrl+H

F2

F1

shift+H

Alt+ctrl+home
Answer: (3) F1
Q 8. How can you activate a cell in MS Excel?
By clicking on it

By pressing the arrow keys

By pressing Tab key

All of the above

None of the above
Answer: (4) All of the above
 The questions given above are just for candidate's reference and a similar question may be asked in the final exams. Aspirants can also get a detailed study plan at the Preparation Strategy for Competitive Exams page and based on it, can start their exam preparation. 
A topic like MS Excel is important for everyone using computer devices to know and learn as it can be extremely useful in the various fields regularly. 
One must understand the information given in this article as it will not only help with exam preparation but also help with a better understanding as to how the program must be used. 
For any further assistance related to the various exams conducted in the country, study material or preparation tips, you can turn to BYJU'S for help.