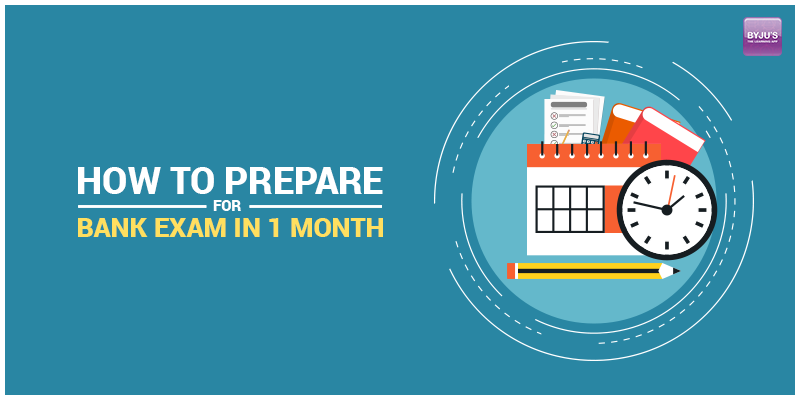 In this article, we'll take you effective tips and tricks to prepare for bank exams in a month.
Every year, multiple examinations are conducted to recruit employees for banks by different agencies across the country. A large number of candidates appear for these exams to secure jobs as Clerks, Accountants, Development Officers, Auditors, Associates, Sales and Marketing, Officers, Probationary Officers and Insurance Agents.
Bank Exam Papers are tough to crack and even more tough because of the competition. The number of aspirants has seen a massive increase in the past few years which has made the qualifying the bank exam papers tougher.
To explore other bank exams, check at the linked article.
Aspirants need to clear one of the following bank exams to secure a job in the banking sector:
To learn about other Govt Exams, check at the linked article.
These examinations are highly competitive and each follows a set exam pattern.
In this article, we will discuss some strategies for Bank Exam Preparation in 1 month.
Bank Exam papers are conducted annually and aspirants across the country await the application process to start for recruitment to various banking organisations. This article shall help all aspirants who are willing to appear for the different bank exam papers this year to prepare themselves well enough to qualify the exam with one month of preparation.

Bank Exam Preparation Tips
The following tips will be helpful while preparing for any bank exam 2023:
Analyse the bank exams syllabus: Candidates have to be fully aware of the bank exams syllabus and the bank exam pattern they wish to apply for. One should understand the topics included, pattern of questions, easier topics and the difficulty level of questions from each paper which can help the candidate to prepare in an organized way.
Identify Strong and Weak Areas of the Syllabus: After analyzing the bank exam syllabus the candidates should identify strong and weak areas within the first week. More time and attention should be devoted to improving weak areas and retaining strong ones.
To know more about IBPS Books, check at the linked article.
Prepare a Weekly study schedule: Candidates should chart out a study schedule for one week and follow that diligently. After completing the schedule for the first week, the candidate must prepare another schedule for the next week. This should be according to the strengths and weaknesses identified during the previous week.
The candidate should continue this until the last week of the month and they should make sure that the syllabus is covered thoroughly. Revision and mock tests should be completed during the last week.
To know about various SBI exams, check at the linked article.
Create a fixed routine: Candidates should divide their time for all the papers according to the difficulty level of the topic. By giving time to each subject a candidate can know in which topic they can score more.
Candidates should dedicate at least 1 hour to each subject. The routine for each day should be fixed to ensure every topic is covered. After covering each subject, candidates should practice with previous years' papers for at least an hour at the end of the day.
To explore more about SBI Syllabus, check at the linked article.
Practice Mock tests and previous year's questions: Candidates should practice as many mock papers as they can after preparing each subject. This will give valuable practice as the exam is fast-paced and includes negative marking.
Practising previous year's bank exams question papers can also give an idea to the candidate about the question pattern and difficulty level of questions from each section.
Preparation for bank exams is incomplete if the candidate is not aware about the exam pattern and syllabus. Thus to understand the standard of questions asked and types of questions, one must solve mock tests and previous year question papers to prepare for bank exam papers. Candidates can refer to the below-mentioned links for the same:
Focus on Quantitative Aptitude and Reasoning: Many candidates concentrate on English and General Awareness during the final days before the examination as these are the easiest to prepare. While a certain level of preparation is required for these, candidates must focus on preparing quantitative aptitude for IBPS and other bank exams.
The Reasoning section is another high scoring area that should not be neglected. Preparing well for these subjects is the key to clearing the high cut off marks associated with bank exams.
To get completely prepared within one month of preparation is a challenge for candidates. However, to qualify the bank exam paper, an aspirant needs to put in a lot of effort and proper preparation schedule must be followed.
Candidates preparing for bank exam papers can get the detailed bank exam syllabus at the linked article. It comprises section-wise syllabus for all bank exams.
Important Bank/Govt Information:
Important points to remember to be able to prepare for bank entrance in one month:
Candidates should not divert attention from their goal and concentrate only on exam preparation.
Candidates should follow a set time table diligently.
Candidates should focus more on the weak sections and practice more mock tests on it.
Candidates should solve previous years' bank papers and topic wise mock tests at regular intervals.
Aspirants should revise all the topics included in the syllabus every day and should make a habit of reading the newspaper daily.
To explore more about RBI Exam, check at the linked article.
The strategy outlined above will definitely allow aspirants to clear bank exams after a month of preparation. The key elements of the strategy are discipline, adequate focus on each topic and constant practice. Candidates should gather good study material such as IBPS books, previous years question papers and notes. They should also keep the exam notification and admit cards handy.
You can check BYJU'S content for the latest notifications, study material and strategies for bank exam papers preparation.