Table of Contents:
2. To revive an old friendship
3. Mission 'SAARC minus Pakistan'
1. Union Cabinet approves ratification of climate deal
2. '94.4% households have bank accounts'
1. Trilateral Meet between India, Afghanistan and Iran to Take Chabahar Agreement Further
.
+++++++++++++++++++++++++++++++++++++++++++++++
Useful News Articles
A. GS1 Related
Nothing here today folks!
B. GS2 Related
Category: International Relations
Topic:  Regional Groupings
Key Points:
India has decided to pull out of the SAARC summit in Islamabad this November
Afghanistan, Bhutan and Bangladesh have also decided to follow suit
With one-fifth of the world's population, South Asia is home to two-fifths of the world's poor
It has abysmally low intra-regional trade
The founding principle was that together South Asia had a better chance of fighting its shared ills, an idea that held the group together for decades in the face of intermittent regional tensions.
This is not the first time that a SAARC summit has been postponed.
Given the prevailing environment of deep mistrust and tension, it is unlikely that the summit will be rescheduled to take place in the near future
This is something that will cause serious damage to the multilateral process and raise even more questions about the future and relevance of SAARC
Category: International Relations
Topic:  India- Russia
Key Points:
The Russian Embassy announced that their first-ever joint military exercises with Pakistan, that were initially to be held in the sensitive Gilgit-Baltistan area this week, would be shifted with due respect to Indian sensitivities
India and Russia
Under President Vladimir Putin, Russia has shown assertiveness in international affairs
It retook the province of Crimea that it had gifted Ukraine in 1954 due to (Soviet) historical reasons
This invited unilateral sanctions on Russia from the U.S. and the European Union
Demonised by the West, Russia has become a strategic partner of China and they have significant convergence of interests
India as an emerging power has developed a strategic partnership with the U.S
India has opened up to the U.S., France, Israel, all of whom are gradually edging out the Russians in some sectors
Russia-India trade has not grown to great heights despite the encouragement of both states
Yet India has been supportive of Russian positions and has a careful and calibrated response to all Russian actions — in Chechnya, Syria, Ukraine and elsewhere, India has supported Russia
The Russians, on their part, have dutifully backed the Indian position on Kashmir
Both have a partnership in energy
Yet a Russia dependent on arms and energy exports is constantly looking for new markets and Pakistan is a potential one
Groupings:
India and Russia are engaged in several multilateral efforts that are greatly favoured by Russia such as the BRICS and the Shanghai Cooperation Organisation
Russia had proposed a Russia-India-China (RIC) forum. India is hesitant about this because of the unresolved issues with China
Conclusion
India has to fix its domestic issues to further social cohesion and make special efforts to build bridges between communities
India's domestic politics has to move towards inclusive democracy, non-militarism, rights and the rule of law
This will give it an edge in the international system
India and Russia need to be active strategic and economic allies and both will have to make an effort for this
3. 
Mission 'SAARC minus Pakistan'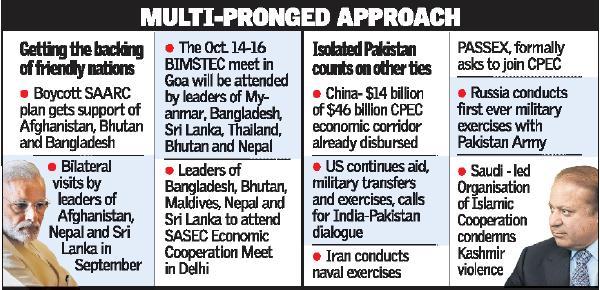 Pakistan's line of action
Pakistan continues to receive support from several other countries outside of the SAARC, most notably China, and also has a new relationship with Russia that conducted its first-ever military exercises in Pakistan
Iran too sent four naval warships to the Karachi port to participate in a Passage exercise (PASSEX) this week
Conclusion
Resuming dialogue with Pakistan now seems as remote as the rescheduling of the 19th SAARC summit in Islamabad any time soon
C. GS3 Related
1.
Union Cabinet approves ratification of climate deal
Category: Environment
Topic:  Climate Change
Key Points: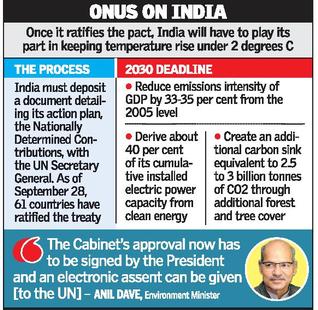 There are two conditions for the Paris treaty to come into effect from 2020
1. at least 55 countries have to accept and ratify it
2. at least as many countries responsible for at least 55 per cent of the world's pollution must be covered
As of September 28, 61 countries had ratified it and 47.79 per cent of the pollution target had been met
With India, which is responsible for 5.8 per cent of global greenhouse gas emissions, ratifying the deal, the Paris agreement would still be short of the 55 per cent target
2.
'94.4% households have bank accounts'
Category: Growth and Development
Topic:  Inclusive Growth
Key Points:
According to the Labour Bureau data, almost every household in the country is a part of the banking system, mainly due to government's financial inclusion plans
Around 94.4 per cent households had a saving bank accounts in 2015-16, results of the Fifth Annual Employment-Unemployment Survey revealed
While 93.4 per cent households in rural areas had a bank account, 96.8 houses had a savings bank account in the urban parts
In Daman and Diu and Lakshwadeep, all the households surveyed had saving bank accounts
Banking penetration was particularly low in north-eastern states
This was followed by a comparatively low coverage in the States of West Bengal, Karnataka and Mizoram 
Reason
Government of India's recent initiatives to enhance the financial inclusion and accessibility of financial institutions (Pradhan Mantri Jan Dhan Yojana and Pradhan Mantri Micro Units Development and Refinance Agency (Mudra) Yojana) may have translated into entering of more population in the ambit of formal financial activities," according to the report
D. GS4 Related
E. Important Editorials: A Quick Glance
PIB:
1.
Trilateral Meet between India, Afghanistan and Iran to Take Chabahar Agreement Further
Category: International Relations
Topic: Agreements
Key Points:
During the meeting the Ministers reiterated the importance of Chabahar as a hub for regional connectivity and their commitment to work towards this objective
It was decided to organize a connectivity event involving all stakeholders at Chabahar within two months to increase awareness about the new opportunities offered by Chabahar Port
It was decided to evolve protocols related to transport and transit, ports, customs procedures and consular affairs
Development of Ports, Road and Rail connectivity will open up new opportunities leading to new jobs and prosperity in all three countries
Trade is recognized as driving economic growth and development
The implementation of the Agreement would provide the eco-system for the private sector to seize the business opportunities emerging due to substantial reduction of logistic costs for trade among the three countries
F. Concepts-in-News: Related Concepts to Revise/Learn:
India – Pakistan
India – Russia
Paris Climate Summit
INDC targets
Chabahar Port
Financial Inclusion
G. BILLS/ACTS/SCHEMES/ORGS IN NEWS
H. Fun with Practice Questions 🙂
Question 1: Which of the following is not a part of both SAARC and BIMSTEC?
a) Pakistan
b) Maldives
c) Myanmar
d) Vietnam
Question 2: Which of the following is/are true regarding the JAM trinity
Pahal scheme directly transfers LPG subsidies into customers' bank accounts
JAM includes Jan dhan and Aadhar only
a) Only 1
b) Only 2
c) Both 1 and 2
d) Neither 1 nor 2
Question 3: Which of the following statement/s is are true?
The port of Chabahar is located in southeastern Iran in the Gulf of Hormuz
It is the only Iranian port with direct access to the ocean
a) Only 1
b) Only 2
c) Both 1 and 2
d) Neither 1 nor 2
Question 4: Which of the following countries does the river Indus pass through?
a) Tibet
b) Nepal
c) Pakistan
d) Both a and c
Question 5: Which of the following is one of the INDC's of India?
India to reduce the Emissions Intensity of its GDP by 33 to 35 Per Cent by 2030 from 2005 Level
India to create additional Carbon Sink of 2.5 to 3 Billion Tonnes of Co2 Equivalent through Additional Forest and Tree Cover by 2030
a) Only 1
b) Only 2
c) Both 2 and 2
d) Neither 1 nor 2
"Proper Current Affairs preparation is the key to success in the UPSC- Civil Services Examination. We have now launched a comprehensive 'Online Current Affairs Crash Course'.
Limited seats available. Click here to Know More."