Table of Contents:
1. Aranmula's snakeboat regatta
1. Congress loses Arunachal Pradesh
2. Delhi HC says Copying books for teaching is not copyright violation
3. Pakistan constructing new nuclear reprocessing site
4. BRICS (Brazil, Russia, India, China and South Africa) Environment Ministers meet –
1. Cassini's final observation of Saturn
2. Task force to evolve steps to boost India's innovation ecosystem
3. Micro Finance institutions growth analysis
4. Global reinsurers may start operations in 2017
1. Moving towards a National health policy
.
+++++++++++++++++++++++++++++++++++++++++++++++
Useful News Articles
A. GS1 Related
Category: Indian culture
Topic: Art and culture
Key Points:
The countdown has begun for the Uthrittathi Vallamkali (snakeboat regatta) to be held in the heritage village of Aranmula located on the banks of river Pampa. The snakeboat pageantry is organized by the Palliyoda Seva Sanghom.
Unlike the Nehru Trophy boat race in Alappuzha, the ceremonial procession is more important for the Uthrittathi Vallamkali, which is held in connection with the anniversary of the idol installation at the centuries-old Sree Parthasarathy Temple.
B. GS2 Related
Category: State Politics
T opic: Arunachal Pradesh
Key Points: 
Politics took a U-turn in the Eastern most state – Arunachal Pradesh when 43 of the 44 Congress MLAs, including Chief Minister Pema Khandu, joined the People's Party of Arunachal (PPA), a part of the North-East Democratic Alliance (NEDA) – a BJP-led front. Just two months ago, Mr. Khandu and his group of Congress rebels had deserted the PPA and returned to the Congress to form the government. Mr. Khandu justified the decision, saying the State lacked resources hence they had moved to join the PPA.
Khandu became the Chief Minister in July 2016 replacing Nabam Tuki, who in turn had replaced Kalikho Pul after the Supreme Court reinstated the Tuki government. People's Party of Arunachal (PPA) was formed by Kalikho Pul and his supporters during the four-and-a-half month tenure. Later they joined the NEDA. The 60-member State Assembly of Arunachal Pradesh has an effective strength of 57. The status of two MLAs is currently pending with the Speaker following contentions that they were wrongly disqualified. Another seat fell vacant when an MLA allegedly committed suicide in August, 2016.
Immediately after losing its government in the State, the Congress dubbed the new dispensation an illegitimate child of the BJP and blamed the BJP.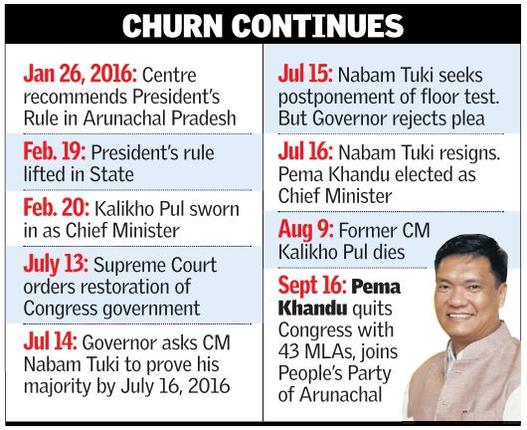 Category: Judiciary
Topic:  Copyright
Key Points:
The Delhi High Court dismissed the suit initiated by the publishing majors, which had sued Delhi University and Rameshwari Photocopying Services, a kiosk inside Delhi School of Economics and held that the photocopying of course packs prepared by Delhi University comprising portions from books published by Oxford University Press, Cambridge University Press and Taylor & Francis did not amount to infringement of copyright.
The Judge said "Copyright, especially in literary works, is thus not an inevitable, divine, or natural right that confers on authors the absolute ownership of their creations. It is designed rather to stimulate activity and progress in the arts for the intellectual enrichment of the public. Copyright is intended to increase and not to impede the harvest of knowledge. It is intended to motivate the creative activity of authors and inventors in order to benefit the public".
Overview:
Copyright – It is a legal right created by the law of a country that grants the creator of original work exclusive rights for its use and distribution. Copyright is a form of intellectual property, applicable to certain forms of creative work like literary work, books, composition of music, drama… It is mentioned in WTO's TRIPS (Trade related Intellectual Property rights system).
Copyright infringement is the use of works protected by copyright law without permission, infringing certain exclusive rights granted to the copyright holder, such as the right to reproduce, distribute, display or perform the protected work, or to make derivative works.
Category: International Relations    
Topic:  Effect of policies and politics of developed and developing countries 
Key Points:
Pakistan, which is already suspected to be expanding its nuclear weapons stockpile faster than any other nation, may be rapidly constructing a reprocessing site for a new centrifuge within the Khan Research Laboratories (KRL) in Kahuta, according to commercial satellite imagery taken by Airbus Defence & Space on September 28, 2015, and then again on April 18, 2016. The imagery shows the progress of the construction of a possible new uranium enrichment complex.
The report of covert nuclear weapons development activity in Pakistan comes in the wake of a long series of such observations made in the recent years. In 2015, a report from the Institute for Science and International Security (ISIS), a think tank in the U.S., said that Pakistan may be accelerating the weaponisation of spent nuclear fuel through its plutonium reprocessing plant at Chashma in Punjab. The new report says that in addition to being located within the KRL, a known centrifuge facility, the new building shares similarities with known centrifuge facility structures built by the URENCO enrichment consortium in Capenhurst (in the UK), Almelo (in the Netherlands) and Gronau (in Germany).
BRICS (Brazil, Russia, India, China and South Africa) Environment Ministers meet –
Category: Multilateral groupings
Topic:  BRICS
Key Points:
At the BRICS environment ministers meeting in Goa on global climate change and other environment issues the group stated that there was now a wider understanding that there is something wrong because of a larger issue of climate change. The Environment Ministers of the 5 countries had agreed on a Memorandum of Understanding and setting up of a joint working group institutionalising their mutual cooperation on diverse environment related issues.
India and China stated that the rapid melting of glaciers in the Himalayan ranges was a major concern. Both the nations were concerned about the degradation of the world's highest mountain range.
India and china recognized the areas for mutual cooperation – abatement and control of air and water pollution, efficient management of liquid and solid waste, climate change and conservation of biodiversity. Issues related to air, industrial pollution, agriculture, bio-diversity and the effect of climate change on it were primarily discussed.
Note – Choices made by BRICS countries have global significance as the member countries account for 41.6 per cent of global population, 29.31 per cent of total world area and about 22 per cent of world's total Gross Domestic Product.
C. GS3 Related
Category: Science and Technology     
Topic:  Space
Key Points:
NASA's Cassini spacecraft has entered the final year of its epic voyage during which it will make the closest-ever observations of the planet after studying Saturn, its rings and moons for more than 12 years. The conclusion of the historic scientific odyssey is planned in September, 2016.
NASA's scientists said beginning November 30, 2016 – Cassini's orbit will send the spacecraft just past the outer edge of the main rings. These orbits, totally 20, are called the F-ring orbits. Cassini will approach to within 7,800 kilometres of the centre of the narrow F- ring, with its peculiar braided structure. During the F-ring orbits the mission is expected to see the rings, along with the small moons and other structures embedded in them, as never before.
Cassini's final phase – Grand Finale begins in earnest in April, 2016. A close flyby of Saturn's giant moon Titan will reshape the spacecraft's orbit so that it passes through the gap between Saturn and the rings, an unexplored space only about 2,400 kilometres wide.
Category: Economy
Topic: Innovation and growth
Key Points:
The Department of Industrial Policy & Promotion (DIPP) – a part of the Union ministry of commerce has decided to set up a Task Force on Innovation. The task force comprises of members from the industry and the government. The Cell for intellectual property rights (IPR) Promotion and Management and the DIPP has invited ideas and suggestions from the public.
Functions: The task force recognizes India's potential to reach great heights in innovation. It will assess India's position as an innovative country, suggest measures to enhance the innovation eco-system and thus improve the country's ranking in the Global Innovation Index (GII). India's ranking in GII-2016 raised 15 places to 66th position.
In the GII 2016, India retained the top rank in Information and Communication Technology Service Export. India is the top-ranked economy in Central and Southern Asia, and shows particular strengths in tertiary education and research & development (R&D), including global R&D intensive firms, the quality of its universities and scientific publications. India ranks second on innovation quality amongst middle-income economies. As per the report, "India is a good example of how policy is improving the innovation environment". India moved up across all indicators within the Knowledge Absorption sub-pillar. It has also recorded a good performance in the GII model's newly incorporated research talent in business enterprise, where it ranks 31st.
Category: Economy     
Topic:  Micro finance institutions
Key Points:
According to Bharat Microfinance Report 2016, an annual report by Sa-Dhan, the self-regulatory body for MFIs – since 2015 microfinance institutions (MFIs) has seen their business grow faster in urban India than in rural.
Major findings of the report
MFI loans are being put to increasingly productive uses with a higher proportion of them going towards income generation than before.
According to the report, in 2016, total loan amount disbursed with respect to MFI's increased by Rs.13,433 crore over 2015, there is a growth of 23 per cent where amount increased in rural areas by 14 per cent and in urban areas by 27 per cent.
The report also found that 94 per cent of the loans disbursed in 2015-16 were used for income-generating purposes, up from 80 per cent in the previous year.
In 2011, RBI regulation stipulated that a minimum of 70 per cent of the MFI loans are to be deployed for income generating activities.
Analysis of the loan portfolio held by reporting MFIs for 2014-15 and 2015-16 shows that the proportion of income generation loan to non income generation loan is 94:06.
Within the income-generating loans, the report found that the largest proportion – 39 per cent went to the animal husbandry sector, followed by 29 per cent to the trading & small business category. Agriculture received 15 per cent of the loans.
Category: Economy     
Topic:  Insurance
Key Points:
Insurance Regulatory and Development Authority of India (IRDA) expects global reinsurers, who have applied for a licence, to start operations by early In the Insurance Act, IRDA have allowed foreign re-insurers to open their branches in the country. Only state-owned reinsurer GIC Re is fully operational within the country. Some of the global re-insurers that have approached the insurance regulator for a licence to open their branches in the country are Munich Re, Swiss Re, SCOR, Hanover Re, and XL Catlin, among others.
Seeking to attract more foreign investment, the government in March, 2016 had relaxed FDI norms for the insurance sector by permitting overseas companies to buy 49 per cent stake in domestic insurers without prior approval.
D. GS4 Related
E. Important Editorials: A Quick Glance
The Hindu
Category: National programs and policies
Topic:  National health policy
The Supreme Court's order directing the Centre to ask States to end the oppressive practice of sterilising women in large camps is a timely reminder that the country must urgently adopt a rights-based health policy. Many course correction measures have been ordered by the court in the Devika Biswas public interest case, and if they are implemented vigorously, they can greatly improve women's welfare. Civil society can effectively monitor sterilisation activity, if, as the court has directed, the list of approved doctors at the State and regional levels and members of quality assurance committees, and details of compensation claims are publicised on the Internet. At the same time, compensation for losses, including deaths, should be raised substantially. The larger question is that of the fairness of promoting permanent contraception, often for young women, who are unable to exercise their reproductive rights due to social and economic factors. Last year, the Population Division of the UN took note of the extraordinary levels of sterilisations resorted to in India – 65 per cent of all contraceptive methods and pointed to a potential mismatch between what is being offered and what women would like, which is to delay or space out births. Unthinking resort to tubectomies for population control also ignores the evidence from some developed States in India that women's empowerment through education and employment brings down fertility, without sacrificing choice.
Ensuring the safety of women who undergo a tubectomy is of immediate concern, and the Centre should give rule-based authority to the Supreme Court's directions. A significant number of women have died due to the procedure during the past three years. Every death due to family planning surgery is one too many, and the State concerned must be called to account. In the case of Madhya Pradesh, Maharashtra, Rajasthan and Kerala, which did not take the question of mismanagement in sterilisation camps raised in the petition seriously, the court has acted decisively and called for monitoring and issue of appropriate orders by the respective High Courts. Such action is wholly welcome, because it reinforces the idea of the right to health being inseparable from the right to life. This is the message that the Centre must take from the judgment, as it works on a national policy for health. Empowerment of women through full opportunity in education and employment, and access to all contraception options, should be central to national policies. Offering financial incentives and subjecting women to permanent contraceptives is unacceptable.
F. Concepts-in-News: Related Concepts to Revise/Learn:
President's rule – Article 356 and 365
TRIPS – Copyright law
BRICS
Nuclear fuel re-processing
Insurance sector in India
Saturn and Cassini spacecraft
Microfinance in India
G. BILLS/ACTS/SCHEMES/ORGS IN NEWS
| | |
| --- | --- |
| BILLS/ACTS/SCHEMES/ORGS IN NEWS | |
| BRICS | |
H. Fun with Practice Questions 🙂
Question 1: Which is the biggest natural satellite of Saturn?
a) Titanb) Miranda
c) Europa
d) Gannymede
Question 2: The famous Nehru Trophy boat race in Alappuzha is held annually on –
a) National waterway 2b) National waterway 3
c) National waterway 1
d) None of these
Question 3: Which of the following pairs of States of India indicates the eastern most and Western most State?
a) Assam and Rajasthan
b) Arunachal Pradesh and Rajasthan
c) Assam and Gujarat
d) Arunachal Pradesh and Gujarat
Question 4: Which of the following statements are correct regarding the NEW- DEVELOPMENT BANK of  BRICS ?
i) The idea was mooted at 2012 New- Delhi BRICS Summit.
ii) All 5 Nations do not have equal share, voting rights.
iii) China & Russia have VETO Powers.
iv) Its Head quarters is at SHANGAI,CHINA
a) i) & ii)
b) i) ii) & iii)
c) i) & iv)
d) All are right.
Question 5: Which of the following articles in the Indian constitution are related to the Presidents' rule (State emergency)?
a) Article 356b) Article 365
c) Both (a) and (b)
d) Neither (a) nor (b)
"Proper Current Affairs preparation is the key to success in the UPSC- Civil Services Examination. We have now launched a comprehensive 'Online Current Affairs Crash Course'.
Limited seats available. Click here to Know More."