Table of Contents:
1. Supreme court's verdict on Singur case
2. President Dilma Rousseff impeached by Brazil's Senate
3. India silent on crisis in Maldives
4. 463 West Bank settlement homes approved by Israel
1. Centre okays Permanent residency to FDI investors
2. GDP growth slows to 7.1% in first quarter of 2016-17
3. Pollution made Gangetic dolphins blind
4. Southern Bird Wing to be named Karnataka's 'State butterfly'
.
+++++++++++++++++++++++++++++++++++++++++++++++
Useful News Articles
A. GS1 Related
B. GS2 Related
Category: Polity and Governance
Topic:   Government Interventions, Judiciary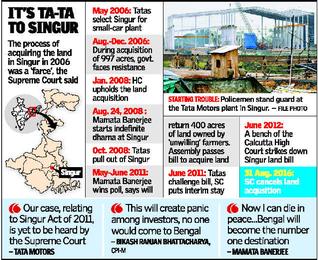 Key Points:
The Apex Court quashed the CPI (M) led West Bengal government's acquisition of 997 acres of agricultural land for Tata Motors' Nano small car plant in Singur in a reality check to State acquisition of agricultural land under emergency clause for industrial projects of private companies. The bench decided to return the land to thousands of short-changed landowners, farmers and cultivators, who have been fighting a prolonged legal battle for over 10 years. The Supreme court bench held "In the instant case, what makes the acquisition proceedings perverse is not the fact that the lands were needed for setting up an automobile industry, which would help to generate employment as well as promote socio-economic development in the State, but that the proper procedure as laid down in the Land Acquisition Act was not followed by the State government".
History of the dispute – The acquisition witnessed widespread protests in the State, compelling the Tatas to shift base to Gujarat in 2008. The issue led to an electoral victory for the Mamata Banerjee government, which went on to enact the Singur Land Rehabilitation and Development Act in 2011 to re-claim the land from the Tatas.
The present West Bengal government said though it is completely understandable for the government to acquire land to set up industrial units, the brunt of development should not be borne by the weakest sections of the society, more so, poor agricultural workers who have no means of raising a voice against the action of the mighty State government.
Category: International Relations
Topic:   Effect of policies and politics of developed and developing countries on India's interests
Key Points:
Brazil's Senate removed President Dilma Rousseff from office after a long fight that laid raw the country's fury over corruption and economic decay, due to the violation of budgetary laws by the President. The Senate's impeachment vote ended 13 years of Leftist rule in Latin America's biggest economy.
Vice-President Michel Temer took over as the new President of Brazil. Temer immediately named a new government with an agenda of shifting Brazil to the right after more than a decade of leftist rule that saw 29 million people lifted from poverty, but became bogged down in corruption and the economic slump.
Category: International Relations     
Topic:   Effect of policies and politics of developed and developing countries on India's interests
Key Points:
Maldivian Democratic Party (MDP) said India's silence on the recent developments in the Maldives is troubling. The party's spokesperson said "As a robust democracy right next door, you would think India would provide greater moral support to reinstate democracy in the Maldives".
Mohamed Nasheed, the first democratically elected president of the island nation, was convicted and jailed in the Maldives in 2015 on terrorism charges. Some time back Nasheed had said India could play an important role in restoring democracy in the Maldives, but the appeasement of dictators was not the way to do it.
MDP is now leading a coalition that is opposed to President Abdullah Yameen. It was formed in June, 2016 in London, where Mr. Nasheed sought asylum after he was granted permission to travel there for medical treatment.
China factor – Over the last few years, India has become increasingly wary of China's growing presence in Sri Lanka and the Maldives.
Category: International Relations     
Topic:   Effect of policies and politics of developed and developing countries on India's interests
Key Points:
Israel has approved the construction of 463 homes for Jewish settlers in the occupied West Bank, despite growing international criticism over such projects. The approvals mostly involved new housing units, but a retroactive green light was also granted to 179 existing homes in the Ofarim settlement.
The United Nations coordinator for the Middle East peace process had reported the UN Security Council that Israeli settlement expansion has surged in the past two months since a key report called for a halt. The diplomatic Quartet – the European Union, Russia, the UN and the United States reported construction of settlements on land earmarked to be part of a future Palestinian state is eroding the possibility of a two-state solution.
Category: International Relations
Topic:   Awards
Key Points:
Two Indians – Social activist Bezwada Wilson and musician TM Krishna have won the prestigious Ramon Magsaysay Award 2016.
Bezwada Wilson: Being the National Convener of the Safai Karmachari Andolan (SKA), he has been recognized for asserting the inalienable right to a life of human dignity. He has done remarkable work in liberating scores of people engaged in manual scavenging across the country.
Thodur Madabusi Krishna: A Carnatic music vocalist has been recognized for ensuring social inclusiveness in culture.
Four others who received the award this year: Conchita Carpio-Morales of the Philippines, Dompet Dhuafa of Indonesia, Japan Overseas Cooperation Volunteers and 'Vientiane Rescue' of Laos.
C. GS3 Related
Category: Economy   
Topic:  International Trade
Key Points:
The Union Cabinet approved a scheme to grant permanent residency status (PRS) to all foreign investors, except those from Pakistan, subject to the relevant conditions. The Government expects the move to encourage more foreign investment in India and facilitate the Make in India programme. Under the scheme, suitable provisions will be incorporated in the visa manual to provide for the grant of PRS to foreign investors.
Under the scheme, the centre grants PRS for a period of 10 years with multiple entry provision.
Conditions to be fulfilled: In order to avail this scheme, the foreign investor will have to invest a minimum of Rs.10 crore to be brought within 18 months or Rs.25 crore to be brought within 36 months. Further, the foreign investment should result in generating employment to at least 20 resident Indians every financial year.
Other major decisions taken by the Cabinet w.r.t FDI –
The Cabinet gave its ex-post facto approval for the foreign direct investment (FDI) reforms announced by the Centre on June 20, 2016, which opened up FDI norms for almost all sectors including food manufacturing, defence, broadcasting, pharmaceuticals, civil aviation, animal husbandry and single-brand retailing.
Creation of Project Development fund: The Cabinet approved creation of a Project Development Fund (PDF) with a corpus of Rs.500 Crore for catalysing Indian economic presence in Cambodia, Laos, Myanmar and Vietnam. The PDF will work in the Department of Commerce and will be operated through the EXIM Bank. It will be governed by an inter-ministerial committee under the chairpersonship of the Commerce Secretary.
Note – The Union Cabinet also took a major decision to dissolve the Kolkata-based Central Inland Water Transport Corporation as the company has been incurring losses since its inception. The decision is in line with the government's move to revitalise sick central public sector units, wherever possible, or wind up irretrievable cases.
Separately, the Cabinet Committee on Economic Affairs approved a Rs.1,145 crore project at Mormugao Port for the redevelopment of berths on public private partnership (PPP) mode.
Category: Economy  
Topic:  National Income 
Key Points:
India's Gross Domestic Product (GDP) growth slowed to 7.1 per cent in the first quarter of 2016-17, with private consumption still the mainstay of the expansion. The slowdown was mainly driven by a slowdown in mining, construction and agriculture sectors. GDP growth stood at 7.9 per cent in the fourth quarter (January-March) of the previous financial year (2015-16) and at 7.5 per cent in Q1 of 2015-16.'
The construction sector grew at only 1.5 per cent in Q1 of 2016-17 compared with 5.6 per cent in the same quarter of the previous year mainly due to the monsoon being good. With heavy rainfall, construction is usually stalled. The mining sector saw a contraction of 0.4 per cent in Q1 of 2016-17 compared with a strong growth of 8.5 per cent in April-June last year.
The Union Ministry of Statistics and Programme Implementation stated 'Quarterly GVA (Gross Value Added) at Basic Price at constant (2011-2012) prices for Q1 of 2016-17 is estimated at Rs.27.38 lakh crore, as against Rs.25.51 lakh crore in Q1 of 2015-16, showing a growth rate of 7.3 per cent over the corresponding quarter of previous year'.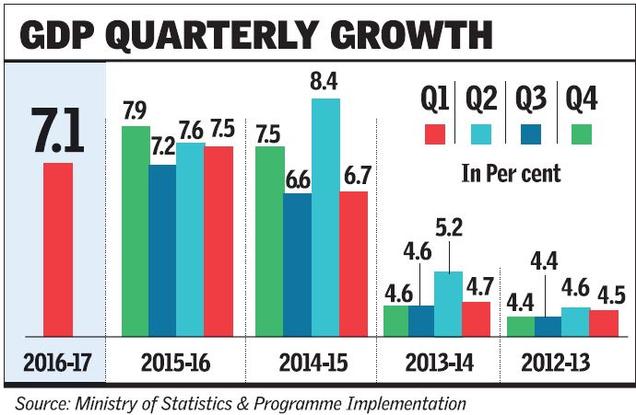 Category: Environment and Ecology
Topic:  Conservation
Key Points:
The Union Water resources minister stated that pollution for over 125 years in the Ganga had caused the dolphin to stop using its eyes and rely on other senses to navigate. The Gangetic river dolphin, also called the blind river dolphin or the side-swimming dolphin is unique to India and an endangered species.
A Right to Information query to the Water Resources Ministry recently found that the Ministry had conducted no study to establish a theory on why the mammal was blind. However, the minister said a presentation was made by an expert to the Minister on aqua life in which it was informed that dolphins in Ganga are getting blind due to pollution in the river.
According to the Evolutionary biology the Gangetic dolphin has been blind for about 20 million years and shares its limited eyesight with its international freshwater river-dolphin cousins, namely the Yangtze, Amazon, La Plata and the Indus dolphins. The Gangetic dolphin lost its eyes in the course of evolution to adapt to the muddy water of rivers. They largely navigate by echo-location or sonar.
According to the ecologists, Pollution is certainly responsible for the plight of the dolphin but not in this way. Dams over the Ganga and Brahmaputra, overfishing and industrial effluents had made survival of the mammal difficult in India. There are no more than 2,500 dolphins in India with most along the Brahmaputra, Bihar, Allahabad and Chambal regions
One of the stated aims of the National Mission for Clean Ganga (NMCG) is to improve aquatic life in the river and restore dophin populations.
Category: Environment and Ecology   
Topic:  Conservation  
Key Points:
The Southern Bird Wing butterfly was in-principle approved by Karnataka State Wildlife Board to become the State butterfly of Karnataka. The Arthropod, Flutters with distinctive red and yellow stripes amongst the verdant green of the Western Ghats. The Southern Bird Wing was selected as its colours match the colours of the Karnataka Flag.
This makes Karnataka the second State in the country after Maharashtra to adopt a State butterfly. Maharashtra chose the Blue Mormom butterfly as its State butterfly in 2015.
Butterfly Conservation Reserve: With 125 species of butterflies, there is a strong demand to declare the Doraisanipalya reserve forest area (Bannerghatta Forest), a Butterfly Conservation Reserve. If declared, it would be 1st such reserve in the country.
Overview:
The Southern Bird Wing – It is the largest butterfly in India, with the females growing up to 19 cm in length. Primarily endemic to South India, it is found in abundance in Karnataka. It is very important to know about the importance of butterflies in the eco-system. They are important pollinators, and their preservation is necessary for the functioning of eco-system.
D. GS4 Related
E. Important Editorials: A Quick Glance
The Hindu
Category: Polity and Governance, Social Justice  
Topic:  Government Interventions   
Key Points:
Conventionally, commercial surrogacy involves an agreement in which a woman, in exchange for money, agrees to carry a child for another person to whom she will surrender the child when it is born. The woman can either be the child's genetic mother which is the more traditional form of surrogacy or, alternatively, if implanted with an embryo, she could merely be a gestational carrier owning no genetic connection to the child whatsoever. Since 2002, when the Indian Council for Medical Research issued a set of non-binding regulations that envisaged transactional surrogacy, these forms of arrangements have flourished in India. According to some reports, the assisted-reproduction sector may now be worth as high as $2 billion, with more than 25,000 surrogate children being born every year in the country. But in the absence of any legislation controlling the industry, Vaghela's case has scarcely proved an exception.
Vaghela's case – In August 2011, Premila Vaghela, 30, the wife of a daily-wage labourer from a poor Ahmedabad suburb, had agreed to become a surrogate mother for an American couple. She thought that by renting her womb for money she could provide a better education for her own two children. But eight months into her pregnancy, in what was meant to be a standard medical visit, she crumpled to the floor of her doctors' clinic, clutching her stomach in agony. She died four days later. But the baby survived. Although there is no specific indication of any wrongdoing (the police recorded Vaghela's death as "accidental") the doctors' priorities were clear from the terms of the surrogacy contract that she had signed. Not only did this agreement (typical of all commercial surrogacy arrangements) absolve the doctors and the foreign couple of any liability, it also noted that the surrogate and her husband had agreed that if Vaghela suffered an injury or a life-threatening instance during the third trimester of her pregnancy, she "will be sustained with life support equipment to protect the foetus' viability and insure a healthy birth on the genetic parents' behalf".
It is perhaps with these considerations in mind that the Union Cabinet legislation, in short, seeks to ban commercial surrogacy altogether, while limiting the availability of what the Bill terms as altruistic surrogacy to childless, heterosexual Indian couples married for at least five years. That is, persons who are eligible to seek surrogacy are required to engage a close female relative, not necessarily related by blood, in a transaction where no money exchanges hands between the commissioning couple and the surrogate mother, except to meet medical expenses. Unfortunately, though, well-intentioned as the proposal might appear at first blush, the Bill fails to address the moral questions at the roots of the controversy, and, if ultimately enacted into law, would also transgress some of the Constitution's core guarantees.
Pros and cons – Now, there is little doubting that any reasonable government ought to concern itself at some level with the ethics of procreation, especially given the power equations at play in a contract of surrogacy. But is a complete proscription on commercial surrogacy a neutral position to take? There are two basic arguments against such a ban.
First, that people, both foreigners and Indians, have a fundamental right to procreate, and to choose whichever method they desire to achieve this objective. This affirmative argument in favour of a right to use assisted-reproductive technology, though, as the Harvard Law School professor Martha A. Field has explained, fails for the reason that surrogacy involves using another person's body, albeit with their ostensible consent. "A personal right to do something," Field wrote, "does not necessarily carry over to a right to enlist the assistance of another." That surrogacy hasn't been previously regulated also does not now give a person a specific constitutional right to procreate. After all, every practice tolerated by the state doesn't emanate out of a pre-existing natural or positive right. What's more, in any event, given that an infertile couple could take recourse to adopting a child, a ban on commercial surrogacy doesn't necessarily affect one's right to raise a family.
The second argument a classically libertarian one that women have a fundamental right to contract, and a fundamental right to personal liberty, which together permit them to use their bodies as they please, however, cannot be readily dismissed. As Amrita Pande wrote in the absence of any evidence that shows that all economic choices made by a woman are uninfluenced by a lack of informed consent, denying Indian women the ability to enter into contracts of surrogacy alone might seem misplaced. But the philosophical basis for such an argument may not quite be carved in stone. From the 1980s onwards many feminist scholars – Andrea Dworkin the most prominent among them have warned against the commodification of surrogacy in an inherently unequal world. For Dworkin, surrogacy is like prostitution, because the surrogate has no choice. The questions that concern the validity of a commercial surrogacy agreement, she wrote, are not indifferent from those concerning prostitution. When the state has "constructed the social, economic, and political situation in which the sale of some sexual or reproductive capacity is necessary to the survival of women," Dworkin wrote, to believe that such women are exercising their free will in choosing to sell the use of their womb in a commercial transaction is simply amoral.
While a complete ban on surrogacy is capable of being legally justified even if it arguably makes for poor strategy the Bill's proposal to allow altruistic surrogacy for certain classes of persons is not only indefensible but is also scandalous in that it exemplifies the government's didactic ambitions. Under India's constitutional structure, every time a law seeks to treat equal persons differently, it must justify the classification that it so makes with cogent reasons. First, the distinction that the law draws must be intelligible; the classes of persons sliced out by the law must be capable of being easily ascertained. And second, the state must show that there is a rational nexus between the object that the law seeks to achieve and the classification that it makes. In the case of the Surrogacy Bill the object of the proposed law is ostensibly to curb the exploitation of poor women who often act as surrogate mothers. It's hard to understand, though, how such an object can bear any relation to the classification that the Bill makes in distinguishing couples married for five years or more from all others, including live-in couples, single parents, and those from the LGBT community. "We do not recognise homosexual or live-in relationships, that are why they are not allowed to commission babies through surrogacy," said External Affairs Minister Sushma Swaraj, while announcing the Cabinet's approval of the Bill. "It is against our ethos." These professed reasons though neither emanate out of any legitimate governmental interest nor do they contain any link to the Bill's object and purpose. They merely comprise the state's expression of disgust at practices that it deems depraved. If Parliament were to pass the Surrogacy Bill in its present form, the law would certainly violate the constitutional pledge of equal treatment.
F. Concepts-in-News: Related Concepts to Revise/Learn:
Magsaysay awards
Blue Mormom
Gangetic dolphin
National Mission for Clean Ganga (NMCG)
Singur Land Rehabilitation and Development Act in 2011
The Southern Bird Wing butterfly
G. BILLS/ACTS/SCHEMES/ORGS IN NEWS
| | |
| --- | --- |
| 1. Surrogacy (Regulation) Bill, 2016 | http://pib.nic.in/newsite/PrintRelease.aspx?relid=149186 |
| 2. National Mission for Clean Ganga | http://nmcg.nic.in/ |
| 3. Karnataka State Wildlife Board | http://www.aranya.gov.in/Static%20Pages/WildLife.aspx |
H. Fun with Practice Questions 🙂
Question 1: Other than poaching, what are the possible reasons for the decline in the population of Ganges River Dolphins?
Construction of dams and barrages on rivers.
Increase in the population of crocodiles in rivers.
Getting trapped in fishing nets accidentally.
Use of synthetic fertilizers and other agricultural chemicals in crop-fields in the vicinity of rivers.

Select the correct answer using the code given below:

a) 1 and 2 only

b) 2 and 3 only

c) 1, 3 and 4 only

d) 1, 2, 3 and 4
Question 2: Which organization approves the Foreign Direct Investment (FDI) under the 'Government route' upto 5000 crores?
a) Foreign Investment Promotion Board (FIPB)
b) Department of Industrial Policy and Promotion (DIPP)
c) Cabinet Committee on Economic Affairs (CCEA)
d) Union Ministry of Commerce
Question 3: The Union ministry of Statistics revised the new base year for the measurement of GDP from 2004-05 to
a) 2005-06
b) 2010-11
c) 2011-12
d) 2012-13
Question 4: Which National park has India's first butterfly enclosure?
a) Bannerghatta National Park, Karnataka
b) Mt. Harriet National Park, A&N Islands
c) Chandoli National Park, Maharashtra
d) Sanjay Gandhi National Park, Maharashtra
Question 5: In India, in the overall Index of Industrial Production, the Indices of Eight Core Industries have a combined weight of 37-90%. Which of the following has the least weight?
a) Cement
b) Fertilizers
c) Natural gas
d) Refinery products
"Proper Current Affairs preparation is the key to success in the UPSC- Civil Services Examination. We have now launched a comprehensive 'Online Current Affairs Crash Course'.
Limited seats available. Click here to Know More."