Table of Contents:
1. China caught in a corridor of uncertainty
2. India, Sri Lanka collaborate to run oil farms in Trincomalee
3. Centre releases latest list of Smart Cities
2. ADB approves $631 mn. loan for Coastal corridor
3. Domestic consumption to lift GVA growth
2. Will the Paris Pact succeed like the Montreal Protocol?
.
+++++++++++++++++++++++++++++++++++++++++++++++
Useful News Articles
A. GS1 Related
Nothing here today folks!
B. GS2 Related
Category: International issues
Topic:  Effect of policies and politics of developed and developing countries on India
Key Points:
China's comments after the Uri attack amount to its admission of deep strategic interest in the Kashmir region. Describing the attack as shocking, China's Ministry of Foreign affairs expressed sympathy for the victims and asked for relevant parties to create a favourable environment which will secure CPEC (China Pakistan Economic Corridor) which passes through Pakistan-occupied Kashmir (PoK). China also said CPEC which passes through PoK is aimed at bringing development to the entire South Asia region.
According to China, the goal of the CPEC is to serve the region by facilitating better development of regional countries. Naturally, relevant parties are required to make concerted efforts to ensure a safe, sound and favourable environment for the CPEC. It is to be noted that there is tension in the region, including in Kashmir recently. The Chinese government holds the position that all relevant parties can join hands to resolve these issues through friendly consultation and uphold regional peace and security, as this is in the fundamental and common interests of all regional countries, China, Pakistan and India included.
According to India's former foreign secretary, China is unable to appreciate India's concerns about constructing important projects in Pakistan-occupied Kashmir (PoK) that is historically part of India. China is following a contradictory policy by declaring that the CPEC should be safe while not doing more to stop terror strikes that originate from Pakistan to attack Afghanistan and India. He further said – by tying up the Uri attack with concern for CPEC, China has shown that its views on terror are shaped by its evolving interests in the South Asian region. China wants to build its One Belt One Road (OBOR) but other countries especially India will not sacrifice their core interests for Beijing projects.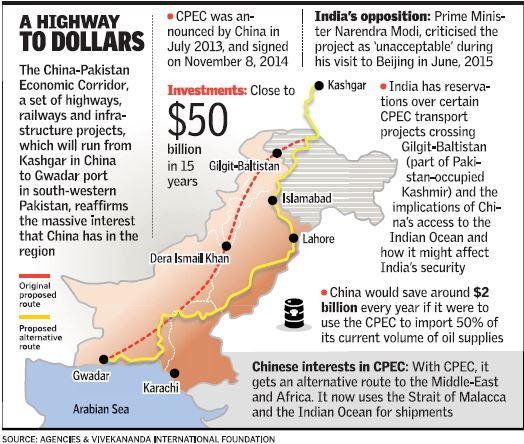 However, experts also cautioned that China too has reasons to be worried by terrorism from Pakistan which has spread to the Xinxiang province of China.
India's efforts to blacklist terror plotter Masood Azhar at the U.N. for the Pathankot attack of January 2, 2016 could not succeed due to the technical hold that China placed on India's move at the UN. Diplomats say that India's plans to eliminate cross-border terror are unlikely to succeed without China's support at the UN.
Category: Bilateral
Topic:  Indo-Sri Lanka bilateral update
Key Points:
India and Sri Lanka will jointly operate 30 oil tanks in Trincomalee, kick-starting a plan to develop the coastal town, Trincomalee into a regional petroleum hub. The proposal was announced by Prime Minister Narendra Modi during his March 2015 visit to the island-nation, according to which Ceylon Petroleum Corporation and Lanka IOC would operate the farms together.
Lanka IOC, a subsidiary of Indian Oil Corporation, currently operates 15 out of the 99 storage tanks in Trincomalee, located on Sri Lanka's east coast. LIOC runs nearly 200 petrol stations in the country, in addition to operating bunkering services at its ports.
Given the strategic importance of Trincomalee, which has a large natural harbour, India is keen on expanding its operations at the oil farm in the coastal city. The joint venture would matter to India all the more now, after Sri Lanka recently scrapped a coal power project in Trincomalee involving the National Thermal Power Corporation (NTPC). 
Sri Lanka invited Indian companies, among others, to invest in a refinery in Hambantota, in Sri Lanka's Southern Province. The city houses a $361 million Chinese-funded harbour and is a crucial point in China's Silk Road project.
Category: Government programs and policies
Topic: Smart cities
Key Points:
A list of 27 new smart cities was announced by the Urban Development Ministryunder the Smart city plan. The 27 cities were selected after three rounds of competition, with the total number selected under Smart City Mission standing at 60. 
With five cities, Maharashtra has the highest number of cities on the list. The 27 new cities are from 12 States, including four each from Tamil Nadu and Karnataka, three from Uttar Pradesh and two each from Punjab and Rajasthan. Nagaland and Sikkim have made it to the list for the first time. The proposed projects worth Rs. 66,883 crore under Smart City Mission, includes Rs. 42,524 crore under area-based development and Rs.11,379 crore for technology-based pan-city solutions.
Amritsar topped the list of 27 new smart cities chosen among 63 total cities. Eight other cities of pilgrim and tourism importance that have made it to the third list are Ujjain, Tirupati, Nashik, Madurai, Thanjavur and Ajmer, apart from Agra and Varanasi.
The willingness and enthusiasm among the cities to participate in more than one round of competition is a clear evidence of the urban renaissance set in motion. Competition-based selection has made the cities rediscover themselves as they are undertaking a thorough assessment of gaps in the present levels of infrastructure and service delivery and come out with comprehensive, credible and actionable plans for area-based development and technology-based pan-city solutions.
C. GS3 Related
Category: Environment
Topic: Inter-linking of Rivers
Key Points:
National Board for Wildlife (NBWL) chaired by Union Environment Minister cleared the Ken-Betwa project, India's first Inter-State river interlinking project. This would be the first time that a river project will be located within a tiger reserve. The Rs. 10,000-crore Ken-Betwa project will irrigate the drought-prone Bundelkhand region but in the process will also submerge about 10% of the Panna Tiger Reserve in Madhya Pradesh, feted as a model tiger-conservation reserve.
The main feature of the project is a 230-km long canal and a series of barrages and dams connecting the Ken and Betwa rivers that will irrigate 3.5 lakh hectares in Madhya Pradesh and 14,000 hectares of Uttar Pradesh, in Bundelkhand. The key projects are the Makodia and Dhaudhan dams, the latter expected to be 77 m high and responsible for submerging 5,803 hectares of tiger habitat in the Panna tiger reserve.
The project will bring water to one of India's worst drought-affected regions and the National Board of Wildlife has also insisted on an integrated wildlife management plan.
Pros and Cons – The project report of Union water Ministry said Chhatarpur, Panna, Tikamgarh, Raisen, and Vidisha districts of Madhya Pradesh and Mahoba, Jhansi and Banda districts of Uttar Pradesh will benefited from assured irrigation supply, domestic and industrial water supply and power. On the other hand, about 6,388 people in 10 villages will be affected due to the submergence by Daudhan reservoir and 13499 persons living in the 28 villages will be affected due to the submergence by Makodia reservoir and will have to be resettled. Seventeen lakh residents of nearby towns and villages in both States will benefit from improved drinking water and irrigation facilities
According to the NBWL, 6,221 hectares – 4,141 of which is core forest and located inside the reserve will be inundated when, and if, the proposed reservoir were filled to the brim. A key point of contention between wildlife experts associated with the impact assessment and dam proponents in the water resources ministry was whether the height of the Daudhan dam could be reduced to limit the water overflow and contain its subsequent impact. There were also concerns that vulture and ghariyal habitat in the region would be affected. Here too, the committee noted, that only 3% of the vulture habitat would be affected. 
No new mining leases would be allowed in the delineated tiger dispersal routes and existing mining leases extended only if concretely justified and a proposed hydro-power project would now be located outside the reserve.
Category: Indian Economy
Topic: Infrastructure
Key Points:
Multilateral funding agency – Asian Development Bank (ADB) has approved $631 million for building India's first coastal industrial corridor between Visakhapatnam and Chennai. The fund will help develop the first key 800-km section of the planned 2,500-km East Coast Economic Corridor expected to spur development on India's eastern coast and enable seamless trade links with other parts of South and Southeast Asia.
ADB's loans and grants comprise a $500 million two-tranche facility to build key infrastructure and a $125 million two-tranche loan to help in industrial policies and business promotion. The total cost of the project is $846 million and work on it is expected to be over by 2031. Andhra Pradesh government will fund the remaining $215 million.
The Fund will help develop the first 800-km section of planned East Coast Economic Corridor.
By combining state-of-the-art industrial clusters, efficient transport, and reliable water and power supplies with a skilled workforce and good business policies, it is expected the Visakhapatnam-Chennai industrial corridor to become a favored investment destination. By 2025, annual industrial output along the corridor will increase fourfold to $64 billion from about $16 billion in 2015 if investment opportunities are maximized over the coming 10 years.
Note – The Centre is keen to encourage the manufacturing sector to create jobs for a labor force that is growing by about 12 million each year.
3. Domestic consumption to lift GVA growth
Category: Indian Economy
Topic: Growth & GVA
Key Points:
According to the report released by Moody's Investors Service and ICRA, India's gross value added (GVA) growth rate is set to improve to 7.7 per cent this year, from the 7.2 per cent seen in FY16, due to higher domestic consumption demand, while consumer price inflation could accelerate to an average of 5.1 per cent from 4.9 per cent a year earlier.
Buffer stock: The report also mentioned – a favorable base effect, which is likely to continue over the next few months, the increase in the acreage of pulses cultivation, and a bigger buffer stock with the government will all work towards dampening CPI inflation at about the 5 per cent mark.
The implementation of the Goods and Services Tax will benefit the economy by boosting revenue collection and improving tax compliance.
The report also highlighted some policy steps already taken by the government that could, if implemented correctly, bolster the economy's growth potential. These steps include the easing of restrictions on foreign direct investment (FDI) in various sectors, the passage of the bankruptcy law, and the ongoing efforts towards financial inclusion.
Growth impediments – In the nearer term, private investment will remain weak as corporates in investment-intensive sectors are burdened by elevated debt levels. In addition, the economy will remain vulnerable to fluctuations in monsoon rains, because of partial irrigation of crops and gradual progress in food storage and transport infrastructure.
D. GS4 Related
E. Important Editorials: A Quick Glance
The Hindu
The Delhi High Court verdict that photocopying portions of academic publications to make course packs for students does not amount to copyright infringement has been interpreted by many as a victory for the wider public interest of ensuring affordable access to quality educational material. The only question of law that arose in the suit filed by Oxford University Press, Cambridge University Press and Taylor & Francis was whether the making of course packs by the Delhi University by authorising a photocopying store to make numerous copies of course material drawn from different books amounts to copyright infringement. The court says copyright is not a natural or common law right in India, but is subject to statute. It proceeds to hold that photocopying for academic purposes is not an infringement as Section 52(1)(i) of the Copyright Act permits the making of copies of literary works by a teacher or pupil 'in the course of instruction', a phrase interpreted to cover whole academic sessions, from the preparation of syllabus onwards.
Given that the law contains provisions barring infringement of copyright and listing acts that do not constitute infringement, there is no doubt that the legislature wanted to balance copyright protection with the public interest in ensuring access. Interestingly, the judge sees the 'no infringement' clauses as being consistent with articles in the Berne Convention and the Agreement on Trade-Related Aspects of Intellectual Property Rights, which provide for domestic legislation to permit reproductions for specific purposes, as long as they do not conflict with normal exploitation of the works or unreasonably prejudice the rights-holder. The publishers have argued, in vain, that universities should not allow unrestricted photocopying, but instead apply for licences through the Indian Reprographic Rights Organisation, a registered copyright society. The publishers may pursue this aspect in their appeal, if there is one. The verdict may justly raise the concern whether conferring unrestricted reprographic rights on academic institutions will drive reputed publishers out of the field of education. It is true that academic publications, especially international ones, are expensive, putting them beyond the reach of many students. But the question is whether the balance between the competing interests has been fully preserved in the law. If reputed publishers feel that there is insufficient copyright protection and back out of educational publishing in the country, it will be equally injurious to the public interest.
2. Will the Paris Pact succeed like the Montreal Protocol?
On September 21, United Nations Secretary-General Ban Ki-moon is organising in New York a ratification ceremony for the Paris climate agreement, inviting countries that haven't endorsed it till now to do so. The buzz among climate treaty watchers and international diplomats is that this rush to push the agreement through is with an eye on the approaching U.S. elections, as a Donald Trump victory could upset the apple cart for global climate action. Though the U.S. and China, the two top global greenhouse gas (GHG) emitters, ratified the treaty at the recently concluded G20 summit, implementation is possible only once the agreement is ready to enter into force. And that won't happen until 55 countries, accounting for 55 per cent of the global GHG emissions, ratify it.
The Montreal precedent – Back in 1987, on September 16, when 197 member nations of the UN signed the Montreal Protocol on Substances that Deplete the Ozone Layer, little would they have anticipated that in three decades the purpose for which they were signing the pact would begin to bear fruit: the ozone layer, which at that time was discovered to have a big hole in it due to ozone-depleting chemicals being widely used, is now beginning to show signs of healing. Researchers believe that the size of the ozone hole has shrunk by around 4 million sq km since 2000 and is not as deep as it used to be, thanks to the collective efforts of nations to cut the use of chlorofluorocarbons and other dangerous gases.
The Montreal Protocol offers a model of a successful environmental treaty that brought nations together to act swiftly on protecting the ozone layer. Next month, nations that are party to the protocol will get together in Kigali, Rwanda, to discuss the phasing down of hydrofluorocarbons (HFCs) as the next step towards addressing ozone depletion, also necessary to curb global warming. According to the UN Framework Convention on Climate Change (UNFCCC), an HFC phase-down could prevent warming of up to 0.1°C by 2050 and warming of up to 0.5°C by 2100, offering one of the most cost-effective climate mitigation strategies available to the world today.
Replicating success – The more pertinent question is whether the Paris Agreement could succeed similarly in plugging greenhouse gas emissions, though it has a much bigger goal to chase. The Montreal Protocol had to address the use of ozone-depleting substances in select industries where they were widely used whereas the Paris Agreement has to address the challenge of reducing dependence on fossil fuels that continue to be the world's primary source of energy, a tall order.
The experience of implementing the Montreal Protocol offers several lessons which can lead the climate treaty to success. For starters, unlike climate change, the science behind ozone depletion was contested at the time when the protocol was signed. It was only eight years after the Montreal Protocol came into being that the Nobel Prize in Chemistry to Paul J. Crutzen, Mario J. Molina and F. Sherwood Rowland brought global validation for their work on the formation and decomposition of ozone in the atmosphere. But that did not stop the countries that were party to the protocol from taking necessary action. However, despite the scientific evidence in support of global warming and climate change, signatories to the Paris treaty have much scepticism to overcome before meeting its goal of keeping global warming levels less than 2°C above pre-industrial levels.
Mr. Trump, the U.S. Republican presidential nominee, has dismissed climate change as a hoax, vowing to remove his country from the Paris climate accord, while commentators have referred to Democratic presidential candidate Hillary Clinton's proposed action plans on climate change as inadequate. The experience with the Kyoto Protocol signed in 1997 shows that if the U.S. wants, it can topple international efforts to fight climate change though the then President, Bill Clinton, had signed the protocol in 1997, the U.S. Senate did not approve it, and eventually other major GHG emitters abandoned it as well.
Besides political will, there is the question of funding as well. Industrialised countries had committed in Cancun in 2010 to provide funds rising to $100 billion per year by 2020 for a Green Climate Fund (GCF) to help developing countries invest in green energy and prepare for extreme weather events. However, the GCF has so far raised only $10 billion, and allocated money to only about eight projects since it was first set up.
With the latest addition of Micronesia, 28 countries responsible for over 40 per cent of GHG emissions have ratified the Paris Agreement. But a closer look at the list of countries shows that small countries, especially island nations, with low GHG emissions and high risk of climate catastrophe, have been more prompt. The UNFCCC is confident that more top emitters, including the EU, would soon join the treaty. But the truth is, even after ratification, the pledges made by signatories to the Paris Agreement would be insufficient to keep global warming levels below the danger threshold, as per the UN's own estimates.
The latest report from the U.S. National Aeronautics and Space Administration's Goddard Institute for Space Studies shows that August 2016 was the hottest month on the planet, about 0.16°C warmer than the previous 2014 record. So even as we celebrate the relative success of the Montreal Protocol in fixing the ozone layer today, the real lesson that the experience offers the world is that a stitch in time saves nine.
F. Concepts-in-News: Related Concepts to Revise/Learn:
China-Pak Economic corridor (CPEC)
Conventional sources of Energy – Coal
One-belt One-road initiative – China's Silk Road project
Smart city project
National wildlife board
Interlinking of rivers
Coastal corridors
India's gross value added (GVA) growth rate
G. BILLS/ACTS/SCHEMES/ORGS IN NEWS
H. Fun with Practice Questions 🙂
Question 1: Which of the following is India's first Inter-State river interlinking project?
a) Ganga-Yamuna
b) Narmada-Tapi
c) Ken-Betwa
d) Godavari-Krishna
Question 2: Recently the Asian Development Bank (ADB) approved $631 million for building India's first coastal industrial corridor between
a) Nellore and Tuticorn
b) Ennore and Kochi
c) Kanyakumari and Kolkata
d) Visakhapatnam and Chennai
Question 3: Which of the following statements are correct regarding the National wildlife board?
It is a statutory organization
It is chaired by India's Prime Minister and its vice chairman is Minister of Environment
No alternation of boundaries in national parks and wildlife sanctuaries can be done without approval of the NBWL.
a) (1) & (2) only
b) (1) & (3) only
c) (3) only
d) All are correct
Question 4: The Green Climate fund is managed by –
a) UNFCCC
b) Inter-national panel on climate change (IPCC)
c) Global Environmental facility
d) None of these
Question 5: Which of the following type of coal is found in abundance in India?
a) Anthracite
b) Bituminous
c) Lignite
d) Peat
"Proper Current Affairs preparation is the key to success in the UPSC- Civil Services Examination. We have now launched a comprehensive 'Online Current Affairs Crash Course'.
Limited seats available. Click here to Know More."