Table of Contents:
1. A tradition that lands tribal youth in jail
2. Iran in the Belt and Road loop as first train from China arrives
3. Saudi Arabia, Russia, agree to freeze oil output
4. Can India import GM-free corn?
5. FM inaugurates non-tax revenue e-portal
1. India joins China and Pakistan in multi-lateral exercises
2. Captive flight trials of anti-radiation missile soon
3. Can India beat this slowdown?
4. 8.8% interest proposed on EPF
1. Making cities clean and sustainable
2. The curious case of Justice Karnan
.
+++++++++++++++++++++++++++++++++++++++++++++++
Useful News Articles:
A. GS1 Related
— Nothing here today, folks! —
B. GS2 Related
1. A tradition that lands tribal youth in jail
Topic: Social Justice   
Category: Government policies and interventions  
Location: The Hindu, Page 11
Key Points:
The Protection of Children from Sexual Offences Act, 2012 (POSCO) is an effective deterrent to sexual exploitation and harassment of minors.
Many tribals in Kerala, such as Paniya, and Kattunaika who are ignorant of the stringent provisions in the Act, marry minor girls, in keeping with their traditional practice, and end up in jail on rape charges. Most cases are registered without any formal complaint from the girls or their parents.
Child marriage is common among the Paniya and Kattunaikars tribes and this has remained a part of their custom for many years. These people are not aware of the existence of a law or even the age of majority status under the Indian law.
Recently, 21-year-old Paniya youth, Babu, was sentenced to 40 years imprisonment (cumulatively 10 years) and a fine of Rs. 40,000 for four charges framed under the POCSO Act by a Special Court.
Conclusion
The law needs sensible implementation. There is a blind spot in the law that says it is applicable to all people, irrespective of their customs, practices or their vulnerability.
2. Iran in the Belt and Road loop as first train from China arrives
Topic: International Relations
Category: Politics of developed and developing countries on India's interests
Location: The Hindu, Page 16
Key Points:
Chinese President Xi Jinping's visit to Tehran last month appears to have energised Iran's integration in the Eurasian fold.
Iran has signaled its firm integration in the Beijing led-Belt and Road connectivity initiative along the New Silk Road, with the first train from China's trading hub of Yiwu arriving in Tehran.
This train has demonstrated that it is possible to substantially slash transit time for goods arriving in Iran from China.
Iran is currently in desperate need of investment for infrastructure construction. At the same time, China is promoting the belt and road initiative. Iran is expected to become one of the major participants of that initiative.
In China, there is anticipation that with the recent lifting of sanctions, Iran's energy infrastructure, including its trans-border pipeline network will grow.
Iran can play a crucial role in the Belt and Road as an energy hub and access to extensive delivery routes connecting to the Middle East and Eurasia.
3. Saudi Arabia, Russia, agree to freeze oil output
Topic: International Relations
Category: Politics of developed and developing countries on India's interests
Location: The Hindu, Page 16
Key Points:
Saudi Arabia and Russia agreed Tuesday to freeze oil output in a bid to shore up prices after a 70 per cent drop due to chronic oversupply.
The move, which is conditional on other major producers joining in, was designed to stabilise the market following the dramatic price fall since mid-2014.
Saudi Arabia and other OPEC producers have been refusing to reduce output in a bid to drive less-competitive players, in particular U.S. shale oil producers, out of the market.
Saudi Arabia would only consider output cuts if other producers agree to follow suit and pressure has been building as drops in oil revenues hit government coffers.
4. Can India import GM-free corn?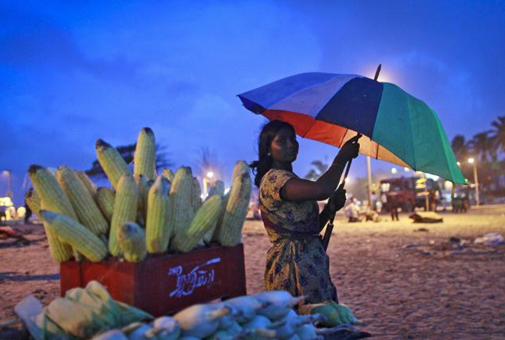 Topic: Indian Economy, Science and Technology (GS Paper- III)
Category:  Bio-technology
Location: The Hindu, Page 18
Key Points:
India does not allow the cultivation of any genetically modified food and has rules that ensure that imports contain no trace of GMOs.
India prepares to import corn for the first time in 16 years.
South Korea's Daewoo International won the tender to ship non-GM corn to India from Ukraine.
But, Ukraine could at best guarantee 99.1 percent non-GM corn.
The biggest risk of accepting anything less than 99, or 100, percent is that the imported GM corn may eventually get mixed with conventional seeds that farmers sow in India, highlighting a high risk of contamination.
Shrinking arable land, volatile weather and a rising world population- increases pressure to plant GM crops to boost yields and protect from pests.
Much of the corn in major producers such as the United States, Brazil and Argentina is Genetically Modified (GM).
Public and political opposition in India remains strong amid fears they could compromise food safety and biodiversity.
5. FM inaugurates non-tax revenue e-portal
Topic: Governance, Indian Economy (GS Paper- III)
Category: e-governance
Location: The Hindu, Page 17
Keypoints:
The Government of India launched a new e-platform for non-tax receipts.
This will reduce a lot of the manual work now and almost instantly enable the payment at the different categories
The major sources of non-tax revenue for the government are from dividends paid by public sector companies, the Reserve Bank of India, etc.
One major way to curb black money is to discourage cash transactions in favour of electronic transactions.
C. GS3 Related
1.  India joins China and Pakistan in multi-lateral exercises
Topic: Challenges to internal security, International Relations
Category:  Security challenges and their management
Location: The Hindu, Page 15
Keypoints:
A 12-member team of the Indian Army is participating in the "Cobra Gold" multilateral exercises being hosted by Thailand, along with its counterparts from China and Pakistan.
India has been invited to the exercises as an "observer plus" country. This is in keeping with the recent trend of India's increasing regional interoperability with a series of multi-lateral exercises on land and sea.
The theme of the exercise, involving 35 countries, is humanitarian assistance and disaster relief.
The current edition of this exercise is considered as Asia's largest multinational drill.
These exercises come in the backdrop of increased tensions over China's land reclamation in the South China Sea and informal discussions between India and the U.S. over joint naval patrols
2. Captive flight trials of anti-radiation missile soon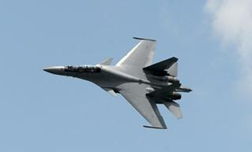 Topic: Science and Technology
Category:  Indigenization of technology
Location: The Hindu, Page 10
Keypoints:
The air-to-surface tactical missile being developed by Defence Research and Development Laboratory (DRDL) will target the enemy's air defence capabilities by attacking radars and communication facilities.
The missile picks up the radiation or signals of radars and communication facilities and homes on to the targets to destroy them.
Scientists will evaluate the performance of the seeker, navigation and control system, structural capability and aerodynamic vibrations during the captive flight trials.
These will be followed by ground testing and the missile will be fired from Su-30 during the actual flight trial by year-end.
Instead of thrust propulsion, the missile uses dual pulse propulsion system as in the case of LR-SAM.
The dual pulse propulsion will widen the envelope as well as the engagement capability of the missile.
After coasting the missile for the required duration by firing the first pulse, the second pulse will be initiated just before interception of the target or during the terminal phase.
The entire missile is being developed indigenously, including the seeker. The missile will be inducted in about two years after conducting a number of developmental trials.
Only a few countries, including the U.S. and Germany, have ARMs at present.
The dual pulse propulsion system could be configured with other air-to-surface and air-to-air missiles.
The induction of LR-SAM (Long Range Surface-to-Air Missile), jointly developed by India and Israel, will begin September-October this year.
It was successfully test-fired from INS Kolkata to intercept an aerial target last year and the missile is slated to be launched from warships, INS Kochi and INS Chennai, for similar trials later this year.
3. Can India beat this slowdown?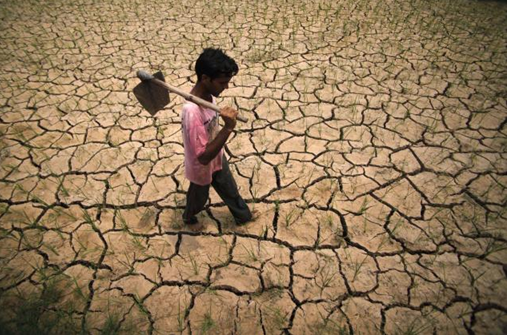 Topic: Indian Economy
Category: Growth, development and employment.
Location: The Hindu, Page 13
Keypoints:
In 2008, as the global financial markets plunged into a crisis, high oil prices were considered to be one of the factors that caused it. Today, many fear that the world economy is on the edge of another recession. Among the list of its contributing reasons, we find, low oil prices.
Stock market prices collapsed in many parts of the world in January this year when oil prices fell to even greater depths, touching below $30 in 2015.
Reasons for declining oil prices:
The advance made over the last few years with respect to oil production
The recent lifting of sanctions against Iran has eased the supply situation even further.
Stagnation in worldwide demand, and this is what has made the stock markets panicky.
India's Economy:
India's economy appears to stand tall. Its projected growth for 2015-16, at 7.3 per cent, makes it the fastest-growing large economy in the world, according to the International Monetary Fund (IMF).
India is a large importer of oil, and therefore falling oil prices have been beneficial to its economic growth.
With the fall in oil prices, inflation based on the wholesale price index(WPI) has been in the negative territory in the country since November 2014.
Questions Raised:
Scholars have raised questions on the recent GDP growth figures, which are based on a new methodology employed by the country's statistical agencies in estimating national income.
Wide variations in growth across sectors.
Deficient Monsoons, having disastrous impact on agricultural production and rural demand.
Performance of the manufacturing sector has been unimpressive.
Micro-and small-industrial units in particular have been facing a crisis.
Year-on-year growth of India's exports has been negative
Increase in manufactured imports into India
The actual increase with respect to employment generation occurred at a very slow rate between 2004-05, and 2011-12, which was a period of exceptionally fast economic growth for the country.
It is only due to the high rates of growth in the services sector that India's overall economic growth appears robust.
The Way Forward:
The growth of aggregate demand in an economy is derived from four sources:
Private consumption
Private investment
Government expenditure
Net exports
In the current circumstances, it seems that the only engine of demand that can pull the Indian economy forward is government expenditure.
The long-gestation projects- example, irrigation, electricity, rural and urban infrastructure, are precisely the areas where the government should step in, raising public investments to remove some of the long-standing constraints to growth and development.
The Finance Ministry's Mid-Year Review stresses on the need to raise public expenditures in India in the current context.
At the same time, Governments in India and elsewhere, commit themselves to maintaining fiscal-deficit targets largely because they fear that not doing so would scare away foreign investors and anger global finance.
The country's policymakers should turn their attention inward, devising strategies to unleash domestic markets and entrepreneurship in this large and diverse nation.
4. 8.8% interest proposed on EPF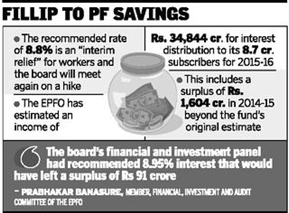 Topic: Indian Economy
Category: Indian Economy and issues
Location: The Hindu, Page 15
Keypoints:
The board of trustees of the Employees' Provident Fund Organisation (EPFO) recommended an 8.80 per cent rate of return on Rs.10 lakh crore of retirement savings under its watch for 2015-16.
D. GS4 Related:
E. Important Editorials: A Quick Glance
1. Making cities clean and sustainable
Topic: Government policies (GS Paper II)
Category: Government policies and interventions for development in various sectors.
Location: The Hindu, Page 12
Keypoints:
A century ago, Mahatma Gandhi lamented that the Indian city was mostly a stinking den, and Indians as a people were not used to city life.
The quest for clean cities has only grown more complicated, as steady urbanisation is putting pressure on a poorly prepared municipal administration system, and the more affluent consumers produce ever-higher volumes of trash.
The neglect of social housing, sanitation and water supply has ensured that there is nothing like a truly clean, green and sustainable city.
Cities such as Mysuru, Chandigarh and Tiruchirapalli, have scored the top three ranks in the competition organised by the Swachh Bharat Mission of the Ministry of Urban Development to choose the cleanest cities for 2015.
With the high level of political will now being shown to address the problem of waste and filth, there has never been a better time for State governments to act.
Beyond the cosmetic solution of removing waste to landfills or releasing untreated sewage into hidden waterways, however, the challenge is staggering — even with the 1.04 crore household toilets and five lakh community and public toilets to be built, the sewage treatment capacity in cities would have to be expanded by 63 per cent.
The scenario is equally depressing for solid waste, since only 20 per cent of it can be treated scientifically at present.
The Way Forward:
The Ministry of Urban Development has made it "mandatory" for private fertilizer companies to buy compost that is extracted from municipal solid waste.
Cities can take a leaf out of international best practices, and encourage communities to create food gardens in every area possible using this resource.
Reduction of garbage can be achieved if residents start segregating their waste at home, and municipalities acquire the systems to manage it.
But there is a major policy disconnect here, since tonnage-based contracts issued by cities have created a vested interest in transporting waste to landfills, rather than to reduce it through rules that require segregation, composting and recycling.
The imagery of the Swachh Bharat Mission, which currently dwells on citizen behaviour and the visual appeal of clean cities, needs to extend to waste reduction and recycling.
Building the necessary infrastructure is easier today, since a variety of financial instruments are available, including Central funds, corporate sponsorship and the Swachh Bharat cess on services.
Conclusion
Achieving sustainable clean cities will ultimately depend on the attention devoted to human development and environmental governance.
Without inclusive city planning, affordable housing, water and sanitation, the trend of urbanisation can only add to the squalor that depressed Gandhiji in Varanasi. This is the bulwark on which cities can achieve cleanliness and good health.
2. The curious case of Justice Karnan
Topic: Welfare schemes (GS Paper II)
Category: Welfare schemes for vulnerable sections
Location: The Hindu, Page 12
Keypoints:
The recent development in the news where Justice C.S. Karnan has taken up the case of his own transfer to the Calcutta High Court brings to light the institution of the National Commission for Scheduled Castes and the Scheduled Castes and Scheduled Tribes (Prevention of Atrocities) Act.
It is strongly recommended that students go through the mandate of the National Commission for Scheduled Castes, and the provisions of the Scheduled Castes and Scheduled Tribes (Prevention of Atrocities) Act.
F. Concepts-in-News: Related Concepts to Revise/Learn:
i. Anti-Radiation Missile (ARM)
ii. National Commission for Scheduled Castes
iii. Swachh Bharat Cess/Mission
iv. Cobra Gold
v. Non-tax receipts
vi. GM Crops
G. Fun with Practice Questions 🙂
To be Updated
.