Table of Contents:
1. Rupee down to 68 per dollar…
2. ISRO puts fifth GPS satellite in Orbit
3. Cabinet nod for power tariff policy
4. Cabinet approves WTO Nairobi stand
1. FDI in India, From India? Black Money – The hidden wealth of nations!
2. Universalise entitlements: Maternity Transfers
3. Chennai Floods: In PPP we trust
1. Business Standard: Cheap Oil: What should India do?
.
+++++++++++++++++++++++++++++++++++++++++++++++
Useful News Articles
A. GS1 Related:
— Nothing here today, folks! —
.
B. GS4 Related:
C. GS3 Related:
2. ISRO puts fifth GPS satellite in Orbit
Topic: S&T
Category: Space tech
Location: Hindu Page 8
Key points:
– In yet another textbook launch, the Indian Space Research Organisation (ISRO) on Wednesday launched IRNSS-1E, the fifth of the seven-satellite Indian Regional Navigation Satellite System (IRNSS) into space.
– IRNSS-1A, 1B, 1C and 1D were launched in July 2013, April and October, 2014 and March last year respectively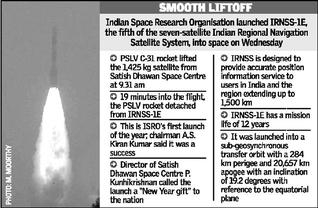 .
Topic: Energy, Infrastructure
Category: Energy Pricing
Location: Hindu Page 16
Key points:
– Cabinet has approved several amendments to the national power tariff policy with a view to promote renewable energy and improve the ease of doing business for developers in the sector.
– The amended policy said that the power regulator has to come up with a clear action plan to ensure 24×7 power supply to all consumers by 2021-22 or earlier.
– Companies are allowed to pass on to consumers costs arising out of any changes in taxes, cess and levies
– The amendments are based on four Es—electricity for all, efficiency that will ensure affordable tariffs, the environment, and ease of doing business to attract greater investment in the sector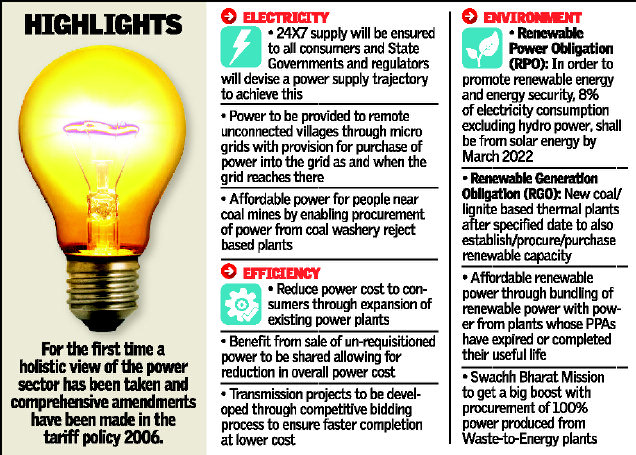 4. Cabinet approves WTO Nairobi stand
Topic: International Trade, Food Security
Category: WTO, NFSA, subsidies
Location: Hindu Page 16
Key points:
– The outcomes of the conference, referred to as the 'Nairobi Package' include Ministerial Decisions on agriculture covering a Special Safeguard Mechanism (SSM) for developing countries to counter import surges of farm items, public stockholding for food security purposes, a commitment to abolish export subsidies for farm exports and measures related to cotton.
– India secured a re-affirmative Ministerial Decision on the public stockholding issue honouring earlier decisions at the WTO's highest level
D. Important Editorials: A Quick Glance
1. FDI in India, From India? Black Money – The hidden wealth of nations!
Topic: Economy, Paper III
Category: Black Money, Tax, FDI (MUST READ!)
Key points:
– India's biggest source of FDI is India itself!? – money departing on a short holiday to a tax haven and then routed back as FDI.
– Base Erosion and Profit Shifting (BEPS): the erosion of a nation's tax base due to the accounting tricks of Multinational Enterprises (MNEs) and the legal but abusive shifting out of profits to low-tax jurisdictions respectively
– OECD has launched a project against –  15 action points to curb abusive tax avoidance by MNEs. As a participant of this project, India is expected to implement at least some of these measures.
– curbing tax evasion to boost public finance is part of the United Nations' Sustainable Development Goals (SDGs) too!
– However, not clamping down on General Anti-Avoidance Rules (GAAR) (postponed to 2017), or P-notes (SIT recommendations not followed) shows India lacks political will to do so…
– Article talks about Tax havens and their role in round tripping – and says: all India needs to do to attract FDI is to become an OFC, or create an OFC on its territory — bring offshore onshore, so to speak.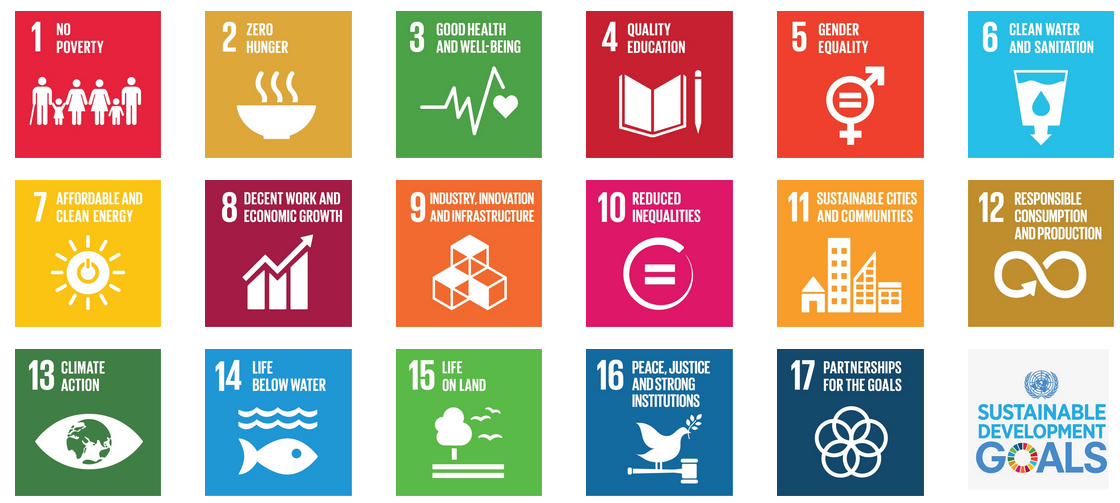 .
Topic: Economy, Public Health Paper II
Category: Public Health, NFSA
Key points:
– Although the NFSA clearly legislates a universal entitlement, IGSMY, which MWCD proposes to expand, restricts benefits to the first two births. This position appears to be based on the ill-conceived notion that universal transfers increase fertility.
– Maternity entitlements are an important policy tool for encouraging better maternal health. But a well-designed programme would not merely scale up the IGMSY. It would be, as the law already requires, a universal programme, and it would do away with conditionality in favour of educating families about the importance of investing in healthy pregnancies.
– Quotable Data: Indian women actually weigh less at the end of pregnancy than sub-Saharan African women do at the beginning
.
3. Chennai Floods: In PPP we Trust!
Topic: Infra, Paper II
Category:Public/Urban Infra, Investment, PPP
Key points:
– Private sector is expected to bring in at least half of the over $1 trillion investment in infrastructure that is targeted as part of the Twelfth Five Year Plan (2012-17).
– Chennai foods showed the power of volunteer citizen activism, the article says…
– Would it hurt if the government used the services of the general public — available absolutely free of cost — as a form of PPP?
-.
.
1. Business Standard: Cheap Oil: What should India do?
Topic: Economy, International, paper III
Category: Energy Prices
Key Points:
– Oil prices slide due to price war via over supply (coinciding with weak global demand)
– Even if Opec finally cuts production, it will be more than compensated by the return of Iran
– Is that the reason why U.S rushed to bring in Iran? 😛
– persistently low prices could lead to widespread shutdowns in production of shale oil and gas, leading to a reduction in exploration efforts.
INDIA
– Persistently low crude oil prices will impact India in several positive ways. There will be less pressure on the trade account, and probably a lower fiscal deficit, due to the lower subsidy burden. Fertilisers and retail petroleum products will cost less. The government has mopped up higher excise collections on petro-products as prices have fallen. Non-food inflation has moderated. The government has taken advantage of the lower oil prices and stepped up the pace to build strategic oil reserves in the country. This scenario also offers an opportunity to move ahead with policy reforms without causing undue consumer distress. For example, kerosene and gas subsidies could be eliminated, or at least, reduced substantially, by easing closer to market-driven prices. The government has taken some steps in this direction and more, hopefully, should be taken in the coming months. The same holds true for fertiliser subsidies; the subsidy mechanism for fertilisers requires overhaul.
– On the other hand, there is some danger that exploration and production activity will fall by the wayside. There will not be much commercial interest until the price cycle changes. There is a commitment to shift to open acreage licensing from the current New Exploration Licensing Policy system. The absence of urgency could lead to delays in policy review. Given the long-gestation nature of exploration activity, policy reviews must not be delayed.
.
F. Fun with Practice Questions 🙂
Question 1: Which of the below given countries is involved in t

he Global Oil War 2016?
a) US, Russia, Saudi Arabia, Iran
b) Russia, Saudi Arabia, Japan, Iraq
c) India, Saudi Arabia, Pakistan, Nigeria
d) Nigeria, Japan, Saudi Arabia, Russia
Question 2: 

Who was appointed as the head of the newly constituted a 10-member committee by the Union government to review and revitalise public private partnership (PPP) mode of infrastructure development?
a) Y V Reddy
b) Vijay Kelkar
c) K G Balakrishnan
d) TSR Subramanian
Question 3: 

Which of the following is not true related to Base Erosion and Profit Shifting (BEPS)?
BEPS is a technical term referring to the negative effect of multinational companies tax avoidance strategies on national tax bases.

BEPS can be achieved through the use of transfer pricing or more correctly "transfer mispricing".

BEPS is not used in a project headed by the OECD that generated detailed reports in September 2014 in response to seven actions agreed previously.

BEPS is said to be an "attempt by the world's major economies to try to rewrite the rules on corporate taxation to address the widespread perception that the [corporations] don't pay their fair share of taxes"
Question 4: 

Consider the below the objectives of IGMSY:
To promote proper practice, care and institutional service utilization during pregnancy, delivery and lactation

Encouraging the women to follow (utmost) nutrition and feeding practices, including early and exclusive breastfeeding for the first six months; and

Providing cash incentives for improved health and nutrition to pregnant and lactating mothers.
Answer choices:
a) Only 1 is true
b) Only 1 and 2 are true
c) Only 2 and 3 are true
d) All of the above are true
Question 5: 

Which of the below is not true about the "Nairobi Package"?
a) The Nairobi Package contains a series of six Ministerial Decisions on agriculture, cotton and issues related to least-developed countries
b) It is a holiday package
c) Includes a commitment to abolish export subsidies for farm exports
d) Decisions on favourable treatment for least developed countries was made
.
.