Table of Contents:
4. AIIB Opened
1. Mint: Best Places to Start up in India

.
+++++++++++++++++++++++++++++++++++++++++++++++
Useful News Articles
A. GS1 Related:
— Nothing here today, folks! —
.
B. GS2 Related:
— Nothing here today, folks! —
.
C. GS3 Related:
Topic: Economy
Category: Business, Growth
Location: Hindu, IE – Headline news
Key points:
– Tax holiday + 10,000 cr fund + credit guarantee scheme + patent regime to be improved… + Ease of Doing Business to be improved.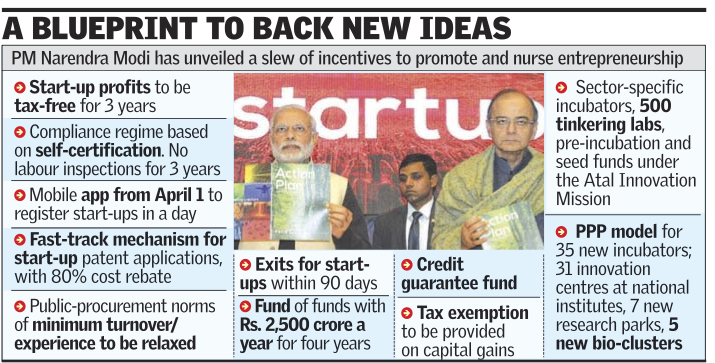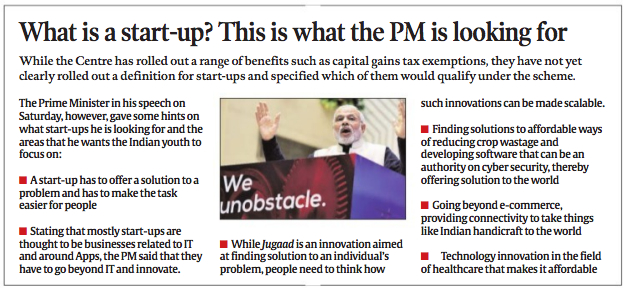 . 
Topic: Environment
Category: Clearance, Infrastructure, NGT
Location: Hindu, Page 8
Key points:
– The National Green Tribunal (NGT), western zone, has penalised Adani-Hazira Port Pvt Ltd (AHPPL) and Hazira Infrastructures Pvt Ltd (HIPL), sister companies of Adani Group, for environment damage and ordered them to deposit a total of Rs 25 crore for restoration.
– The tribunal was hearing a petition moved by Hazira Fisher-men Committee, challenging the Environment Clearance (EC) given by environment ministry to these firms in 2013.
Assignment: Summarize EC process in India
3. Taiwan gets new President; China ties on the line
Topic: IR
Category: Neighbors
Location: Hindu, page 14
Key points: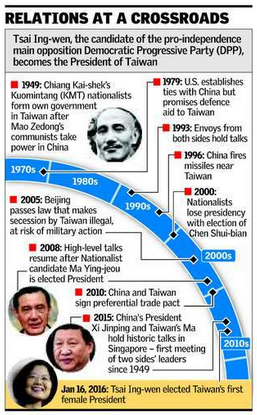 4. AIIB Opened
Topic: Economy
Category: International Finance
Location: Hindu, page 15
Key points:
– The AIIB is expected to open a new channel of funding for the Global South, which was so far dependent on the western backed International Monetary Fund (IMF), the World Bank and the Asian Development Bank (ADB), in which Japan plays a pre-eminent role.
– Observers say that the new lender will focus on infrastructure development in Asia
– India failed to get vice presidency; China does not get veto
.
D. Important Editorials: A Quick Glance
The Hindu:
Topic: Environment, Paper III
Category: Biodiversity
Key points:
– Whales are sensitive to noise pollution, sonar – makes them disoriented. Can cause "Beaching" and deaths
-.
.
1. Mint: Best Places to Start up in India
Topic: Economy, paper III
Category: Investment
Key Points:
– According to the World Bank's report, India is ranked 130 out of 189 countries in the overall "ease of doing business" ranking.
– Opening a business in India is much harder than in any of its counterpart BRIC countries.
– Basic issues like getting credit, electricity, paying taxes and resolving insolvency continue to be sluggish and difficult in India.
– Karnataka, Tamil Nadu, Maharashtra, Andhra Pradesh and Kerala have been able to create an entrepreneur-friendly system.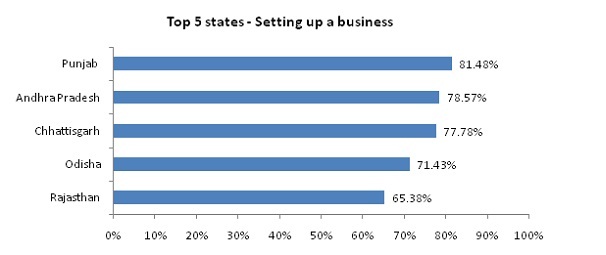 Assignment: See more data in the article & summarize.
.
F. Fun with Practice Questions 🙂
Question 1: Regarding Ease of Doing Business:
1. India ranks lowest in Doing Business among the BRICS nations
2. Credit availability is a measure considered in constructing the index
3. Resolving insolvency is a measure in the index
Which among the above statements is/are wrong?
a) 1, 2 & 3
b) 2 & 3
c) 2 only
d) None
Question 2: Which of the following is not considered by WB in creating Ease of Doing Business Index?


a) Getting electricity
b) Construction permits
c) Investor Protection
d) Social security for workers
Question 3: Consider the statements below about EC in India:
1. MoEFCC and state environmental ministries are involved
2. MoEFCC has been taking initiatives to ease the process such as online portals and web applications
3. The decision by the ministry on EC is final and cannot be challenged
Answer choices:
a) Only 1 is true
b) Only 1 and 2 are true
c) Only 2 and 3 are true
d) All of the above are true
Question 4: Which of the following is false about NGT?
a) It is a statutory body
b) It is a constitutional body
c) NGT chairperson is appointed in consultation with Chief Justice of the SC
d) NGT has jurisdiction over The Biological Diversity Act, 2002, among other acts.
.
.