Table of Contents:
1. HC stays order imposing dress code for temple entry
1. 'Make in India' in defence purchases
3. Forex Reserves: Import cover increases
4. Mudra loans: Government Contribution
2. India's strategy for West Asia
1. Railway Budget: Promises to Keep
2. Bankruptcy Code: Money Bill?
Others:
1. Business Standard: Kelkar Committee Report on PPP
2. Financial Express: Odd-Even: Judicial restraint needed?
3. Financial Express: E-Commerce & India Post
.
+++++++++++++++++++++++++++++++++++++++++++++++
Useful News Articles
A. GS1 Related:
— Nothing here today, folks! —
.
B. GS2 Related:
Topic: Society
Category: Society (plus link to GS1 – Temple entry movements)
Location: Hindu, Page 13
Key points:
– According to the dress code formulated by Justice S. Vaidyanathan, men should wear "dhoti or pyjama with upper cloth or formal pants and shirts" and women "sari or half sari with blouse or churidhar with upper cloth." Children could come in "any fully-covered dress."
C. GS3 Related:
1. 'Make in India' in defence purchases
Topic: Economy
Category: Manufacturing FDI
Location: Hindu, Front page
Key points:
– Changes to the Defence Procurement Procedure (DPP) – to streamline defence acquisitions
–  A new category [Indigenously Designed, Developed and Manufactured (IDDM) ] to promote domestic manufacturing, including government funding for Research & Development (R&D) and recognition of the Micro, Small and Medium Enterprises (MSME) in technology development.
– Under new Start Up India campaign.
– The tax provision in question treats infusion of funds by domestic angel investors as income in the hands of the start-up, making India the only country in the world to penalise local angel investors in such a manner.
. 
Topic: Environment
Category: Pollution, Urban Planning
Location: Hindu, Page 13
Key points:
– Move is part of decision to re-define terms that are not scientifically precise.
– Examples:
Topic: Economy
Category: Foreign Exchange, RBI
Location: Hindu, Page 15
Key points:
– $350.4 billion – able to support imports for 9.8 months
 .
4.
Topic: Economy
Category: Banking
Location: IE, Headline news
Key points:
– MUDRA: Micro Units Development Refinance Agency
– Scheme: to refinance collateral-free loans of up to Rs 10 lakh given by lending institutions to non-corporate small borrowers, for income-generating activities in the non-farm segment (PMMY: Pradhan Mantri MUDRA Yojana)
– Loans disbursed by microfinance institutions (MFI) and banks have been renamed as MUDRA loans under this scheme
– The top six institutions that received refinance under the MUDRA Scheme are: SKS Microfinace Ltd (that got refinance of Rs 100 crore); Ujjivan Financial Services P. Ltd (Rs 100 crore); Equitas Microfinance Pvt Ltd (Rs 75 crore); Satin Credicare Network Ltd (Rs 35 crore); Madura Microfinance Ltd (Rs 35 crore) and RGVN (NE) Microfinance Ltd (Rs 30 crore).
– Banks and MFIs can draw refinance under the scheme after becoming member-lending institutions (MLIs) of MUDRA.
.
5. Some nice Numbers 🙂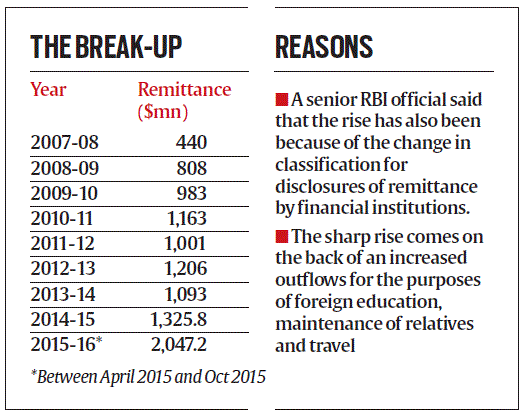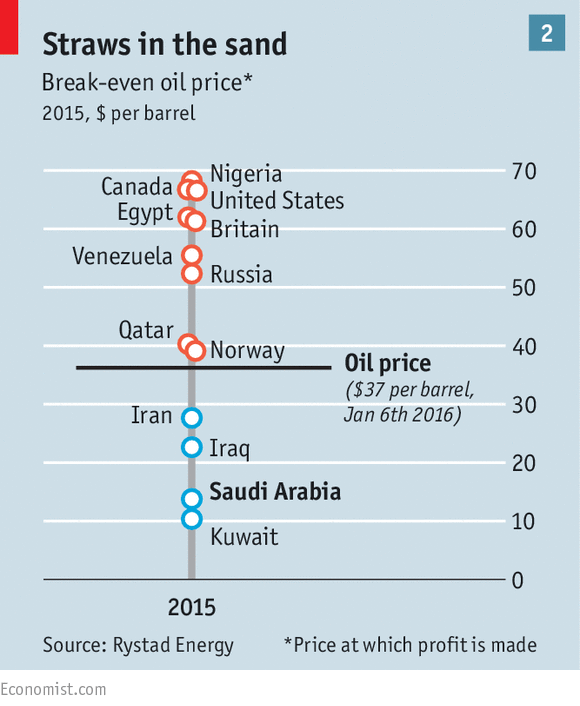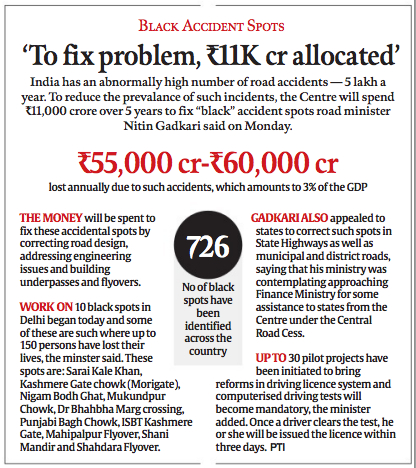 .
D. Important Editorials: A Quick Glance
Topic: Environment, Economy, Paper III
Category: Automotive Industry, Pollution, Fuel
Key Points:
– On decision to adopt Bharat Stage VI automotive fuels nationwide, skipping BS V, by April 1, 2020.
– Might have significant cost implications for fuel producers and the automobile industry, but its positive impact on public health could more than compensate for the investment.
Assignment: Summarize Saumitra Chaudhuri Committee on Auto Fuel Vision and Policy 2025 in its report submitted in 2014 & post in comments section for feedback.
.
Topic: IR
Category: Foreign Policy
Key Points:
– New Delhi is indicating its focus on West Asia in the coming year, with the Prime Minister expected to travel to Saudi Arabia, Israel, Palestine and possibly Iran.
– The WANA (West Asia, North Africa) region is home to more than seven million Indians who account for more than half of all remittances to India adding up to $70 billion.
– India's energy dependence on the region is another reason for deeper engagement.
– India should look at a role as upholder and facilitator of law & peace in the region…
.
Topic: Economy
Category: Railway Budget
Key points:
– Budget targets in terms of freight, investment, etc. not on track
– Assignment: Read and summarize the report by Bibek Debropy committee on the Railway. Post in comments. Best summary will be published in the site.
– Also attempt summary of Railway Budget key points
.
Topic: Polity, Paper II
Category: Constitution, Parliament 
Technical Article: Read with Constitution notes and tablet in hand.
Key Points:
– Money Bill: Article 110 mandates that a money bill must only entertain provisions dealing with the imposition, abolition, remission, alteration or regulation of any tax; the regulation of borrowings by the government of India and the regulation of the Consolidated Fund of India, including appropriation of money out of this fund.
– Crucially: Lok Sabha is BOSS: money bill can be introduced only in the Lok Sabha. The Rajya Sabha can only make "recommendations" that are not binding on the Lok Sabha. The president has no power to return a money bill.
– On December 21, 2015, the Insolvency and Bankruptcy Bill, 2015, was introduced as a money bill in the Lok Sabha
– In short, the Rajya Sabha will not be able to stall the bankruptcy code as it has, unfortunately, blocked the GST bill
– Is it a Money Bill?? Article Argues it is not. Read and decide. Post in comments
– The bankruptcy code proposes to consolidate and amend laws relating to reorganisation and insolvency resolution of corporate persons and other entities, and to establish an "insolvency and bankruptcy fund"
– Bombshell: Certifying a bill as a money bill when its primary purpose is not governed by Article 110 is an unconstitutional act 🙂
.
Topic: Society, Governance, paper II
Category: Society, Police
Key Points:
– Countries with dysfunctional governance, most of the times, display low rates of crimes. Why?
– Sweden (with 6,456 crimes per 1 lakh population), Denmark (6,041) and the Netherlands (5,523) have high rates of crimes.
– The countries with low rates of crimes are Somalia (1.5), Iraq (2), Libya (2.9) and Haiti (5). It would be naive to argue that Somalia is safer than Sweden.
– India's crime rate (87) itself compares with that of Lebanon (59), Yemen (67) and Kazakhstan (96).
– Within India, Kerala, considered to be a better policed state has one of the highest crime rates
– While UP, whose poor law and order issues often hit headlines, has one of the lowest.
– Why is it so? Only if measured solely through registered crimes via FIR. Officers have incentive to not file FIR then! And citizens are not aware or powerful enough to insist.
– Non-registration of FIRs was reflected as a chronic problem of policing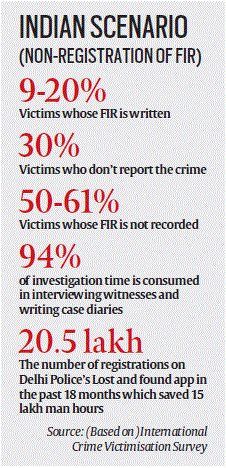 .
1. Business Standard: Kelkar Committee Report on PPP
Topic: Polity, paper II
Category: Judiciary
Key Points:
– recommends setting up a National Facilitation Committee for the resolution of prickly project issues
– A completely fresh approach to risk allocation: hybrid annuity model and the revised format of ultra mega power project bids, etc
– PPP contracts to have a clearly articulated dispute resolution structure –  unforeseen events to necessitate amending the terms of the concession agreement.
– Suggested moving ahead with the 3P Institute without further delay
– Reverse BOT – monetizing existing infrastructure projects owned by the state by letting it be operate by pvt sector!
.
Topic: Polity, paper II
Category: Judiciary
Key Points:
– Courts to not intervene in deciding effectiveness of policy measures!
.
Topic: Economy
Category: Banking, DBT (Payment Banks)
Key Points:
– India Post has done well to cash in on the e-commerce boom—in just the first nine months of the year, it has earned nearly Rs 1,000 crore from delivering parcels.
– Given its extensive network, especially in tier II cities and rural areas, this is only going to grow faster.
– It is this network that also makes its forthcoming avatar as a payments bank look promising
– Once the government's direct benefits transfer (DBT) scheme picks up, India Post's bank should be in a good position to make the most of this given the proximity of its branches to most rural households.
– It would, however, be unfair if the DBT market is reserved for the postal bank.
– Other banks, including those backed by mobile phone firms, should be allowed an equal shot at this business
– The govt must give an equal shot to all payments banks at its DBT business, not reserve it for India Post
..
F. Fun with Question Framing 🙂
Question 1: Consider these statements:
1. Payment banks are "differentiated" banks.
2. Individuals cannot apply for Payment Banks
3. They can issue credit cards
Which among the above statements is/are wrong?
a) 1, 2 & 3
b) 2 & 3
c) 1 & 2
d) 1 & 3
Question 2: How much amount is Reserve Bank of India (RBI) required to keep in gold and foreign exchange reserves?
a) 200 crore.
b) 220 crore
c) 550 crore
d) 100 crore
Question 3: Consider the statements below:
1. PPP should combines private sector efficiency with public purpose of Government.
2. PPP models has been running smoothly india
3. PPP is a form of borrowing money
Answer choices:
a) Only 1 is true
b) Only 2 and 3 are true
c) Only 1 and 3 are true
d) All of the above
Question 4: Which of the following is to aid Micro Credit?
a) Credit Guarantee Fund Trust for Micro & Small Enterprises (CGTMSE)
b) Export Credit Guarantee Corporation (ECGC)
c) Priority Sector Lending in Agriculture
d) All of the above
Question 5: Who decides whether a Bill is Money Bill or not?
a) Prime Minister.
b) President of India
c) RBI Governor
d) Lok Sabha Speaker
.
You can check out some recent News Analysis sections to build even more context:
10th January 2016: Daily  News & Current Affairs Analysis