Table of Contents:
1. Centre clears new crop insurance scheme
2. Beaching of Whales: Explained
3. Features of Defence Procurement Purchase (DPP)
1. Rise & Fall: New IIP and CPI Data
1. Financial Express: Kill inflation Targeting?
3. Business Line: Shankar Acharya: Predicting 2016: Ten Points!
.
+++++++++++++++++++++++++++++++++++++++++++++++
Useful News Articles
A. GS1 Related:
— Nothing here today, folks! —
.
B. GS2 Related:
— Nothing here today, folks! —
C. GS3 Related:
1. Centre clears new crop insurance scheme
Topic: Economy
Category: Insurance, Financial Inclusion
Location: Hindu, Page 1
Key points:
– Pradhan Mantri Fasal Bima Yojana – PMFBY – replaces the existing National Agricultural Insurance Scheme (NAIS) as well as the modified NAIS
. 
2. Beaching of Whales: Explained
Topic: Environment, S&T
Category: Biodiversity
Location: IE Page 13
Key points:
– Useful conceptual article. Please read and make notes
– More than 100 short-finned pilot whales were stranded along a 15-km stretch of Manapad beach south of the port city of Thoothukudi (Tuticorin) in Tamil Nadu this week, and at least 60 died.
– How did the giant creatures show up in these shallow waters? How do whales find their way around the oceans — and why do they get beached?
3. Features of Defence Procurement Purchase (DPP)
Topic: Economy
Category: FDI, Make in India
Key points:
– Raised the offset limit baseline to Rs 2,000 crore from Rs 300 crore
– Offsetss: benefits that a buyer gets from a seller — technology/capability that Indian industry gets from a foreign vendor selling equipment to India.
– The new DPP is expected to pave the way for 'Make in India'. — With new category, 'Indigenously Designed, Developed and Manufactured' as a preferred category for purchase. This means that a piece of defence equipment designed, developed and manufactured in India would get preference.
 .
4. Some nice Numbers 🙂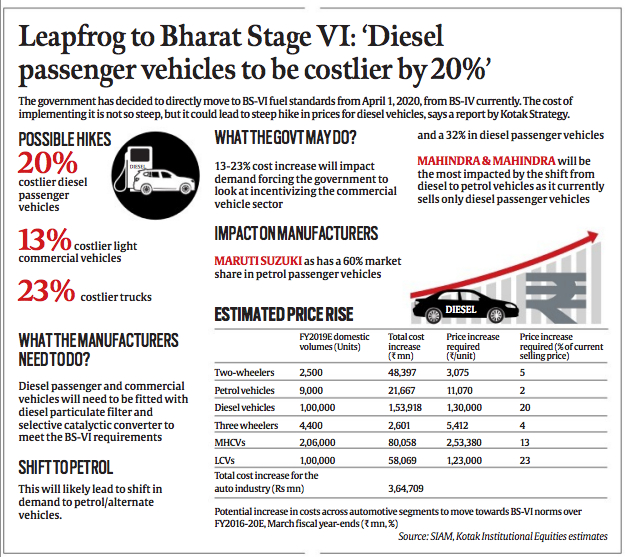 .
D. Important Editorials: A Quick Glance
Topic: Economy, Paper III
Category: Inflation, Industry
Key points:
– industrial production: contracted by 3.2 per cent in November — the lowest level in over four years.
– Much of the blame goes to the weak performance of the manufacturing sector
– consumer price inflation: rose to 5.6 per cent for December, even though it remains within the RBI's January target level of 6 per cent.
– The main reason here was the higher food price inflation. Taken together, the data paints a contradictory picture.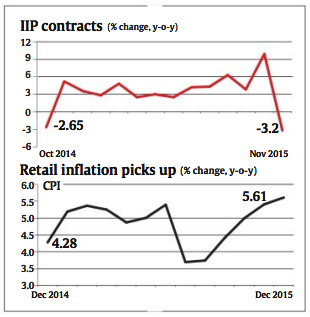 – What to do now? if the government tries to jump-start the economy through higher expenditure, it will further worsen its fiscal deficit and increase inflation!
– If the RBI tries to reduce interest rates in order to incentivise investment, it may fuel inflation and not meet its targets!
– Best Option? – Try to improve quality of investment (not just quantity) – channel in right way!
On Inflation Targeting:
.
1. Financial Express: Kill inflation Targeting?
Topic: Economy, paper III
Category: Inflation, RBI
Key Points:
– Inflation Targeting makes RBI more reluctant to cut interest rates to boost production?
– A weakly argued article, but read to get a counter view to video above
Assignment: Summarize the arguments about Inflation Targeting from video above
.
Topic: Economy, paper III
Category: Insurance, Agriculture, Financial Inclusion
Key Points:
– A new crop insurance scheme approved
– If implemented well, it could help delink agriculture from the associated uncertainties.
– The scheme, covering all crops, will merge all farm-related insurance schemes and provide cover for production-related risks and price volatility.
– QUOTABLE QUOTE: The fundamental problem with Indian agriculture is that farmers face yield risks as much as they face price risks. No other sector can claim this level of uncertainty at almost every level of operation—the risk of monsoon failure and infestations during crop growth, the risk of lower prices after harvest, compromise in quantity and quality during storage and distribution, the list goes on. These risks assume higher proportions given productivity and technology lacunae and affects the economy as a whole through the agriculture sector's extensive linkages.
.
20 predictions for the year – 10 for India, and 10 for the world:
– World:
1. Global economic growth will continue to be tepid at 2.5 per cent or less;
2. China to grow slower;
3. China to remain under party rule;
4. Less political stability in Europe due to refugee crisis, etc.;
5. West Asia will remain unstable;
6. Brent crude will be trading at $50 per barrel (or higher) by December;
7. Hilary Clinton will win
– India:
1. Growth in the order of seven per cent only;
2. Consumer price inflation will stay below six per cent annual rate throughout the year, and probably below five per cent in the second half of the year. The Reserve Bank of India (RBI) will reduce the policy rate by 25-50 basis points, but this will have little impact on investment and growth;
3. The previous year's poor export performance will persist. The rupee to US dollar rate is likely to be in the range of 70-75 by December;
4. Fiscal consolidation will be paused due t pressure;
5. GST will pass;
6. NPA will still stress-out PSU Banks;
7. Pakistan-sponsored terrorism will continue to thwart any serious improvement in bilateral relations
..
F. Fun with Practice Questions 🙂
Question 1: Consider these statements:
1. National Crop Insurance Programme" which was launched in 2013
2. Weather Based Crop insurance Scheme (WBCIS) is a part of NCIP
3. NCIP does not cover yield losses
Which among the above statements is/are wrong?
a) 1, 2 & 3
b) 2 & 3
c) 3 only
d) 1 & 3
Question 2: RBI's effective policy inflation target for 2016 would be:


a) 4 %
b) 6 %
c) 2 %
d) undecided
Question 3: Consider the statements below about BS VI norms:
1. The SC imposed Euro norms on India in 1999
2. All of India has access to BS VI grade fuel
3. The harmful emissions that are identified for regulations in different Bharat Stages (BS) are carbon monoxide (CO), unburnt hydrocarbons (HC), Nitrogen Oxides (NOx) and Particulate matter (PM)
Answer choices:
a) Only 1 is true
b) Only 2 and 3 are true
c) Only 1 and 3 are true
d) All of the above are true
Question 4: Which of the following is true about India's Defence Procurement Policy?
a) Under DPP all capital acquisitions are categorized into: Buy(Indian), Buy & Make (Indian), Make, Buy & Make, Buy (Global).
b) 'Buy (Indian)' is the most preferred category, followed by 'Buy and Make (Indian)', 'Make (Indian)', 'Buy and Make' and 'Buy (Global)'.
c) Buy (Indian) – means minimum of 30% indigenous content is required
d) All of the above
.
.