Table of Contents:
1. Meritocracy: Class X Rule for Elections
2. Chief Economic Advisor Vs. RBI Governor
1. The Hindu Business Line: All you wanted to know about BS VI
.
+++++++++++++++++++++++++++++++++++++++++++++++
Useful News Articles
A. GS1 Related:
— Nothing here today, folks! —
.
B. GS2 Related:
1. Meritocracy: Class X Rule for Elections
Topic: Elections, Constitution
Category: Reforms, Elections
Location: IE – Headline news
Key points:
– Haryana: Class X rule means only young women elected, only four of them
– The state law, upheld by the Supreme Court last year, requires that general candidates should have passed the Class X examination while women and Dalit candidates need to have cleared Class VIII. Dalit women candidates must clear Class V.
,
2. Death of a Dalit scholar
Topic: Elections, Constitution
Category: Reforms, Elections
Location: Hindu, IE Headline news + Editorials
Key points:
– The suicide of Rohith Vemula, a Dalit research scholar at the University of Hyderabad…
– Political Conflict or elements of caste exclusion?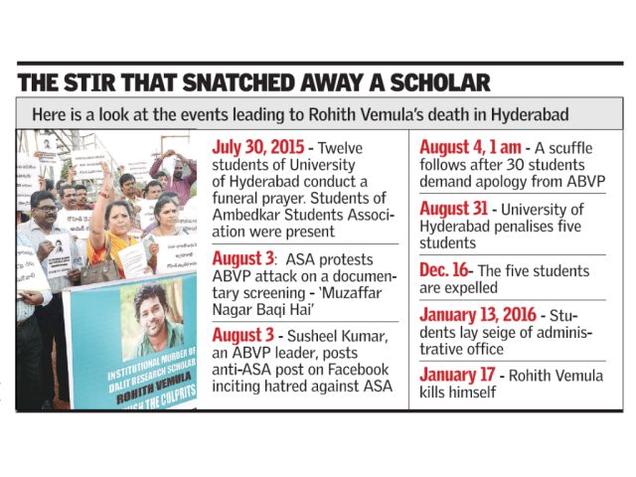 C. GS3 Related:
Oversupply in oil market causes the plummet. Now with Iran also entering it might plummet more…
The OPEC is overproducing as part of a price war, supplying 2.5 million bpd more than demand!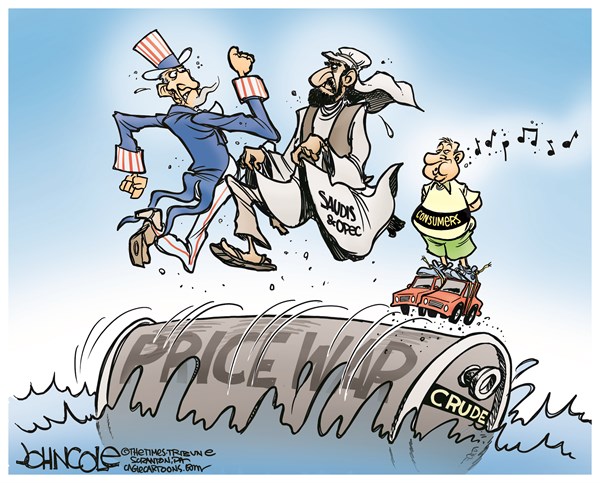 AND INDIA? – Not passing on the bonanza to customers – retail prices remain the same!
International Energy Agency's World Energy Outlook 2015 has predicted India's oil imports to double to 90 per cent from 3.7 million barrels/per day (mb/d) in 2014 to 7.2 mb/d by 2040.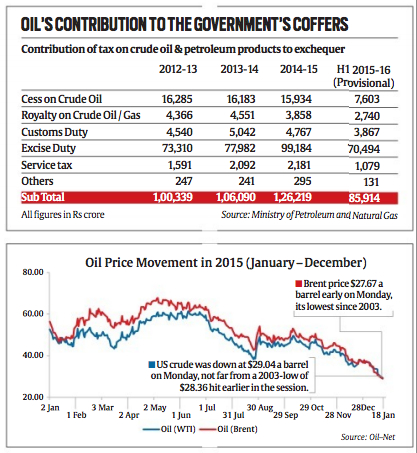 Related Article: Effects of LOW PRICE on Investments? 
– The existing low oil price, which now has dropped to below $30 a barrel, has already dried up upstream investments and is now delaying the next round of oil and gas bidding.
– The ninth round of National Exploration Licensing Policy (NELP) was conducted in 2010. As a result of this, low domestic hydrocarbon production has spurt India's oil imports further, thwarting government's ambitious goal of cutting down oil imports by 10 per cent by 2022.
2. Some nice Numbers 🙂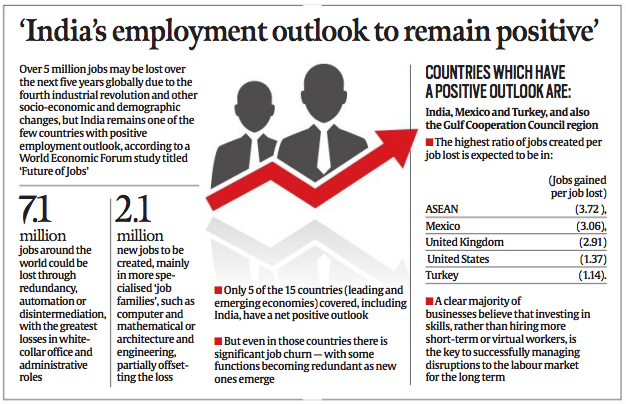 D. Important Editorials: A Quick Glance
Topic: IR, Paper II
Category: Middle-east
Key points:
– A peaceful solution to the Iranian nuclear crisis was a remarkable moment in International diplomacy
– Iran quickly acted to rein in its nuclear programme. It decommissioned its enrichment centrifuges, removed the core of its heavy-water reactor and shipped out most of its low-enriched uranium stockpile…
– Then, the International Atomic Energy Agency confirmed Iran had complied with its commitments. Within hours, nuclear sanctions were removed, signalling Iran's reintegration with the global economy.
Related Article: India silent on lifting of sanctions against Iran
.
2. Chief Economic Advisor Vs. RBI Governor
Topic: Economy, Paper II
Category: Growth, GDP
Key points:
– The economy is slowing down: in the first six months of the financial year, real GDP grew 7.2 per cent, slower than the 7.5 per cent in the corresponding earlier-year period.
– Chief Economic Advisor Arvind Subramanian publicly differed with RBI Governor Raghuram Rajan and took a bet on accelerating growth. He is clearly losing –  He projected a sharp recovery with growth of up to 8.1-8.5 per cent; Dr. Rajan's call was 7.4 per cent.
-.
.
1. The Hindu Business Line: All you wanted to know about BS VI emission norms
Topic: Environment, paper III
Category: Fuel emission, Pollution
Key Points:
– Bharat Stage (BS) IV emission norms now —  to BS VI norms by 2020
– While vehicle manufacturers have been asked to gear up to meet the new deadline, oil companies will also have to prepare to retail BS VI-compliant fuel.
– Introduced in the year 2000, the Bharat norms are emission control standards put in place by the government to keep a check on air pollution. Based on the European regulations (Euro norms), these standards set specifications/limits for the release of air pollutants from equipment using internal combustion engines, including vehicles. Typically, the higher the stage, the more stringent the norms.
– Other developing countries such as China having already upgraded to the equivalent of Euro V emission norms a while ago — India has been lagging behind. While BS IV-compliant fuel currently in use has 50 parts per million (ppm) sulphur, BS VI stipulates a low 10 ppm.
.
F. Fun with Practice Questions 🙂
Question 1: 

As per the International Monetary fund, India's projected Gross Domestic Product for the year 2016-17 would be:
a) 11.5%
b) 17.4%
c) 12.5%
d) 15.6%
e) 7.5%
Question 2:

The Iran-Libya Sanctions Act 1995 passed by the United States Congress , foreign companies were restricted to invest in Iranianpetroleum resources by $ .......... million.
a) $60 million
b) $100 million
c) $37.6 million
d) $20 milliion
e) $12 million
Question 3: 

The Upcoming New Exploration and Licensing Policy(NELP) X  intends to have implement the OALP which stands for:
a) Open Air Limiting Plan
b) Open Acreage Licensing Policy
c) Overhaul  Accident Leakage Plan
d) Online Arbitrary Listing Plan
e) On-Shore Augment Live Program
Question 4:

The Oil And Petroleum Exporting Companies(OPEC) consists of ...........member countries.
a) 20 members
b) 34 members
c) 12  members
d) 14 members
e) 17 members
Question 5: 

Which of the following does not follow under the category of the subtypes of atmospheric particles:
a) Suspender Particulate Matter
b) Resprirable Suspended Particle
c) Chlorofluorocarbon
d) TNT
e) Soot
Options:
a) Options 2 and 3
b) Options 3 and 4
c) Option 5
.
.