Table of Contents:
1. 40% rise in India's emissions in 10 yrs
2. P Notes dip
3. India to buy more crude oil from Nigeria
1. Border Security: Think like Pakistan!
2. Getting Closer to Smart Cities
.
+++++++++++++++++++++++++++++++++++++++++++++++
Useful News Articles
A. GS1 Related:
— Nothing here today, folks! —
.
B. GS2 Related:
— Nothing here today, folks! —
C. GS3 Related:
1. 40% rise in India's emissions in 10 yrs
Topic: Environment
Category: Pollution, Climate Change
Location: IE, Page 10
Key points:
– India's total greenhouse gas emissions in 2010 was 2.13 billion tonnes of carbon dioxide equivalent, rising 40 per cent from its 2000 levels, the latest official data shows.
– Forests and croplands, which absorb carbon dioxide, offset the total emissions by 12 per cent, thereby bringing down India's net emissions to 1.88 billion tonnes of carbon dioxide equivalent.
– The energy sector that includes electricity production, fuel combustion in industries, and transport continues to be the biggest contributor to India's emissions.
– India is the third largest emitter of greenhouse gases after China and the US. It becomes the fourth when European Union is considered as one block. But it has a much lower per capita emission as compared to the other countries.
.
2. P Notes dip
Topic: Economy
Category: Black Money, Investments, FDI
Location: IE, page 17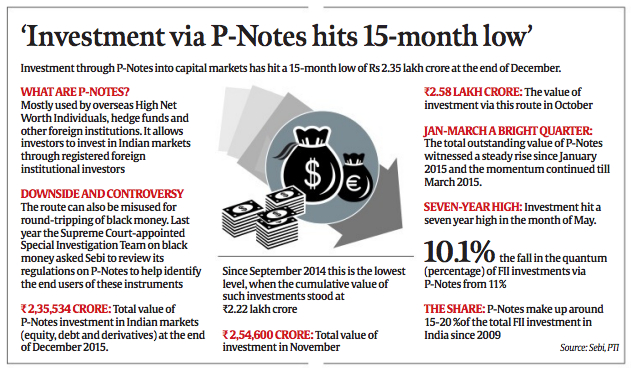 .
3. India to buy more crude oil from Nigeria
Topic: International, Energy
Category: Oil, Africa
Location: Hindu Page 16
Key points:
– India is set to import more crude oil from Nigeria, already one of the biggest contributors to the country's oil imports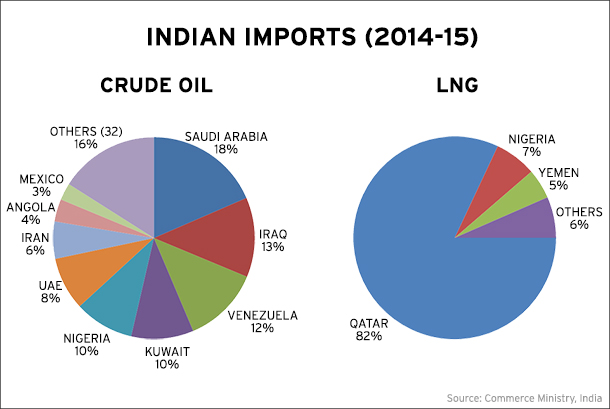 – Nigeria is the third-largest contributor to India's oil imports, accounting for 11.59 million tonnes (MT) in the first half of this financial year, behind Saudi Arabia (19.56 MT) and Iraq (17.01 MT).
– Nigeria has now agreed to increase the term contract from 1.7 million tonnes per annum to three million tonnes in 2016
– The benefit of a term contract is that not only does it assure a certain quantity to be supplied but also ensures a stable price unlike oil bought from spot markets whose price can fluctuate drastically. Apart from Nigeria, Sudan also wants to increase its engagement with India.
– Sudan currently owes India $240 million for the oil it consumed from the Greater Nile Oil Project in the country of which OVL owns 25 per cent. The modalities of repayment are being worked out
– India, on its part, is also keen to diversify its oil import basket as Saudi Arabia's national oil and gas company recently announced that it would be selling oil to its Asian customers, including India, at a premium of $0.6 a barrel above the prevailing market price in February.
 .
D. Important Editorials: A Quick Glance
1. Border Security: Think like Pakistan!
Topic: IR, Paper II
Category: Pakistan, Borders
Key points:
– A better understanding of Pakistan's own security concerns could help policymakers in India frame a stable engagement strategy with its most important neighbour of the day. Pakistan's security strategy is built around a perceived existential threat from India.
– According to its narrative, since the birth of the two countries in 1947 India has been an aggressor on at least three occasions, dismembered it, humbled it militarily repeatedly, built nuclear bombs that can wipe it off the map, and has been subjecting Kashmiris to humiliation.
– Pakistani army remains an "India-centric" institution and that reality will not change in any significant way until the Kashmir issue and water disputes are resolved
– Pakistan today spends a quarter of its tax collected on the military in some form or the other. The Pakistan Army is not just an armed military service, but it also runs businesses and the nation itself. While it has carried out repeated assaults on Pakistan's democracy, it is also the only institution capable of holding Pakistan together.
– Organisations such as Lashkar-e-Taiba and Jaish-e-Mohammad were created and nurtured by the very same Pakistan Army and the intelligence agency, Inter-Services Intelligence (ISI). These groups continue to serve a critical function at the core of the army's security doctrine, of fighting for the Kashmir cause, of checkmating the much bigger Indian military, and keeping its neighbour occupied on various fronts.
– Pakistan Army leadership finally is waking up to the armed non-state actors biting back.. but the terror groups are very still effective in unsettling India
-.
1. Getting Closer to Smart Cities
Topic: Infrastructure
Category: Smart Cities, Govt Programs
Key points:
– Twenty cities will be selected on January 26, 2016 and become the first lot of cities on their way towards being "Smart".
– Each selected city will get Rs 200 crore every year for the next five years. Rs 100 crore will be given by the Centre per year while the remaining will come from contribution by the concerned state. In all, each city will get Rs 1,000 crore in next five years…
– Concerns: Usually, it takes 20 to 30 years to build a city while a Smart City has only five years to shape up with available resources.
– Most of the problems in implementation will surface at municipal level. Most Indian Urban Local Bodies (ULBs) have three constraints — lack of sufficient financial, technical capacity and talented manpower.
.
F. Fun with Practice Questions 🙂
Question 1: 

Consider the following statements regarding the core infrastructure elements in a smart city a mission initiated by the government:
adequate water supply, ii. assured electricity supply

assured electricity supply

efficient urban mobility and public transport

health and education

All of the above
Choices:
a. 1, 2, 4
b. 2, 1, 3
c. 1, 2, 3
d. 5
Question 2: 

Which of the following statement is incorrect about Africa Oil Corp?
Africa Oil Corp. is a Canadian oil and gas company with assets in Kenya and Ethiopia, and an equity interest in Africa Energy Corp.

Africa Oil holds extensive exploration acreage in this exciting new world-class exploration play fairway.

The Company is not listed on the TSX and on Nasdaq Stockholm

Several new significant oil discoveries have been announced in the Lokichar basin of Kenya in which the Company holds a 50% interest along with operator Tullow Oil plc.
Question 3: 

Which of the following statement is wrong regarding 

P-Notes & FII?
P-Notes is commonly known as Participatory Notes are instruments issued by registered foreign institutional investors (FII) to overseas investors

P-Notes is commonly known as Promissory Notes are instruments issued by Securities & Exchange Board of India (SEBI) to overseas investors

On the 16th of October, 2007, SEBI proposed curbs on participatory notes which accounted for roughly 50% of FII investment in 2007

P-notes are not necessarily just for the India market.
Question 4: 

Which of the following statements related to GHG is/are true? 
Earth's surface temperature could exceed historical values as early as 2047

A greenhouse gas (GHG) is a gas in an atmosphere that absorbs and emits radiation within the thermal infrared range

The primary greenhouse gases in Earth's atmosphere are water vapor, carbon dioxide,methane, nitrous oxide, and ozone

In the Solar System, the atmospheres of Venus, Mars and Titan does not contain gases that cause a greenhouse effect
Choice of Answers:
 a, b, c

b, c, d

c, d, a
d, b, a
.
.