Table of Contents:
1. G20 must focus on policy spillovers, says Lagarde
1. Revamped,safer, and with greater punch
2. Banks require holistic cure
3. Govt. to tap CSCs for rural banking access
.
+++++++++++++++++++++++++++++++++++++++++++++++
Useful News Articles:
A. GS1 Related
— Nothing here today, folks! —
B. GS2 Related
1. G20 must focus on policy spillovers, says Lagarde
Topic:International Relations
Category: Important International institutions
Location: The Hindu, Page 15
IMF Managing Director Christine Lagarde said on Friday that G20 finance ministers and central bank governors should focus on global economic spillovers from their policy decisions when they meet in Shanghai next week

By better coordinating these policies, the major economies can improve market confidence and limit the spillovers on the rest of the IMF's 188 member countries, she said.

Currently, many oil- and commodity-exporting countries are experiencing financial difficulties as the Chinese economy slows.
C. GS3 Related
1. Revamped,safer, and with greater punch
Topic: Science & Technology
Category: Achievements of Indians in science & technology
Location: The Hindu, Page 10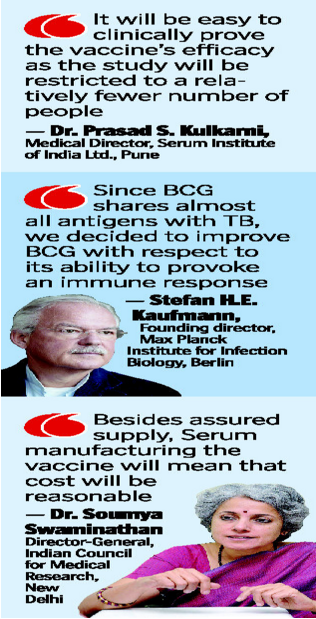 Key Points:
A potent vaccine against tuberculosis is getting readied at the Pune-based Serum Institute of India Limited.

The institute started a 'Phase 2b' clinical trial in neonates in South Africa late last year using a novel, recombinant

BCG (bacillus Calmette-Guérin) vaccine

.

The new TB vaccine (VPM1002) is based on the BCG vaccine in use today, but what makes it more powerful is that it

contains a gene which makes it easier for the vaccine to be better recognised by cells of the immune system
2. Banks require holistic cure
Topic:Economic Development
Category: Indian Economy
Location: The Hindu, Page 15
Key Points:
'Bad bank' concept allows a government-supported entity to buy bad loans from stressed banks at a fair price (discount)

Such an entity will then be responsible for recovering the debt

The objective
to help banks clean up their books
use their capital resources, which are otherwise locked up in making provision for bad loans for funding the growth in credit needs.
taly and the EU inking an agreement to allow the Italian banks sell their NPA (non-performing assets) portfolios to private investors with government guarantee.

he Italian option could "also be suitable for other countries.''

The Reserve Bank of India Governor, Dr. Raghuram Rajan, however, has said that there is no need for a separate `bad bank' to deal with the stressed assets of public sector banks, because:

public sector banks are backed by the Government
A national

asset reconstruction company

(ARC) or `

bad bank

' – given its size and expertise – can fetch multiple advantages to stakeholders, and bring about a quicker resolution to the recovery problems posed by the NPA imbroglio
The NPA levels of these banks are over Rs.3 lakh crore. How much of these can be absorbed by such an ARC or `bad bank'?

Even allowing for a discounted price for such purchases, the effort requires quite a funding from the Government

A resource-constrained Government will have difficulty in providing money for this
the country needs an ecosystem – both in the banking and legal spheres – that fosters a framework that is just and fair to all stakeholders, and which helps in speedy resolution of the entire debt recovery process
3. Govt. to tap CSCs for rural banking access
Topic:Economic Development
Category: Inclusive growth
Location: The Hindu, Page 15
Key Points:
The government is looking to leverage its Common Services Centres (CSCs) to enable easy access to banking services, particularly in rural areas.

With the CSCs, the government aims to make one person in every family digitally literate in four years

The CSCs should take the lead role in spreading e-commerce in rural India and in promoting local artisans

CSCs play important role as an interface between the government and the beneficiaries of e-services, thus reducing corruption and delays
D. GS4 Related
E. Important Editorials: A Quick Glance
F. Concepts-in-News: Related Concepts to Revise/Learn:
i.   BCG Vaccine
ii.  TB
iii. G20
iv. NPAs
v.  CSCs and the rural economy
G. Fun with Practice Questions 🙂
To be Updated
.