Table of Contents:
1. A treasure trove of heritage, diversity
1. Invest in welfare, undertake reforms, says Economic Survey
2. Modi's $ 1-billion credit line to Mongolia to start rolling soon
3. Prevent access to child pornography, Centre told
4. Iran votes to shape post-deal era
5. Sri Lanka contemplating joining TPP
6. New BRICS bank set to fund green energy projects
7. 'Democracy at stake in Maldives'
1. Fund crunch hits Indian drug trial
2. Only 5.5% who earn are tax payers: Economic Survey
3. Slow labour reforms hurt 'good' jobs
4. Direct Benefit Transfer "jammed" by last-mile challenge: Economic Survey
5. Survey outlines steps to boost Make in India
6. Survey questions India's stand at WTO
7. Bees are vanishing: U.N. report
.
+++++++++++++++++++++++++++++++++++++++++++++++
Useful News Articles
A. GS1 Related
1. A treasure trove of heritage, diversity
Topic: Indian Heritage and Culture
Category: Indian culture- salient aspects
Location: The Hindu, Page 10

Key Points:
President Pranab Mukherjee will throw open over two dozen heritage museums, places of worship and other sites conserved at a cost of Rs.104 crore in Muziris, a port that is believed to have fallen off the map in the 13th century due to a massive flood, an earthquake – or both.
Significance of the port of Muziris
The port of Muziris played a key role in maritime trade, and is said to have been spread along North Paravur and Kodungalloor bordering Ernakulam and Thrissur districts.
Excavation works here yielded innumerable pottery, ceramic, metal and other relics from across the seas.
The heritage footprints in the region, spread over 125 sq km, are so many that a discerning visitor may take at least a week to get a fair idea of the region's history and cultural diversity.
The legacy of Muziris goes back to 3,000 years ago, and is said to have been the largest port of the ancient times in the East which traded in everything from precious stones to spices.
It also served as a doorway for various cultures and races to India.
B. GS2 Related
1. Invest in welfare, undertake reforms, says Economic Survey
Topic: Indian Economy
Category: Indian Economy and issues relating to planning
Location: The Hindu, Page 01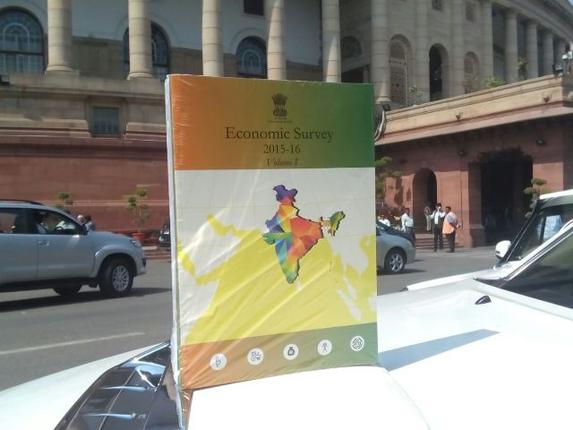 Key Points:
Economic Survey 2015-16 projects that the real GDP growth for the current financial year and for 2016-17 will be in the range of 7-7.75 per cent.
The Central Statistics Office estimates that growth this year will be 7.6 per cent, lower than the 8.1-8.5 per cent projected in the last Survey.
Improved investments in education and health, where India fares the worst among BRICS nations, the survey says, and adequate attention to agriculture could realise the potential.
"In the wake of four seasons of weak rainfall and consequent adversity, agriculture has served a wake-up call, demanding attention from policy makers."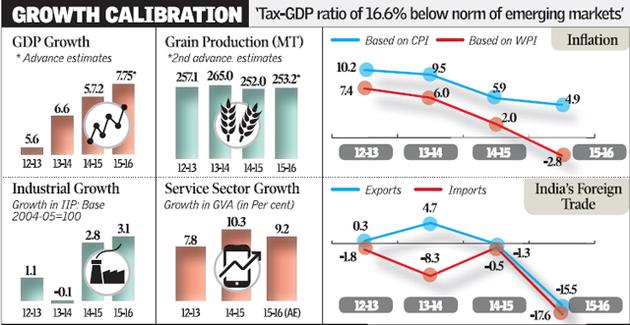 Stretched corporate and bank balance sheets are affecting prospects for reviving private investments, and so the underlying stressed assets must be sold or rehabilitated.
The survey makes a case for unpopular reforms, such as bringing agricultural incomes in the tax net, rationalisation of fertiliser subsidies estimated at Rs. 75,000 crore (excluding arrears) and the withdrawal of tax benefits which, benefit mainly the rich.
Subramanian also recommends restricting the cooking gas subsidy to 10 cylinders from 12 at present, raising the levels of property tax and desisting from raising the income tax threshold.
'Govt. will meet its fiscal deficit target'
The Economic Survey made several path-breaking recommendations including raising resources for recapitalising public sector banks by carefully leveraging the assets of the Reserve Bank of India and other regulatory institutions.
The survey unambiguously said the government would keep the fiscal deficit within the target of 3.9 per cent of GDP in the current year.
Though it argued both in favour of why the government should stick to the fiscal consolidation targets as also the gains that could become possible through a higher-than-target deficit, the survey contains a strong hint that the target for the next year will be met: "The Government needs to be in a strong position tomorrow to repay the debts it is incurring today…Credibility and optimality argue for adhering to 3.5 per cent of GDP fiscal deficit target".
It recommended a review of the medium term fiscal framework.
2. Modi's $ 1-billion credit line to Mongolia to start rolling soon
Topic: International Relations
Category: Bilateral agreements involving India
Location: The Hindu, Page 15
Key Points:
India and Mongolia are likely to kick off talks in March on the $ 1 billion credit line, which Prime Minister Narendra Modi announced during his visit to the country in May 2015.
A delegation from Mongolia is expected to arrive in India in March, to lay down the priority areas for the mega credit line as declared by Prime Minister Modi.
The delegation-level talks between Mongolia and India are expected to focus on the infrastructure, IT, and educational projects.
The plan for India-Mongolia dialogue is significant as it comes nearly nine months after Mr. Modi visited Mongolia and made the "in principle" credit line announcement.
India has an operational credit line of $20 million for Mongolia and out of that 1.5 million is being utilised for an IT consultancy project. An official of the Exim Bank working on credit lines to Mongolia, said that the bank expected most of the $1 billion credit line to be dedicated to infrastructure projects.
The credit line is part of a strategy to emerge as the "third pole" in Mongolia's international relations which so far have been dominated by China and Russia.
3. Prevent access to child pornography, Centre told
Topic: Governance
Category: Judiciary, Judicial Activism
Location: The Hindu, Page 15
Key Points:
Supreme Court told the Centre on Friday to take steps and frame rules to stop access to websites featuring child pornography, classifying them as "obscene" and a threat to social morality.
A Bench of Justices Dipak Misra and S.K. Singh reacted to a submission made by the Supreme Court Women Lawyers Association that there were instances where school bus drivers and conductors forced children under their care to watch porn and sexually assaulted them owing to easy and free access to porn, including child pornography.
Hearing this, Justice Misra said, "freedom of speech is not absolute, liberty is not absolute" when such rights were misused to subject innocent children to such sexual perversions.
The court said technical glitches and jurisdictional niggles were not excuses for the Centre's inaction in this regard.
"Innocent children cannot be made prey to this kind of painful situations and a nation cannot afford to carry on any kind of experiment with its children in the name of liberty," the Supreme Court said, drawing the line on where rights ended and criminality began.
Child pornography was spreading like moral cancer and "freedom of speech cannot create a dent in the national character or moral dent."
"The Centre is required to make certain rules and regulations to initially stop child pornography," Justice Misra said, adding that this genre was "sheer obscenity."
Referring to the exposure of children to pornographic material owing to free access to it on the Internet, the court said: "these moral assaults may bring physical disasters with them."
The court directed the Centre to file an affidavit on ways and means to curb free access to child pornography on the Internet and asked the government to reply whether there could be a ban on watching porn "of any form" in public places.
The hearing was based on petitions filed to curb free access to porn, especially child pornography, and their ban.
The Supreme Court, however, said a clear distinction had to be made between art and obscenity.
"There are those who feel that even Mona Lisa [painting] is pornography. A distinction has to be drawn between art and obscenity. You have a tough job to do," Justice Singh told the Centre.
4. Iran votes to shape post-deal era
Topic: International Relations
Category: Effect of policies and politics of developed and developing countries on India's interests
Location: The Hindu, Page 16
Key Points:
Millions of Iranians voted in high-stake elections on Friday that could shift the balance of power within the hardline-controlled Islamic elite by ushering in a reformist comeback or help conservatives tighten their grip on power.
The contest is seen by some analysts as a make-or-break moment that could shape the future for the next generation, in a country where nearly 60 per cent of the 80 million population is under 30.
At stake is control of the 290-seat Parliament and the 88-member Assembly of Experts, the body that has the power to appoint and dismiss the supreme leader, Iran's most powerful figure. Both are currently in the hands of hardliners.
During its next eight-year term it could name the successor to Mr. Khamenei, who is 76 and has been in power since 1989.
Control of Parliament will influence the ability of moderate President Hassan Rouhani, constrained so far, to deliver on his promises of greater freedoms and economic reforms – as well as his own chances of re-election next year.
5. Sri Lanka contemplating joining TPP
Topic: International Relations
Category: India and its neighborhood- relations.
Location: The Hindu, Page 16
Key Points:
Sri Lanka is "very seriously" exploring the possibility of applying to join the Trans-Pacific Partnership (TPP), according to Mangala Samaraweera, Foreign Minister.
The TPP, with 12 countries as members, is aimed at establishing new, market-oriented rules in international commerce and reducing trade and investment barriers.
The U.S., Singapore, Japan and Australia are among the members which signed a pact early this month.
According to an estimate, the member-countries account for around 36 per cent of the world's gross domestic product, or $28 trillion.
Samaraweera said a leading government think tank was preparing a feasibility study and "we will be continuously evaluating developments on this front."
Giving his government's plans for improving foreign trade, he termed India one of the world's largest markets and said "we are leveraging this unique geo-economic location to accelerate growth. Negotiations are already under way to deepen our existing free trade agreement (FTA) with India, which we hope to complete by the middle of this year."
A similar exercise was on the cards with Pakistan.
Colombo had lost GSP Plus concessions due to the previous government's "human rights violations", but subsequent to the "successful visit" of the EU Working Group on Human Rights to Sri Lanka, a formal application is being finalised to seek the concessions again.
GSP plus is common shorthand for the "special incentive arrangement for sustainable development and good governance" which is one of three non-reciprocal, preferential import regimes for developing countries under the EU's Generalised System of Preferences (GSP).
FTA with China
Sri Lanka was holding discussions to sign a FTA with China. Sri Lanka had some concessionary access to the U.S. market through the GSP facility and also signed a trade and investment framework agreement.
"Upgrading these ties by signing a free trade agreement will go a long way in propelling Sri Lanka to achieving its economic and development".
6. New BRICS bank set to fund green energy projects
Topic: International Relations
Category: Important International institutions
Location: The Hindu, Page 16
Key Points:
The New Development Bank (NDB) , which is a multilateral lender with a focus on the Global South of the of the Brazil-Russia-India-China-South Africa(BRICS) grouping, is all set to fund more than a dozen projects this year, which will focus on renewable energy.
NDB President K.V. Kamath revealed at a media conference that the "initial focus" of the bank would on green energy projects.
The New Development Bank (NDB) is however was not geared to issue soft loans.
Kamath explained that NDB would include market borrowing to raise capital, but stressed that bonds in local currency, rather than hard currency, would be favoured. "We will be resorting to bond issues. As has been said earlier, we will raise it in local currencies where it is feasible and of course we will supplement where it is required in with dollar bond issues."
The NDB's initial capital has been fixed at$50 billion, and the total paid in capital would be $ 10 billion, according to a NDB press statement.
Analysts point out that following the 2008 financial crisis, the NDB and the China-led Asian Infrastructure Development Bank (AIIB) — both geared towards infrastructure development in Asia and the Global South — are reshaping the global financial architecture, a field that had been monopolised by western backed International Monetary Fund (IMF), the World Bank and the Asian Development Bank (ADB).
With Africa also one of its focal points, the NDB is set to open an African Regional Center (ARC), headquartered in Johannesburg, by the second-half of this year.
It would aim to develop a "project pipeline" for the continent.
The NDB "will soon become a strong and well-respected international financial institution, playing a leading role in the changing international financial architecture".
On the eve of its operational launch, the NDB has bagged a AAA institutional rating from domestic credit rating agencies in China, where the China Development Bank (CDB) and the Bank of China have been appointed as rating advisers.
7. 'Democracy at stake in Maldives'
Topic: International Relations
Category: India and its neighborhood- relations
Location: The Hindu, Page 16
Key Points:
Maldives is "steadily sliding" towards authoritarianism with "flagrant disregard" to the rule of law, human rights and good governance, according to the Commonwealth Human Rights Initiative (CHRI), a non-governmental organisation based in New Delhi.
The CHRI has concluded that "the survival of democracy itself is at stake in the Maldives".
Since coming to power in November 2013, the government of President Abdulla Yameen Abdul Gayoom "has curtailed human rights, democracy, and rule of law in violation of the Maldives Constitution, UN and Commonwealth standards," the NGO stated in its report, "Searching for a Lost Democracy".
The CHRI urged the government to respect the principle of separation of powers and constitutionally protected human rights; cease assaults on civil society, journalists and activists through "repressive" laws and practices; ensure "impartiality and accountability" of the police; release all political prisoners; and rectify the "poor state" of the judiciary.
Another NGO, Amnesty International, said in its annual report that the government of the Maldives had failed to defend the independence of the Human Rights Commission in the country. It had also failed to address the issue of judicial impartiality, which remained a "serious concern."
C. GS3 Related
1. Fund crunch hits Indian drug trial
Topic: Indian Economy, Science and Technology
Category: Health, Bio-technology
Location: The Hindu, Page 15

Key Points:
Three years ago, the Council of Scientific and Industrial Research (CSIR) said that it would conduct a drug trial to test a novel drug-regimen for tuberculosis (TB). However, lack of funds has throttled the project.
"The project is in the ICU (intensive care unit)," said an officer , "and unless the CSIR takes a decision it is likely to die."
In January 2014, the Drug Controller General of India — the referee for drug trials in the country — approved a phase 2b trial (a limited test of a prospective drug in humans to prove its potency) to test a combination of three TB drugs to treat multi-drug-resistant tuberculosis (MDR-TB).
The promise of this combination — called PaMZ (PA-824 + moxifloxacin + pyrazinamide) — is to cut treatment time by at least a third. Moreover, it was purportedly effective even when tested on HIV patients.
This drug, which was developed in collaboration with the international Global Alliance on Tuberculosis, was to enter phase 3, or large-scale trials last year in South Africa. However, there are reviews that are reconsidering these trials on the grounds that it hasn't worked as well as it was supposed to in HIV patients.
A dreaded disease
According to the World Health Organisation, TB kills an estimated 1.5 million people annually, and is one of the world's deadliest diseases.
There were also approximately 190,000 deaths from MDR-TB in 2014 and more than half of these patients were in India, China and the Russian Federation.
Currently, people with MDR-TB require 18 to 24 months of treatment, with several pills and daily injections for at least six months.
Apart from the health benefits, the drug trial would have been the first such attempt by the CSIR-led Open Source Drug Development (OSDD) consortium — an initiative to discover and test new drugs for infectious diseases that are widespread in poor countries by using expertise outside the confines of traditional pharmaceutical companies — to test a new drug in India.
Experts Opine that most drugs that are available in India are reverse-engineered versions of drugs developed in Europe or the United States.
Since 2015, however, the OSDD has been shut down as a CSIR project.
2. Only 5.5% who earn are tax payers: Economic Survey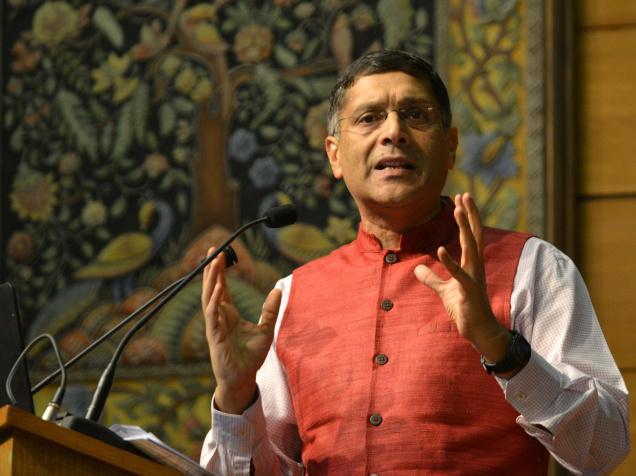 Topic: Indian Economy
Category: Indian Economy and issues relating to planning, Government Budgeting.
Location: The Hindu, Page 17
Key Points:
India is far from being a full tax-paying democracy with about 5.5 per cent of the people who earn paying tax and only 15.5 per cent of the net national income being reported to the tax authorities, according to the Economic Survey tabled in the Parliament
The survey estimated that just four per cent India's voters are taxpayers, though it should be closer to 23 per cent, and 85 per cent of the net national income fall outside the tax net.
The tax to GDP ratio at 16.6%, as a result, is well below that of the emerging market economies of 21 per cent and OECD average of 34 per cent. The survey, however, pointed out that the democracies with higher ratios took a long time to strengthen tax capacity. "Any harsh judgement of India's performance must be tempered by historical differences in the evolution of India compared with other democracies."
On the expenditure side, India's spending on human capital, education and health, to the GDP ratio is the lowest among BRICS and lower than the OECD and emerging market economies averages. They are in fact, lower than those of comparable per-capita GDP economies such as Vietnam, Bolivia and Uzbekistan.
To widen the tax net and raise revenue for spending on India's human capital development, the survey called for bringing rich farmers into the tax net, raising property tax rates and phasing out tax exemptions.
There should be "reasonable" taxation of the better-off, regardless of the source of their incomes, whether it is from industry, services, real estate, or agriculture, Chief Economic Advisor Arvind Subramanian told reporters after the survey was tabled.
The survey also seeks to address the question French economist and author of best-selling book, 'Capital in the Twenty-First Century', Thomas Piketty, raised during his recent trip to India: Should not Indian elite pay more taxes to provide for greater spending on health and education?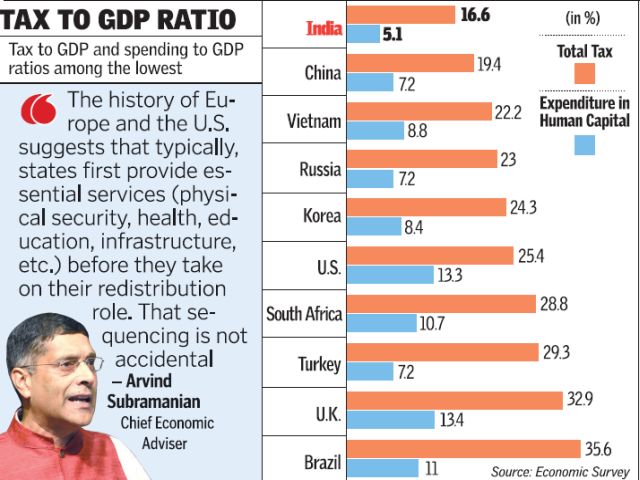 The top one per cent, 0.5 per cent and 0.1 per cent of people in the overall income distribution (the three highest income groups) accounted for 12.4 per cent, 9.4 per cent and five per cent of the entire income of the Indian economy.
At these levels, inequality in India, it said, is comparable to that in the U.K. and lesser than in the United States.
3.  Slow labour reforms hurt 'good' jobs
Topic: Indian Economy
Category:  Changes in industrial policy and their effects on industrial growth
Location: The Hindu, Page 18
Key Points:
The economic survey criticised the slow pace of reforms in labour laws, arguing that firms "negotiate" regulatory hurdles imposed to protect employees who get poor quality jobs as a consequence and suggested easier retrenchment norms and lower statutory deductions from salaries to create 'good' jobs.
"India's most pressing labour market challenge going forward will be to generate a large number of good jobs. These jobs tend to be formal sector jobs. Two obstacles to formal sector job creation are regulation-induced taxes on formal workers and spatial mismatch between workers and jobs," the survey said, defining 'good jobs' as safe, productive and well-paying jobs.
"The slow pace of labour reform has encouraged firms to resort to other strategies to negotiate "regulatory cholesterol." One popular strategy is to hire contract workers," the survey said highlighting how "managing" inspectors to the contract labour firm has become a normal exercise for factories.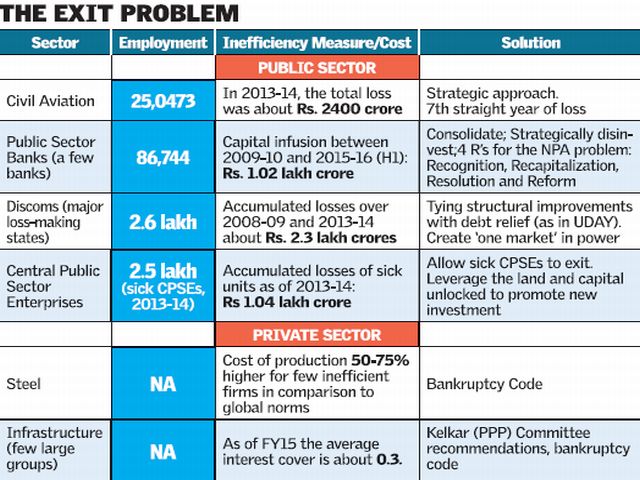 Noting that contract labour hiring grew faster in states with relatively more rigid labour laws, the survey said medium-sized formal sector manufacturing firms reported labour regulations as a significant barrier to growth, "specifically the dismissal norms under the Industrial Disputes Act."
The Industrial Disputes Act 1947 requires firms with more than 100 workers to seek government's approval before retrenching workers. The law has encouraged factories to employ contract workers to stay out of the rule books even though entrepreneurs feel 'contract labour is not the ideal solution' for them.
Only 35 per cent of the 10.5 million new manufacturing jobs created between 1989 and 2010 were in the formal sector. Also, in the total number of establishments that rose by 4.2 million from 1989 to 2010, the formal sector growth stood at only 1.2 per cent. Though the informal sector kept unemployment levels low, these jobs were "much worse than the formal sector ones," according to the survey.
Citing a recent survey conducted at the finance ministry's request, the survey said 70 per cent workers' prefer receiving cash instead of the money going into their EPF account. The workers said they preferred spending the money "sooner, suggesting either that workers are liquidity constrained or impatient."
At present, 24 per cent of a formal sector worker's salary is deducted – with 12 per cent counted as employer's share and 12 per cent as employee's contribution towards EPF. This is compulsory for employees earning Rs. 15,000 a month. The survey suggested that 12 per cent share of employee's contribution be made optional to "allow the poor to optimise as per their own personal requirements."
"Policymakers should consider whether lower earners should be offered the same choice – of whether to contribute part of their salaries to the EPF – which the rich have," it said.
4. Direct Benefit Transfer "jammed" by last-mile challenge: Economic Survey
Topic: Indian Economy
Category:  Government Budgeting
Location: The Hindu, Page 18
Key Points:
Scaling up Direct Benefit Transfer of subsidies using the JAM trinity (Jan Dhan Yojana, Aadhaar and Mobile number) is unlikely to work in rural India in the short to medium term, said the Economic Survey 2015-16 .
"The JAM agenda is currently jammed by the last-mile challenge of getting money from banks into beneficiaries' hands, especially in rural India," said the survey.
The Survey further added there is still some way to go before bank-beneficiary linkages are strong enough to pursue Direct Benefit Tranfer (DBT) without "committing exclusion errors", despite the huge improvements seen in financial inclusion due to Jan Dhan Yojna.
It suggests that the Centre invest in last-mile financial inclusion via further improving banking correspondent (BCs) networks and promoting the spread of mobile money.
"The recent licensing of banks will help. Regulations governing the remuneration of BCs may need to be reviewed to ensure that commission rates are sufficient to encourage BCs to remain active," it added.
To measure states' preparedness to implement JAM-based DBT, an index has been constructed based on factors such as Aadhar penetration, basic bank account penetration and BC density.
The Urban DBT preparedness index finds there is significant variation across states. Some states like Madhya Pradesh and Chattisgarh show preparedness scores of about 70 per cent, while others such as Bihar and Maharashtra, have scores of only about 25 per cent.
"The binding constraint here is basic bank account penetration-paying beneficiaries is the issue, not identifying them," the Survey stated.
The DBT rural preparedness scores are "significantly worse" than the urban scores, with an average of 3 per cent and a maximum of 5 per cent.
The Economic Survey suggested incentivising states by sharing fiscal saving from DBT to help fully implement JAM.
It added that policy areas that appear most conducive to JAM are those where the central government has significant control and where leakages are high. "At present, the most promising targets for JAM are fertiliser subsidies and within government fund transfers," it pointed out.
The example of MGNREGS highlights that delivering within-government transfers via JAM can help other centrally sponsored schemes reduce idle funds, lower corruption and improve the ease of doing business with government, the Survey stated.
While BC network is developed and mobile banking spreads, the Survey recommends use of Biometrically Authenticated Physical Uptake (BAPU), wherein beneficiaries verify their identities through scanning their thumbprint on a POS machine, to reduce leakages.
BAPU preparedness is much better than Rural DBT preparedness with average state preparedness being 12 per cent. "In the meantime models like BAPU offer the prospect of lower leakages without the risk of exclusion errors, and therefore merit serious consideration," the Survey concluded.
5.  Survey outlines steps to boost Make in India
Topic: Indian Economy
Category:  Changes in industrial policy and their effects on industrial growth.
Location: The Hindu, Page 18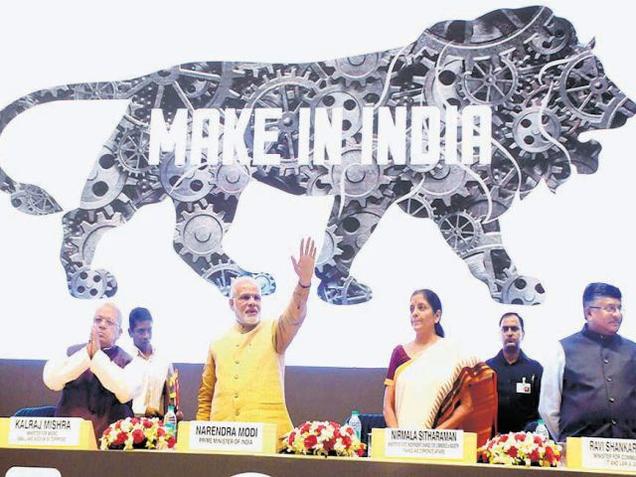 Key Points:
According to the Economic Survey, a slew of steps, such as eliminating exemptions on countervailing duties on imports, monetisation of land owned by public sector companies and allowing industries to buy electricity directly from the markets, are needed to enable Make in India Initiative a success.
The duty exemptions are favouring foreign producers over domestically made goods thus defeating the initiative
Parts of land belonging to the state-owned companies can be converted into land banks and used to promote Smart City initiatives. "If the land is in dense urban areas, it could be used to develop eco-systems to nurture start-ups, and if located in smaller towns and cities, it could be used to develop sites for industrial clusters."
Industries with a high demand for power should be allowed to absorb the excess generation capacity through open access (OA). Consumers with electricity load above one MW are permitted by the OA policy (under the Electricity Act 2003) to procure power directly from electricity markets. Presently, the efficiency of electrical energy usage has fallen with an increase in power generation capacity not being able to be capitalised by distribution companies due their financial inability to purchase electricity.
The Make in India Initiative aims to transform India into a global manufacturing hub and increase the share of manufacturing in India's GDP from a stagnant 15-16 per cent since 1980 to 25 per cent by 2022 and create an additional 100 million jobs.
On the issue of countervailing duty exemptions, the Economic Survey last year had also pointed out that the duties were not imposed on several items of imports. The survey had said the effective rate of excise on domestically-produced non-oil goods was about 9 per cent. Though the effective collection rate of CVDs should theoretically be the same, in real terms it was only around 6 per cent. This difference represents the fiscal cost to the government to the tune of around Rs.40,000 crore, the survey had said.
Eliminating policies — currently providing negative protection for Indian manufacturing and favouring foreign manufacturing — could be achieved by quickly implementing the Goods and Services Tax (GST), according to the survey. However, if delays are envisaged in rolling out the GST, a similar result could be achieved by eliminating the duty exemptions.
Another factor that could have an adverse effect on the Make in India Initiative will be India's decision to join the US-led mega regional free trade pact called the Trans-Pacific Partnership (TPP) at a future date. Membership of the TPP would prevent the Indian government from using state-owned enterprises and government procurement as vehicles for achieving social and economic objectives, including employment generation, thereby have to compromise on the Make in India Initiative policy.
6. Survey questions India's stand at WTO
Topic: Indian Economy
Category:  Issues related to direct and indirect farm subsidies and minimum support prices
Location: The Hindu, Page 18
Key Points:
The economic survey questioned India's stance at the World Trade Organisation (WTO)-level negotiations on the need for developing countries to have an effective and easy-to-use 'Special Safeguard Mechanism' (SSM) to protect 'poor and very vulnerable' farmers from import surges and price dips.
What is the SSM?
The SSM is a tool, which, if given, will permit developing nations like India to temporarily hike tariffs to counter import surges or price falls of farm products.
Differences between the developing and the developed world over the SSM issue had even led to the WTO talks breaking down in July 2008.
Perspective
Though WTO members agree that developing countries should have an SSM, the differences are on allowing developing nations to hike tariffs above the commitments they (developing nations) made in the WTO's 1986-94 Uruguay Round talks.
Pointing out that as per the Uruguay Round decisions, countries including India, could raise tariffs up to a "very high level" even without the SSM, the economic survey questioned: "Why then, for a long time, has India been asking for the right to impose SSM, which is in effect asking for even more freedom to determine agricultural policies? The answer is not very clear."
The observations come even as the WTO members began work this week at the global body's headquarters in Geneva to take forward negotiations on the Doha Development Agenda on the basis of the decisions arrived at during the December 15-19 Ministerial Conference (WTO's highest decision-making body) in Nairobi.
The Nairobi Ministerial Declaration had incorporated the right of developing nations to have recourse to an SSM. The declaration also said SSM negotiations will be pursued in dedicated sessions of the Committee on Agriculture in Special Session.
During the Nairobi meeting, Commerce Minister Nirmala Sitharaman had said the SSM was important for developing nations to address import surges and price dips due to heavily subsidised imports of farm products from rich nations.
Pointing out that an instrument similar to the SSM was available to a select few WTO members (including rich nations) for over two decades, she said, therefore, the demand for SSM for developing nations was reasonable and pragmatic.
The survey said India's real need for SSM arises in relation to few items including some milk and dairy products, some fruits, and raw hides.
On these items, the survey said, India's tariff bindings (commitments at the WTO) are around 10-40 per cent which can be uncomfortably close to India's current tariffs, limiting India's options in the event of import surges.
"If that is the case, India should call for a discussion on SSM not as a generic issue of principle but as a pragmatic negotiating objective covering a small part of agricultural tariffs. Perhaps, in this instance, lofty theologizing about freedom and sovereignty needs to cede to mundane haggling over hides and hibiscuses," the survey said.
7. Bees are vanishing: U.N. report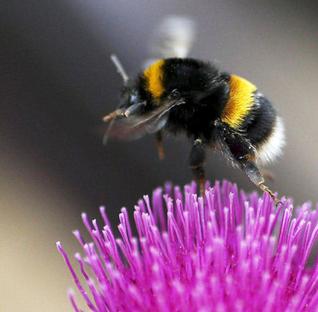 Topic: Environment and Ecology
Category:  Conservation, Bio-diversity
Location: The Hindu, Page 22
Key Points:
Many species of wild bees, butterflies and other insects that pollinate plants are shrinking toward extinction, and the world needs to do something about it before our food supply suffers, a new United Nations scientific mega-report warns.
The 20,000 or so species of pollinators are key to growing fruits, vegetables and cash crops. Yet two out of five species of invertebrate pollinators, such as bees and butterflies, are on the path toward extinction, said the first-of-its-kind report. Pollinators with backbones, such as hummingbirds and bats, are only slightly better off, with 1 in 6 species facing extinction.
The trouble is the report can't point to a single villain. Among the culprits — the way farming has changed so there's not enough diversity and wild flowers for pollinators to use as food; pesticide use, habitat loss to cities; disease, parasites and pathogens; and global warming.
The report is the result of more than two years of work by scientists across the globe who got together under several different U.N. agencies to come up with an assessment of Earth's biodiversity, starting with the pollinators.
D. GS4 Related
— Nothing here today, folks! —
E. Important Editorials: A Quick Glance
Topic: Indian Economy
Category: Indian Economy and issues relating to planning
Location: The Hindu, Page 12
Keypoints:
The Economic Survey presented in Parliament by Finance Minister Arun Jaitleyreaffirms the positive growth numbers that have been projected by many global agencies, including the International Monetary Fund.
The Survey indicates the possibility of India posting 7-plus per cent GDP (gross domestic product) growth for the third year in a row.
A 7.2 per cent growth rate in 2014-15 and a possible 7.6 per cent expansion in 2015-16 must be read favourably in the context of the global slowdown and domestic concerns about the farm sector after insufficient monsoon rains followed by a warm winter.
The Survey is quite optimistic about 7 to 7.75 per cent growth in the coming fiscal year — in fact, the claim is made that "conditions do exist for raising the economy's growth momentum to 8 per cent or more in the next couple of years''.
The survey indicates that the Centre should be in a position to adhere to its fiscal deficit target of 3.9 per cent of GDP.
A robust expansion in the service sector, accelerated growth in industry and a pick-up in IIP (Index of Industrial Production) have all, according to the Survey, created a climate of optimism. Still, given the extremely uncertain external environment, the Survey warns that "India's growth will face considerable headwinds".
Suggestions in the Economic Survey
It repeats the widely articulated industry demand for addressing the "exit problem" that is hurting the economy.
Calling it a "Chakravyuha challenge'', the Survey lists the enormous fiscal, economic and political costs involved in sustaining incapacitated ventures.
Another meaningful suggestion is that India moves from a pro-industry approach to one that is "genuinely pro-competition".
The growth momentum, it is felt, could well be sustained by "activating domestic sources of demand''. Interestingly, the Survey sees in the implementation of the Seventh Pay Commission recommendations a demand-booster.
The Reserve Bank of India, however, has chosen to view the pay panel-induced payout from the prism of inflation. The Survey has rightly called for a quick resolution to the twin balance sheet challenges — the impaired finances of public sector banks and corporate houses.
Indeed, this requires a holistic and fair solution. Suggestions such as plugging leakages in subsidy payouts, bringing more income-earners into the tax net, phasing out tax exemptions, not raising exemption threshold limits, introducing differential power tariff and imposing higher property taxes are all resource-raising options listed to deal with the resource crunch.
Topic: Indian Economy
Category: Indian Economy and issues relating to planning
Location: Indian Express, Page 14
Keypoints:
The most striking feature of this year's Economic Survey is the tone. Last year's Economic Survey had talked of India reaching a "sweet spot", with the economy on the recovery path and set to "finally be launched on a double-digit medium-term growth trajectory". The basis for the optimism was "a political mandate for reform and a benign external environment".
The 2015-16 survey, by contrast, emphasises the need for "a recalibration of expectations" and making "conditional" assessments of the economy's performance over the coming year.
The main reason for this is "an unusually challenging and weak external environment". But external factors apart, there is also an admission of internal political failure to push reforms: "Approval for the game-changing GST bills has proved elusive so far; the disinvestment programme fell short of targets, including that of achieving strategic sales; and the next stage of subsidy rationalisation is a work-in-progress".
The survey notes that a reduction in global growth to 3 per cent, from the 4-4.5 per cent level of 2003-11, brings down India's own growth to 7-7.5 per cent, as against its long-run potential of 8-10 per cent. But the fact is that this wasn't helped by a lack of political will to undertake aggressive disinvestment and subsidy reforms. These would have released resources for much-needed public capital expenditures to counter weak external demand and crowd-in private investments.
A clear strategy on disinvestment extending to sale of majority government equity and commitment to credible fiscal consolidation is what investors will primarily look for. But beyond the budget, the government's efforts to get at least two important legislation — those relating to the GST and a comprehensive bankruptcy code (enabling businesses to shut as easily as to start) — through Parliament would also matter.
F. Concepts-in-News: Related Concepts to Revise/Learn:
i.  Muziris
ii. Special Safeguard Mechanism (SSM)
iii. Trans-Pacific Partnership (TPP)
iv. Direct Benefit Tranfer (DBT)
v.  Generalised System of Preferences (GSP)
G. Fun with Practice Questions 🙂
To be Updated
.