It is important to know about the leaders of the Indian government. P V Narasimha Rao was the 9th Prime Minister of India. IAS Exam candidates should know some important facts about the former Indian Prime Minister P V Narasimha Rao, to gain some additional information that can help them in writing mains answers.
Aspirants can cover the topics mentioned in the

UPSC Syllabus

by following the below-mentioned links:
P V Narasimha Rao – 9th Prime Minister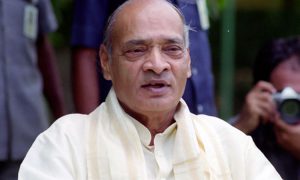 Pamulaparti Venkata Narasimha Rao took oath as India's 9th Prime Minister on 21 June 1991. Rao was the first Prime Minister from the non-Hindi belt and the first person from a southern state to adorn the post. His tenure saw impactful economic reforms like the shift from Nehruvian socialism to liberalisation.
Important Facts about P V Narasimha Rao
On 28th June 2020, the 99th year of P V Narasimha Rao's birth was celebrated. P V Narasimha Rao's centenary celebration was in the news.
His term as the Prime Minister of India was 1991-1996.
He was born to a farmer's family in Lanepalli (Telangana's Warangal District.)
His parents were Sitarama Rao and Rukminamma.
He was a pioneer of all rural economies and rural welfare.
The sectors where he made initiatives to bring development are (but not limited to):

Clean Water
 Development of Women and Children in Rural Areas
Primary health care
Primary Education sector
Empowerment of Artisans
Animal Husbandry and Poultry
Small Industries
Khadi and Village Industries
Textiles, etc.

In his tenure, the fund to implement schemes for rural development was increased to Rs.30000 crores in the 8th Five Year Plan, from Rs. 7000 crore in Seventh Five Year Plan.
During his tenure, the foreign exchange had increased 15 fold in 1996. It was Rs. 3000 crores in 1991.
With his economic reforms, the GDP hovered around 7-7.5 percent.
He is also called as the pioneer of inclusive growth. (Learn about the economic planning of India in the linked article.)
Aspirants can read about other eminent leaders from the articles linked in the table below:
Journey of P V Narasimha Rao
He finished part of his schooling at Karimnagar and then completed his BA in Arts from Osmania University. After that, he secured a Master's in Law degree from Hislop College in Nagpur.
Rao took part in the freedom struggle and was part of the Vande Mataram movement in Hyderabad State.
In the 1940s, he co-edited and contributed articles to a Telugu weekly journal called Kakatiya Patrika.
He joined the Indian National Congress (Formed on 28th Dec 1885) and entered politics full-time after independence.
He became the Chief Minister of Andhra Pradesh in 1971 and remained in office till 1973. His CM tenure was marked by a stringent implementation of the land ceilings act in the Telangana region.
Rao was well-versed in several languages and could speak 17 languages. He was fluent in many Indian languages like Hindi, Marathi, Odia, Tamil, Bengali, Gujarati, Sanskrit, Kannada and Urdu, apart from his native tongue Telugu. He could also speak many foreign languages like German, French, Arabic, Persian and Spanish.
He rose to national prominence when he became the External Affairs Minister in 1980 under the prime ministership of Indira Gandhi. He was the external affairs minister for four years and then again from 1988 to 1989 under Rajiv Gandhi. He was also the Defence Minister under Rajiv Gandhi.
After a near-retirement from politics in 1991, Rao made a comeback after the assassination of Rajiv Gandhi in May 1991. In the elections that followed, the Congress Party could lead a minority government and Rao was selected as the PM. He got elected in a by-election from Nandyal in Andhra Pradesh. This win entered the Guinness Book for the victory margin (of 5 lakh votes).
He was the first person from the non-Hindi belt to become India's PM. When he completed his five-year term, he became the first person outside of the Nehru-Gandhi family to do so as the PM.
Rao's tenure as PM is most remembered for the major economic reforms that were undertaken. The country decided to open up the economy and move towards a market economy as opposed to the socialism of the previous decades.
The dreaded License Raj was dismantled by Rao and his team. The finance minister was Manmohan Singh, whose non-political lineage caused a flutter when he was appointed by Rao. He opened up to foreign investment, deregulated domestic business, and reformed the capital markets and the trade regime.
In 1992, his government abolished the Controller of Capital Issues (that decided how many shares firms could issue at what prices).
He introduced the SEBI Act and Global Depository Receipts (GDRs – which allowed Indian firms to raise capital on foreign markets).
His government also started the National Stock Exchange (NSE), reduced tariffs and increased FDI limit to 51%. Certain sectors also permitted 100% foreign equity.
From $132 million in 1991-92, the total foreign investment in the country rose to $5.3 billion in 1995-96.
Industrial licensing was drastically reduced and rationalised.
Rao supported and nurtured the nuclear security and missiles program of the country. The 1998 Pokhran tests of 1998 (carried out by the Vajpayee government) were actually planned under Rao's term itself, it is speculated.  (Learn about Pokhran-II in the linked article.)
The occupation of the Hazratbal Shrine in Jammu & Kashmir was brought to an end without damaging the shrine.
Rao started India's Look East Policy as part of foreign relations with South East Asia.
The Babri Masjid demolition, the 1993 Bombay blasts, the Latur earthquake and the Purulia arms drop case took place during his tenure.
Rao pushed for the 'cultivate Iran' policy which reaped rich benefits when Pakistan tried to push through a resolution in the UN on the human rights situation in Kashmir and it failed because of opposition by China and Iran.
India's first anti-terrorism legislation, the Terrorist and Disruptive Activities (Prevention) Act (TADA) was passed by Rao's government.
Rao was above party politics. This became evident when he appointed two opposition party members, A B Vajpayee and Subramanian Swamy to important positions. Vajpayee represented India in a UN meeting at Geneva and Swamy was given a Cabinet rank post as Chairman of the Commission on Labour Standards and International Trade.
Rao was accused of corruption in three cases but was acquitted of all charges later.
After the 1996 elections, his party lost and he was replaced as the party president by Sitaram Kesri.
Rao had a heart attack in December 2004 and was admitted to AIIMS in New Delhi. However, he died a few days later on 23rd December 2004.
There have been demands for the Bharat Ratna to be bestowed on Rao for his contribution to India.
Former President APJ Abdul Kalam described Rao as a "patriotic statesman who believed that the nation is bigger than the political system."
Also on this day




---


1948: C. Rajagopalachari was appointed India's last Governor-General.
See previous 'This Day in History' here.
Aspirants can read about other eminent leaders from the articles linked in the table below:
UPSC Preparation: