14 October 1884
Birth of nationalist revolutionary Lala Har Dayal.
---
What happened?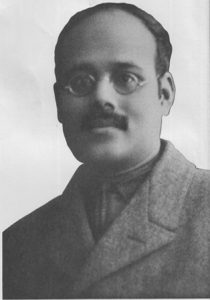 On 14 October 1884, Lala Har Dayal, a revolutionary who founded the Gadar Party in the USA was born in Delhi. Read more about this important personality for the IAS exam.
Lala Har Dayal
Lala Har Dayal was born to a Punjabi family in Delhi. His parents were Bholi Rani and Gauri Dayal Mathur, who was a Reader in the District Court.
Har Dayal was a good student and he completed his bachelor's degree from Delhi's St. Stephen's College and his master's from Punjab University both in Sanskrit. In 1905, he was awarded two scholarships to Oxford University. He also pursued his doctoral degree from London University.
In London, he met and was influenced by Shyamji Krishna Varma, the lawyer-revolutionary who founded the Indian Home Rule Society, India House and The Indian Sociologist in London. Har Dayal also came under the influence of V D Savarkar and Madame Cama. Read more on Madam Bhikaji Cama on the link provided here.
Inspired by the revolutionary ideals, he abandoned his scholarships and the ICS and dedicated himself to revolutionary work having returned to India in 1908. He said, "No Indian who really loves his country ought to compromise his principle and barter his rectitude for any favour whatever at the hands of alien oppressive rulers of India."
He wrote many provocative pieces against the government and so the British government imposed a ban on his writings. After this, he was advised to go abroad by Lala Lajpat Rai. Details regarding Lala Lajpat Rai is available on the linked page.
He went to various places such as Paris, Algeria, Martinique and the United States. He lived a life of austerity and was developing his own take on religion and anarchism. He was also influenced by the works of Karl Marx. Know more about Karl Marx on the given link.
In the US in 1911, Har Dayal came to be involved with industrial unionism. In Oakland, he founded the Bakunin Institute of California and described it as the 'first monastery of anarchism'. He also had a position at Stanford University as a Professor of Sanskrit but he had to resign because of his involvement with the anarchist movement.
He was greatly enthused by the assassination attempt on Viceroy Hardinge in India and he addressed the Indian community there and asked them to fight for independence by force.
He founded the Gadar Party in 1913. He was arrested by the US government for spreading anarchism. He later went to Berlin and lived in Sweden for ten years where he was a professor of Indian philosophy.
His works include 'Thoughts in Education', 'Social Conquest of Hindu Race', 'Forty Four Months in Germany and Turkey', 'Hints for Self Culture', 'Bodhisatva Doctrines', etc.
Lala Har Dayal died in Philadelphia on March 4, 1939, aged 54.
In 1987, India Post released a commemorative stamp in Har Dayal's honour.
Aspirants would find this article very helpful while preparing for the UPSC 2022.
Candidates can enhance their UPSC exam preparation by attempting
UPSC Previous Years Question Papers
now!!
To complement your preparation for the upcoming exam, check the following links:
Also on this day 
---
1955: The Colombo Plan conference was held in New Delhi. 1956: B R Ambedkar, along with lakhs of followers embraced Buddhism in Nagpur. 1998: Amartya Sen was awarded the Nobel Prize in Economics.
Aspirants can go through some relevant facts of the following personalities to prepare for their UPSC exam –
See previous 'This Day in History' here.
To get more topics to visit the UPSC Syllabus and for more of UPSC related preparation materials visit the linked articles: