SSC CGL Result Out! The SSC CGL Tier I result is released on July 1st 2020 by Staff Selection Commission. The CGL result is released in a PDF format containing names and roll numbers of all the qualifying candidates. Candidates can check the SSC CGL result from the link given below-
SSC CGL Result PDF:-Download PDF Here
The result for CGL is published on the official website and along with the SSC CGL result, the Staff Selection Commission has also published the cut off for Tier I exam conducted from March 3rd to March 9th 2020.
SSC CGL Result Tier III 2018 is expected soon! The Staff Selection Commission has released the tentative dates for the release of SSC CGL result 2018 Tier III exam. The CGL result date for 2018 as notified by the commission is given below-

Candidates who appeared for the CGL Tier III 2018 exam can check the result once it is announced from the link given below –
SSC CGL Tiet III Result 2018 – link to be activated
The Commission also releases the cut off marks along with the result. Candidates can check the SSC CGL Cut Off in details in the given link.
This article will provide relevant information related to the SSC CGL result, steps to download the result/answer key and SSC CGL result dates. Check SSC Results page for similar information on other examinations by the commission.
Want to make it to the final SSC CGL Result? Put your best foot forward in SSC CGL with – 
Candidates can know further information on SSC CGL exam in the given link.
SSC CGL Result Dates
The Commission after the successful completion of SSC CGL exam will release the SSC CGL result 2020. The notification of the same is expected to be released by September 2020. The tentative dates and exam information is highlighted in the table given below:
SSC CGL Result 2020
Name of Exam Conducting Body
Staff Selection Commission (SSC)
Name of Post
SSC CGL Group B & Group C
Examination Name
Combined Graduate Level Exam
Tier 1 Exam
To be notified
CGL Tier I Result 2020
 To Be notified
Official Website
www.ssc.nic.in
Aspirants of Combined Graduate Level exam can visit the SSC CGL Form page for details regarding the online application and fee structure.
To know the detailed information on dates, vacancy, result etc. regarding other exams conducted by SSC, check SSC exams in the linked page.
SSC CGL Result 2019 Dates
The Commission has released CGL Tier I 2019 result in July 2020 which was put off because of Coronavirus pandemic. The SSC CGL Result Tier I 2019 which was expected to release in April and the exam tier I 2019 was conducted in March 2020. The important exam and result dates related to CGL 2019 is highlighted below.
The important SSC CGL 2019  Result dates are given below:
SSC CGL 2019 Result – Important Date
SSC CGL Notification

Released on 22nd October 2019

Online Application Submission

22nd October 2019 to 25th November 2019

SSC CGL Admit Card
February 20th, 2020
Tier-I exam

March 3, 2020, to March 9, 2020

SSC CGL Tier-I Result
July 1st 2020
Tier-II exam

22nd June 2020 to 25th June 2020 (Postponed)

October 14th to October 17th, 2020 (New Dates)

Tier-III exam

22nd June 2020 to 25th June 2020

Tier-IV exam

To be announced
Interested candidates can check the Last-minute preparation tips for SSC CGL Exam that will help them in the preparation of the exam.
Candidates willing to appear for the next recruitment of SSC Combined Graduate level exam can go through the following links for assistance:
SSC CGL Result Date 2018
Important dates related to SSC CGL result 2018 is as mentioned below:
SSC CGL result 2018 – Important Dates
SSC CGL Result 
SSC CGL Result Dates 2018

Tier-II result

October 25

Uploading of tier-II marks

November 7 – December 12

Tier-III exam

December 29

Tier-III result

May 8th, 2020 (Postponed)

Staff Selection Commission – SSC CGL Result
SSC CGL results are published by the commission on the SSC official website. Candidates who appear for SSC CGL exam are able to check SSC CGL result by downloading the PDF from the official website.
The Combined Graduate Level Result 2020 will be notified tier-wise. Candidates preparing for the next recruitment procedure can check the SSC CGL Exam Analysis for their preparation.
SSC CGL Result 2019
SSC CGL Tier I Result released on 1st July 2020 along with the cut off list.

O

n June 8th 2020, SSC released a notification stating that the result for Tier I is going to release in June 2020.
Earlier, the commission decided to postpone SSC CGL Result Tier I 2019 due to COVID-19. The SSC CGL Tier I 2019 was conducted from March 3rd 2020 to March 9th 2020.
Earlier, The commission decided to release SSC CGL Result 2019 Tier I in April 2020 and then in June 2020 but due to the outbreak of Coronavirus, the SSC CGL result date got postponed.
The Commission has released tentative answer key for SSC CGL 2019 (Computer-based mode) on the official website. The detailed information is given below.
SSC CGL 2019 Computer Based Exam update – Tentative Answer Key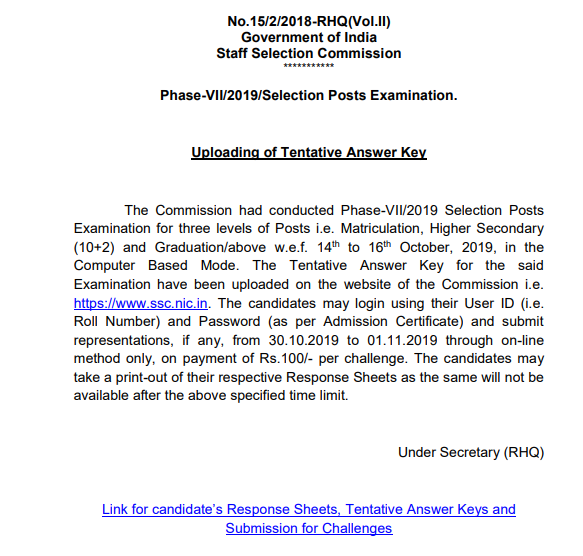 SSC CGL Result 2018 – The SSC Combined Graduate Level 2018 Result For Tier III exam conducted on December 29th 2019 was scheduled to release by May 8th 2020. The Commission has now notified to deferred the result to an undisclosed date due to coronavirus pandemic. The new dates for the same will be announced soon.
Earlier, the commission released the SSC CGL Tier-II result for the year 2018 on 30th October 2019. The SSC CGL 2018-19 Tier II exams were conducted in September 2019. Check the details of the SSC CGL result notification below: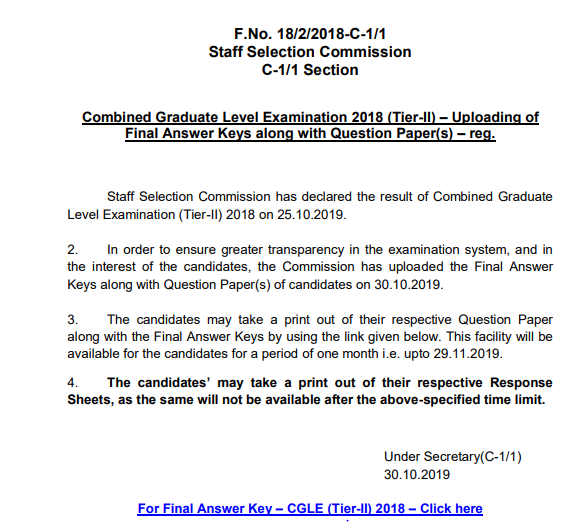 SSC CGL Tier III Result 2017 update
Similarly, the commission has published the 2017 CGL results(Tier III) on the official website on 15th November 2019. the details related to the same is given below: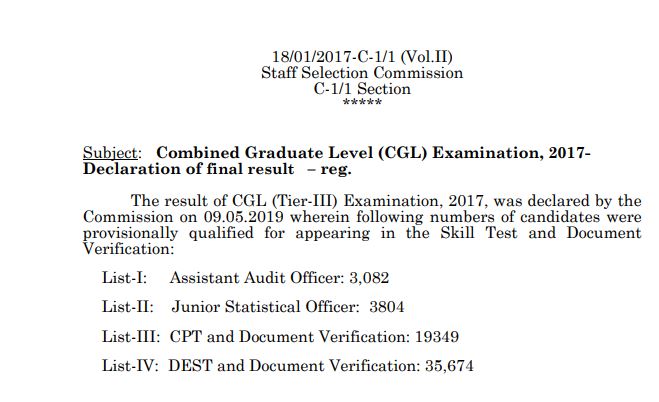 Steps to Download SSC CGL Result
Candidates can access the above information completely by following the steps below:
Log in to the official website(https://ssc.nic.in/)
Go to the latest news tab and click on the result related link:

3. You will be redirected to the credentials page. Provide the relevant information and your results will be displayed on the screen.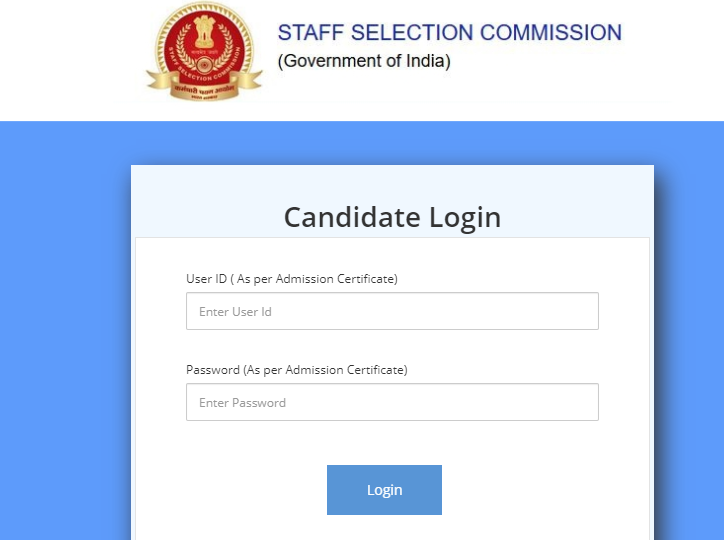 4. Download/print the result.
Candidates should start through preparation for the upcoming exam by taking the SSC CGL Mock Test
To know more about other government exams, check the linked article.
Aspirants willing to take SSC CGL exam in the next recruitment process can check the following links for important tips:
Aspirants of other examinations by SSC can go through SSC Preparation for necessary information.
SSC CGL Cut Off Marks
The cutoff list for candidates who qualified in SSC CGL Tier-II 2018-19 exam and are appearing for SSC CGL 2018 Tier III for the posts of Assistant Accounts Officer and Assistant Audit Officer, JSO and Other Posts are as mentioned below:
SSC CGL Cut Off Marks 2018
Categories
SSC CGL Cut Off Marks Tier I-Tier II
(Paper I-II-IV) AAO Posts
(Paper I-II-III) JSO Posts
(Paper I-II) All posts other than AAO & JSO
SC

463.15

433.95

354.74

ST

460.21

403.95

327.05

OBC

510.92

517.76

400.33

UR

572.51

535.86

433

OH

409.26

348.50

302.50

HH

347.35

223.46

165.73
For information on SSC CGL Cut Off Tier-wise and year-wise, check the link provided.
Go through SSC Cut Off to know the expected and previous years cut off trends of different SSC examinations.
SSC CGL Tier-III 2018 was conducted by Staff Selection Commission on December 29, 2019. The result and cut-off list for the same will be updated once released. Meanwhile, you check SSC exam dates for various other SSC Exams.
Aspirants who are willing to write other examinations conducted by the Staff Selection Commission can check the relevant links for detailed information.
Candidates preparing for various SSC examinations can check the links given below for help in their preparation-
For regular updates on various examinations keep a track of SSC Notification page.