UPSC Mains GS-II is one of the nine subjective papers of the second stage of the Civil Services Examination. The  UPSC Civil Services Mains Examination is conducted over 5 days. Out of these, the first two papers in IAS Exam – English and compulsory Indian language, are qualifying in nature. Candidates have to secure at least 25% marks in these two to be eligible for merit ranking, based on the rest of the UPSC Mains papers and the interview.
Candidates can refer to strategy, syllabus, and structure of GS-I, GS-III and GS-IV from the links mentioned below:
Table of Contents:
IAS Mains General Studies-II
The following subjects are covered in the Mains General Studies Paper-II:
Governance
Constitution
Polity
Social Justice
International relations
Like General Studies I, General Studies II has very few direct questions which are related to one topic. This paper needs a fair bit of critical thinking to answer the questions correctly as many times; interrelated topics will appear. If candidates are targeting UPSC 2021, they may check the linked article.
Strategy for UPSC Mains GS 2
GS-II Strategy – Recommended Videos
Strategy for Polity: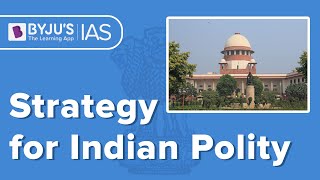 Strategy for International Relations:
Focus Areas in GS 2 Paper
The table below gives the focus areas in Mains GS Paper-II, which an aspirant should focus on:
Focus Areas in GS Paper-II

Subject
Topics

Polity

Indian Constitution

Features of Indian Constitution

Amendments in Indian Constitution

Provisions

Constitutional and non-constitutional bodies

Governance

Government policies and interventions

Governance

Transparency

Accountability

E-governance applications

Social Justice

Issues relating to the development and management of Social Sector/Services

Issues relating to poverty and hunger

International Relations

Bilateral Groupings

Regional and global groupings 

Agreements involving India and/or affecting India's interests
How to approach Mains General Studies Paper 2
The following table will mention the important sources which an aspirant can refer to prepare for UPSC Mains GS-II:
Subject
Sources
Polity
Books:

'Indian Polity' by Laxmikanth (Do read this book at least three times)
Class 11 NCERT – 'Indian Constitution at Work'

Governance
Daily reading of newspaper to be complemented with:

Select articles from 'The Hindu'
Economic Survey
Press Information Bureau (PIB)
ARC reports

Social Justice
Select articles from 'The Hindu' newspaper
International Relations

MEA Website
Select articles from 'The Hindu'
Questions from each of the topics mentioned above are asked in general studies 2 paper. To get the topic wise GS 2 questions in UPSC Mains, you can check the linked article. These questions can help aspirants devise a strategy to prepare for each of the GS-II topics.
As IAS Mains GS-II is heavily inclined towards current affairs, aspirants can take help from the below-mentioned links to prepare accordingly:
GS-II Structure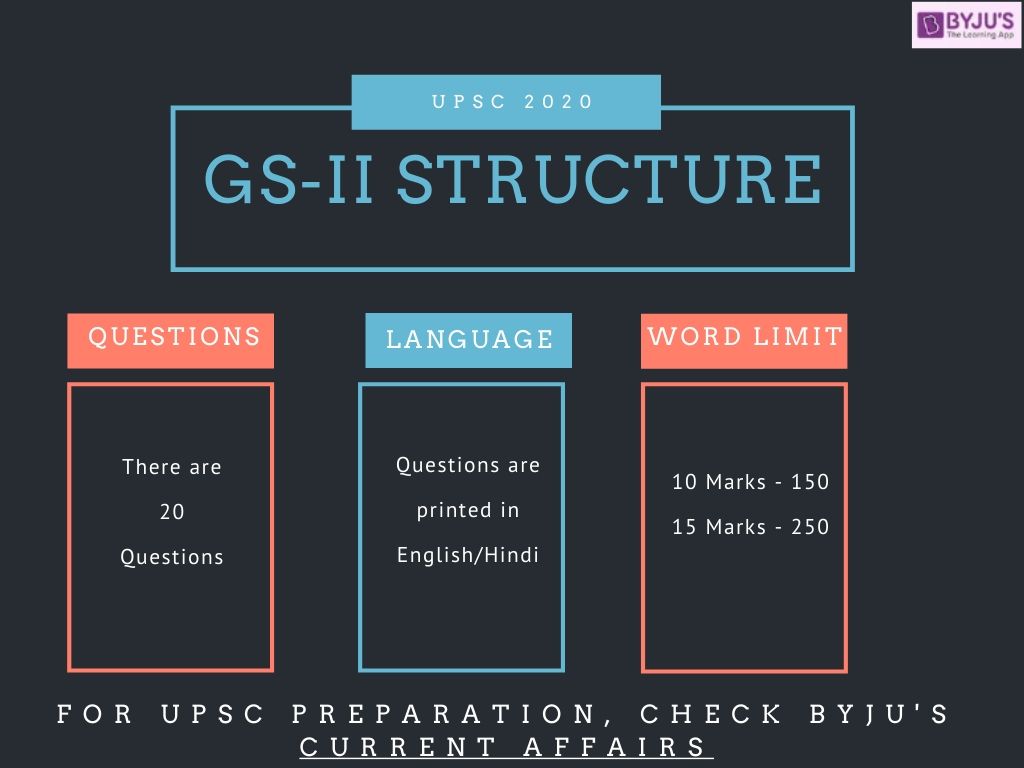 Detailed Structure of Mains General Studies Paper-II for IAS
The important features of the UPSC General Studies II Mains paper are:
There are 20 compulsory questions printed in Hindi and English which are to be answered in the language selected while filling out the application form. Questions which are answered in any other language are not evaluated.
The paper is of a total of 250 marks.
The word limit for 10 marks questions is 150, and for 15 marks is 250.
There is a heavy emphasis on governance and polity related topics, with a significant overlap between them and social Justice and international relations. The type of polity questions is mostly about the applicability of constitutional amendments, rights and significance of certain parts of the constitution.
GS-II Syllabus – Detailed Syllabus of Mains GS Paper 2
The detailed syllabus for UPSC Mains General Studies Paper-II (UPSC GS 2 syllabus) is tabulated below:
Topic
Sub-Topics
Indian Constitution

Historical underpinnings of the constitution
Evolution of the Constitution
Salient features
Basic structure
Amendments
Significant provisions
Functions and responsibilities of the Union and the states
Issues and challenges related to the Federal Structure
Devolution of powers and finances up to local government level
Challenges in the devolution of power
Separation of powers between various organs of the government
Dispute redressal mechanisms and institutions
Comparison of India's constitutional scheme with other countries

Governance & Polity

Parliament and State Legislatures

Structure
Functioning
Conduct of Business
Powers & Privileges
Issues arising out of Powers & Privileges of legislative bodies

Executive and Judiciary

Structure
Organization
Functioning
Ministries and departments of the government

Pressure groups
Formal & Informal associations and their role in the polity
Salient features of the People's Representation Act

Candidates can get the relevant Polity Notes for UPSC from the linked article.

Governance

Appointment to various constitutional posts
Powers, functions and responsibilities of various constitutional bodies
Statutory, regulatory and various quasi-judicial bodies
Government policies and interventions for the development of various sectors
Issues arising out of design and implementation of government intervention
Development processes and the development of industry
The role of NGOs, SHGs, various groups and associations, donors, charities, institutional and other stakeholders
Important aspects of governance, transparency and accountability
e-governance

applications
models
successes
limitations and potential
citizens charters
transparency & accountability and institutional and other measures.

Role of Civil Services in a Democracy

Social Justice

Welfare schemes for vulnerable sections of the population by centre and states
The performance of welfare schemes
Mechanisms, laws, institutions and Bodies constituted for the protection and betterment of vulnerable sections of the population
Issues related to the development and management of the social sector/Services relating to Health, Education, Human Resources
Issues related to poverty and hunger

International Relations

India and its neighbourhood
Relations between India and neighbouring countries
Bilateral, regional and global groupings and agreements involving India and/or affecting India's Interests
Effect of policies and politics of developed and developing countries on India's interests
Indian diaspora
Important International institutions, agencies and fora

Click on the link to refer to the Booklist for IAS International Relations
Aspirants can find the complete Indian Polity syllabus for UPSC from the links mentioned in the table below:
GS-II Trend Analysis
As we can see from the UPSC GS 2 syllabus, there is a high degree of overlap between subjects, and this should be kept in mind during preparation. A thorough analysis of current affairs related to UPSC GS 2 as well as a good understanding of the constitution and its structure along with the structure of the government should be a major part of preparation. UPSC aspirants can also refer to IAS Topper strategies to better understand the exam.
Here, we are giving the GS 2 trend analysis for the year 2018 and 2019. UPSC candidates can read the detailed trend analysis of UPSC Mains GS Paper 2 from 2013 to 2016 in the linked article.
The following table gives the total marks asked in each broad category in GS 2 in 2018 and 2019.
| | | |
| --- | --- | --- |
| Category | 2018 | 2019 |
| Polity | 70 | 105 |
| Governance | 45 | 10 |
| Welfare | 55 | 60 |
| International Relations | 80 | 75 |
| Total | 250 | 250 |
Now, we analyze each broad category by classifying them into subtopics:
The following graph indicates the worth of the total mark of questions asked from each subtopic in 2018 and 2019: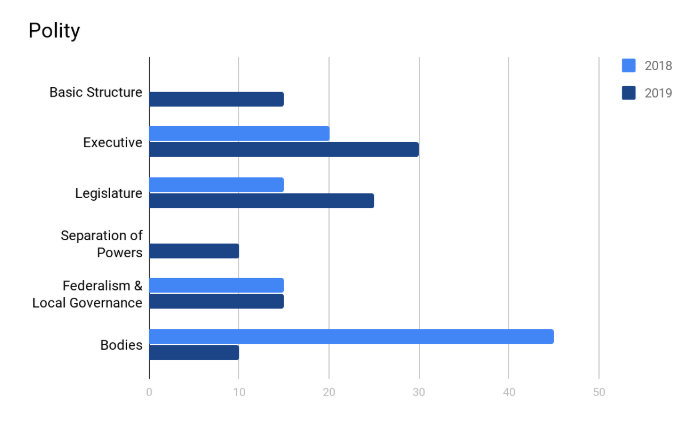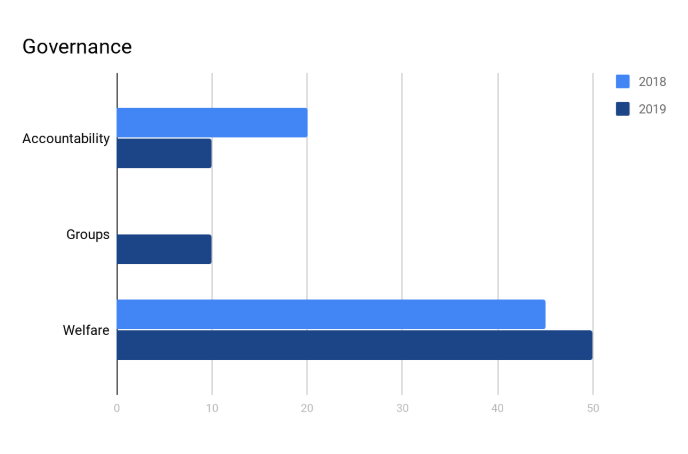 IAS aspirants can check the UPSC Prelims Subject-Wise Weightage 2011-2019 in the linked article.
Must-Read Important Topics in GS-II for UPSC
The table below mentions the GS-II topics that are important for IAS Exam:
IAS Exam Pattern
Check the table below to understand the scheme and subjects of IAS examination:
UPSC IAS Exam

Pattern of IAS Exam

Preliminary Examination

General Studies
Aptitude Test

Mains Examination

Qualifying

Paper-A (One of the 22 Indian Languages)
Paper-B (English)

Papers to be counted for merit

Paper-I (Essay)
Paper-II (GS-I)
Paper-III (GS-II)
Paper-IV (GS-III)
Paper-V (GS-IV)
Paper-VI (Optional Paper-I)
Paper-VI (Optional Paper-II)

Personality Test
–
There were significant structural changes in the pattern of the UPSC IAS Exam in 2013 and a few minor changes in 2015 and 2016. The changes related to General Studies are listed below:
2013: General Studies papers increased from 2 to 4
2015: CSAT marks no longer counted towards merit list, only General Studies papers, essays, and optional papers are counted for merit ranking while CSAT became a qualifying paper.
2016: General Studies Papers marks distribution changed to a two-tier system instead of the earlier equal marks distribution for all questions.
Candidates can understand the complete UPSC Exam Pattern from the linked article. 
Due to the increasing trend of UPSC papers being analyzed heavy in recent years, it is very important to read and understand the topics covered in the General Studies Paper-II and also previous year's UPSC questions and answers to be able to answer effectively and efficiently.
The following articles given in the table below can be referred to for UPSC IAS exam preparation: