Lakhs of students take part in NEET every year. NEET or National Eligibility cum Entrance Test is a national-level medical entrance test. It is conducted by the National Testing Agency (NTA) for admissions to medical courses in recognized and approved medical institutes across the country.
As per the National Medical Commission Act, 2019, Section 14, NEET stands as the common and uniform medical entrance test for UG medical courses across all the medical institutes, administered under any law. Following this, admissions to AIIMS and JIPMER institutes are also under NEET. Get the complete details of NEET 2022-23 here.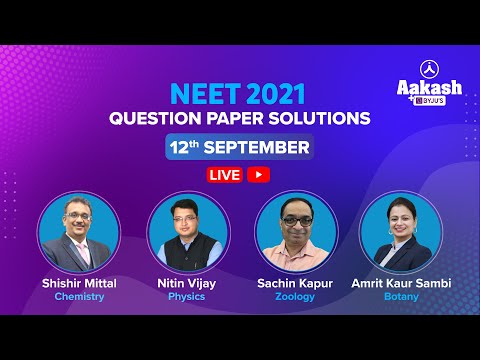 Table of Contents
1) NEET 2022 Exam dates
2) NEET 2022 Application
3) NEET 2022 Eligibility Criteria
4) NEET 2022 Exam Pattern
5) NEET 2022 Syllabus
6) NEET Admit Card 2022
7) NEET 2022 Preparation
8) NEET Results 2022
9) NEET 2022 Other Details
NEET 2022 Highlights – What's New?
The Medical Council of India has introduced some changes in NEET on the recommendation of the Union Health Ministry. Take a look at the changes implemented since last year:
NEET stands as the single-level medical entrance test conducted nation-wide, thus scrapping AIIMS and JIPMER entrance tests
The 15% All India Quota scheme is now joined by states of Telangana and Andhra Pradesh
Qualifying NEET UG exam is now a must even for Indian candidates who desire to pursue medicine abroad
No restriction on the number of attempts at NEET. However, age limit restriction must be followed as per corresponding categories
NEET cannot be taken up by State Open School or NIOS or private candidates
The exam shall be in two languages apart from the language preferred in English
It is no more compulsory to produce Aadhar card while filling NEET application form. However, candidates must produce a valid ID proof
NEET 2022 Exam Dates – Important Dates For NEET 2022
Candidates who are willing to take part in NEET 2022 can check the table below for all the important dates. Dates provided below are tentative and subject to change.
| | |
| --- | --- |
| Event | Corresponding Date |
| Application form – Date of release | November 2021 |
| Application form – Last Date Of Application | December 2021 |
| Application form fee – Last date to submit | December 2021 |
| Correction Window Portal Opens | January 2022 |
| Admit Card Release date | April 2022 |
| NEET 2022 Exam date | First Sunday of May 2022 |
| NEET 2022 Announcement of Results | First week of June 2022 |
NEET 2022 Application
Candidates taking part in NEET 2022 can visit the official website for NEET to fill the application form available from November 2021 onwards. Candidates can fill in the application form through the online mode only and not offline mode. Click on the "Apply Online" link and get directed to filling the application form.
Steps in Online filling of Application form:
Visit the official website for NEET.
Register by providing the name, mobile number, email id and other details.
Fill in the registration form.
Some details to be filled – Date of Birth, Category, Nationality, qualification details such as Year of Passing, Percentage of marks, etc, details to contact and choice for exam centre.
Upload the scanned copies of the required documents in the prescribed size and format only.
Fee payment of application can be done through online and offline mode.
Towards the end, the confirmation page will be displayed. Take the printout of the duly filled application form for future reference.
Aadhar card is no more a mandate in order to fill the application form.
Once the process is complete, candidates are provided with a provisional registration number. This number will also be sent to the email id and registered phone number.
Documents required to Apply Online for NEET 2022
Listed below are the documents one would require while submitting the NEET application form 2022. Take a look:
Most recent passport size photograph
Most recent postcard size photograph
Signature of the candidate
Candidate's left-thumb impression
Class 10 Marksheet
Specifications of the documents are as follows:
Name of the Document
Specification provided by NTA
Size of file

(JPG/JPEG format)

Description for Online Tool

(with 72 DPI)

Passport size photograph
Not specified
10 Kb to 200 Kb
2.5 X 3.5 inches
Post card size photograph
4″X6″
50 Kb to 300 Kb
4.25 X 3.5 inches
Signature of the candidate
Not specified
4 Kb to 30 Kb
2.5 X 3.5 inches
Left-thumb impression
Not specified
10 Kb to 50 Kb
2.5 X 3.5 inches
Class 10 marksheet
Not specified
100 Kb to 400 Kb
2.5 X 3.5 inches
Click here to check the specifications of NEET photo size
The application fee for NEET 2022 is as mentioned below (subject to change):
| | | |
| --- | --- | --- |
| Category | Fee Amount | Fee Amount (With Late Fee) |
| GC/OBC | INR 1400 | INR 2800 (1400+1400) |
| SC/ST/PwD | INR 750 | INR 2150 (750+1400) |
Mode of Payment:
Application fee payment can be done through the offline or online mode as given below:
Online method – Credit card/Debit card/Paytm/Net banking
Offline method – Bank Challan
NEET 2022 Application Form Correction
Around the third week of March 2022, after submission of the NEET 2022 application form, candidates are provided with an opportunity to make changes to limited fields through the online mode. One must regularly visit the website for the latest notifications on the re-opening of the portal for correction facility.
In case, candidates are required to correct and upload a clearer photograph or signature, it will be intimated through SMS or email regarding the same. Additionally, registered candidates can make changes to fields such as – Date of birth, gender, identification, category, state code of eligibility, the medium of the exam paper, exam center, name of parents, percentage and marks obtained in the qualifying examination, etc. In case, an additional fee has to be made, the same can be done through net banking or debit/credit card payment.
Note:
Incomplete form submission can result in rejection of the form. No changes to any fields will be entertained once the form has been submitted.
Additional Reading: NEET Application Form Correction
NEET 2022 Eligibility Criteria
Candidates taking part in NEET must be well aware of the eligibility criteria for NEET 2022. Read to find complete details on eligibility criteria:
Qualification
Candidates must have passed/appeared for class 12 or an equivalent exam. Candidates appearing for the class 12 exams are also eligible
Physics, Chemistry, Biology/Biotechnology and English must be the major, mandate subjects
Candidates must have obtained the required aggregate marks in the qualifying examinations:
General category – 50% marks in the qualifying examinations
SC/ST/OBC category – 40% marks in the qualifying examinations
Physically handicapped: General category – 45% marks in the qualifying examinations
Physically handicapped: SC/ST/OBC category – 40% marks in the qualifying examinations
Nationality
Candidate should be an Indian citizen.
If the candidate does not reside in India then he or she should be an OCI (Overseas Citizen of India)
Non-Resident Indians (NRIs)
Persons of Indian Origin (PIOs)
Foreign Nationals
Candidates from the J&K state are eligible to appear for NEET 2022 under the All India 15% quota only by self-declaration. Such candidates can also get admitted to AFMC, Pune
Age Criteria
Must have completed 17 years as of December 31, of the year of admission
The maximum age of limit will be 25 years for candidates belonging to the general category. For candidates belonging to SC/ST & OBC category, the age limit is 30 years
Aadhar Card Possession
Aadhar card is no more a mandate to participate in NEET. Candidates belonging to the state of Meghalaya, Assam, and J&K can furnish ration card numbers, passport numbers, bank account numbers, or any valid ID number while NRI, OCI, PIO, and other foreign nationals can produce their passport numbers for the same.
Learn more about NEET Attempt Limit
NEET Exam Pattern 2022 – Highlights
Refer to the table provided below to know about the NEET 2022 Exam pattern:
Exam Name
NEET (National Eligibility cum Entrance Test)
Conducting Body
NTA (National Testing Agency)
Mode of Exam
Pen-paper based
Expected number of Applicants
Around 16-17 lakhs
Exam Duration
3 hours
Seats Offered
Admission of around 1 lakh MBBS and BDS seats under 85% State quota and 15% All India quota
Courses Offered
MBBS, BDS, AYUSH and other Courses
Number of Questions
180 questions (MCQs)
Type of questions
Objective type questions with 4 options – 1 correct answer
Subjects
Questions are asked from Physics, Chemistry, and Biology (Botany & Zoology)
Questions from sections
Physics – 45 questions

Chemistry – 45 questions

Biology (Botany + Zoology) – 90 questions

Language
The question paper is asked in 13 languages – English, Hindi, Assamese, Bengali, Gujarati, Malayalam, Kannada, Marathi, Odia, Tamil, Telugu, Urdu and Punjabi
Marking Scheme
4 marks are awarded for each correct answer.
Negative Marking
1 mark is deducted for each wrong answer
NEET Syllabus 2022
The Medical Council of India (MCI) prescribes a syllabus for NEET. It covers topics from Physics, Chemistry, Botany and Zoology from class 11 and 12. Typically, syllabus for NEET is published once a thorough review from inputs of different states on the syllabi is conducted. Syllabi are based on NCERT, CBSE and COBSEW. Check this space for the latest on the syllabus.
Provided below is the subject-wise syllabus for NEET 2022 from classes 11 and 12.
NEET 2022 Physics Syllabus
| | |
| --- | --- |
| Class 11th Syllabus | Class 12th Syllabus |
| Physical world and measurement | Electro statistics |
| Kinematics | Current Electricity |
| Laws of Motion | Magnetic effects of Current and Magnetism |
| Work, Energy, and Power | Electromagnetic induction and alternating currents |
| Motion of systems of particles and rigid body | Electromagnetic waves |
| Gravitation | Optics |
| Properties of Bulk Matter | Dual Nature of Matter and Radiation |
| Thermodynamics | Atoms and Nuclei |
| Behavior of Perfect Gas and Kinetic theory | Electronic Devices |
| Oscillations and wave | |
Also Check: NEET Physics Syllabus
NEET 2022 Chemistry Syllabus
| | |
| --- | --- |
| Class 11th Syllabus | Class 12th Syllabus |
| Some basic concepts of Chemistry | Solid state |
| Structure of atom | Solutions |
| Classification of Elements and Periodicity in Properties | Electrochemistry |
| Chemical Bonding and Molecular structure | Chemical Kinetics |
| States of Matter: Gases and liquids | Surface Chemistry |
| Thermodynamics | General principles and Processes of Isolation of Elements |
| Equilibrium | P Block elements |
| Redox reactions | D and F block elements |
| Hydrogen | Coordination compounds |
| s-Block elements (Alkali and Alkaline earth metals) | Haloalkanes and Haloarenes |
| Some p-Block elements | Alcohols, Phenols and Ethers |
| Organic Chemistry – Some basic principles and techniques | Aldehydes, Ketones and Carboxylic Acids |
| Hydrocarbons | Organic compounds containing Nitrogen |
| Environmental chemistry | Biomolecules, Polymers and Chemistry in everyday life |
Click here to check NEET Chemistry Syllabus in detail
NEET 2022 Biology Syllabus
| | |
| --- | --- |
| Class 11th Syllabus | Class 12th Syllabus |
| Diversity in the Living World | Reproduction |
| Structural Organisation – Plants and Animals | Genetics and Evolution |
| Cell Structure and Function | Biology and Human welfare |
| Plant Physiology | Biotechnology and its applications |
| Human physiology | Ecology and environment |
Also Read: NEET Biology Syllabus
NEET 2022 Admit Card
Candidates who have successfully registered by submitting the NEET 2022 Application form can expect the NEET admit card to be released on the official website. Some details regarding the same are as follows:
NEET Admit Card 2022 will be released on the official website for NEET by the NTA – conducting authority for NEET
Admit cards will be available through online mode only. Admit cards will not be posted
Applicants can expect the admit card to be released in the 2nd or 3rd week of April 2022
Candidates must take a print of the admit card
Some details on the admit card are –
Name of the candidate
Father's name
Category
Roll number
Photograph
Exam date
Duration of exam
Reporting time
Venue – exam center and its details.
Candidates must carry a copy of NEET 2022 admit card to the exam hall
Along with releasing admit cards, a format to affix postcard photographs to the admit card shall also be specified
Candidates must contact the official authority for NEET, in case they find any disparity in details on the admit card
NEET Preparation 2022 – How To Start Preparing For NEET 2022?
The best time to start preparing for NEET 2022 is right now! A sound preparation can certainly bring success to candidates appearing for NEET. Follow these simple steps to start preparing for NEET.
Checklist to start NEET 2022 Preparation
1. Get acquainted with NEET Exam pattern 2022
2. Download/take a print of syllabus, question papers and other essential documents
3. Start strategizing
4. Design a study planner
5. Prepare your own notes
6. Focus on gaining conceptual clarity
7. Solve question papers and sample papers for NEET
8. Take up mock tests
9. Set realistic daily targets and achieve them
10. Solve as many as 150-200 questions per day
11. Take up 2 subjects a day
Some other tips while preparing:
Ensure to study for NEET exclusively every day. Over time one will get habituated to indulge in long-hours-studying with attention staying intact
NEET is not a memory testing exam, hence give up on rote memorization techniques. Focus on gaining clarity on concepts, for which you can seek help. Learn from video tutorials to understand better
Understand concepts and apply the same while solving problems.
Practise and solve as many papers to increase your levels of speed and accuracy
With ample time left, one can enhance the analytical capabilities by attempting to solving the same problem more efficiently by applying different techniques
Cynosure must be on managing time efficiently, discipline and dedication to sticking to the routine, enhancing conceptual knowledge, etc
Practise diagrams, focus on chemical reactions, learn physics formulae
If you find a topic difficult, reform it into a flowchart or visualize it in a diagram
When reading chapters for the first time, go through them carefully. Do not learn. After completing the chapter, try to recall important information. Read and learn it the second time. This time it is learnt in-depth for its information. In the end, try recalling and solving questions in the chapter. This way, you have read the chapter twice and solidified your knowledge on the chapter
Do not miss out on the summary section provided at the end of chapter
Study and understand examples carefully. They help understand concepts and apply the knowledge gained to solving questions
Do not indulge in marathon reading sessions initially
Maintain separate notes for NEET with all terminologies of NCERT intact. Highlight important points, use mnemonics, flowcharts, mappings, etc. Check out the article below to frame the best notes for NEET.
Also see: How To Make Notes for NEET
How To Start Preparing for NEET 2022 from Class 11?
One of the best and ideal times to start preparing for NEET 2022 is from Class 11 onwards. Start following the aforementioned preparation tips and get started. One can enrol at a NEET Coaching centre if required. Remember, one can conveniently crack NEET with self-studies as well. Staying dedicated and disciplined to the study routine is key.
NCERT is the holy grail for NEET candidates. One must master NCERT textbooks for class 11 & 12. Check out the Best Books for NEET for complete details.
NEET 2022 Results
Results for NEET 2022 shall be declared by NTA – the conducting authority on the official website for NEET. Results typically shall be announced by the first week of June 2022 (tentative). Candidates must visit the official website and log in with respective credentials to log in and download results. Credentials asked on the result page are roll number and other details. One must download and carry a copy of the same at the counselling process. After the result declaration, NEET 2022 Cut off shall be announced.
Don't miss: NEET Questions
NEET Answer Key 2022
Once NEET 2022 has been conducted, the answer key will be released in a week's time. The answer key for NEET 2022 shall be released on the official website for NEET by the NTA. Along with the answer key, the OMR responses shall also be published via the online mode.
In case of any discrepancy after comparison with the NEET answer key, one can avail the facility of challenging the answer key. One must pay an amount of rupees 1000/- per challenge. Typically, the time allotted to challenge is just 2 days.
How To Download NEET Answer Key from Official Website?
Visit the official website – ntaneet.nic.in
Log in with your credentials – roll number and password
Click on the link to download "NEET 2022 Answer key"
Get the complete procedure from scratch to challenge here – NEET Answer Key
NEET Cut-off 2022
Cut-off indicates the minimum score that must be obtained in order to qualify the entrance test. The NTA declares the cut-off for NEET along with the declaration of result. The list so published has the All India ranks, category wise of all the candidates who have qualified for the test.
A merit list will be generated by the participating states for the upcoming counselling process. The scorecard, in addition to the cut off marks, will also display the NEET cut-off percentile and the number of applicants.
Candidates who have cleared the cut-off will then be required to register themselves for the NEET Counselling process 2022, a few weeks post the announcement of results.
Cut-off announced for a particular year varies, depending on factors such as the number of candidates appearing in the exam that year, students' performance, the difficulty level of the exam, etc.
NEET Rank List 2022
A merit list is prepared on the instructions of MCI (Medical Council of India), DGHS (Directorate General Of Health Services), and the DCI (Dental Council of India). The merit list is prepared for the 15% All India Quota. Candidates will be intimated about NEET counselling in their order of ranking obtained at the NEET UG exam.
Also see: NEET Quiz Videos
NEET Reservation Criteria 2022
The following table describes the reservation criteria for different categories. Take a look.
| | |
| --- | --- |
| Groups/Categories | Reservation |
| General Economically Weaker section | 10% |
| Scheduled Tribe | 7.5% |
| Scheduled Caste | 15% |
| Other backward castes | 27% |
| Persons with disabilities | 5% |
NEET Online Coaching For NEET 2022
Enrolling for a NEET Coaching is an individual choice, but it is certainly helpful. Coaching centers have experienced faculty with years of experience in training candidates to face NEET. Along with great exposure, it also comes along with a systematic approach towards studying, weekly/daily assessments, constant mentoring, doubt-clearing sessions and much more.
While it is ideal to enrol for NEET coaching from class 11 onwards, it can still be taken up in class 12. Cracking NEET with Online Coaching for NEET becomes a lot easier and hassle-free.
Explore more about NEET at BYJU'S.
Access now: