NEET 2020 was conducted on 13th September and 14th October 2020, results for the same were announced on 16th October 2020. NEET 2021 is scheduled to be conducted on 12th September 2021. The conducting body for NEET exams, the NTA (National Testing Agency) released the application forms on 13th July 2021.
NEET-UG 2021 Size of Photo
The online filling of the NEET application form has the following 4 steps:
Apply online by filling in the details to register
Uploading of scanned documents
Make payment
Print the confirmation page
Also see: NEET questions
Table of Contents:
Documents That Should Be Carried To The Exam Hall
What Are The Documents That Should Be Uploaded for NEET 2021?
Specifications of NEET Documents 2021
Discrepancies In Image
Out of these, one of the significant steps is the uploading of documents to the portal, specifically the NEET Photo (postcard/passport) with the specifications mentioned in the information brochure released by the NTA. Turns out that candidates find it difficult and are often stuck at this step of the online filing process. When candidates arrive at this step, due to incorrect dimensions of images and documents, the page tends to show errors mostly.
Trending: How To Prepare For NEET In One Month
To combat this issue, candidates often take to social media, seeking online assistance from different interactive platforms to get a comprehensive sense of the specifications of different documents that should be uploaded. In view of this, we at BYJU'S bring to you the breakdown of the detailed process and specifications explained in a further simplified manner after closely going through the procedure mentioned on the official website. This shall immensely help candidates to fill in the form in one go. Learn more about it.

Documents That Should Be Carried To The Exam Hall
Candidates must carry only these documents to the exam hall, failing at which candidates will not be allowed to sit in the examination hall:
Print out of admit card along with the passport size photograph (same as uploaded on the application form)
Passport size photograph (same as uploaded on the application form) to paste on the attendance sheet in the exam hall. One photograph is enough
One Postcard size, colour photograph (4″X6″) with a white background to be pasted on the proforma that is downloaded along with the NEET admit card which will be handed over to the examiner in the exam hall.
Valid ID proof (original), any one of these – Aadhaar card/PAN card/Voter ID/Driving License/Ration card/Passport/Class 12 roll number provided by the board/any valid photo ID proof issued by Government
PwD certificate issued by Competent Authority (if applicable)
Scribe (Letter of undertaking to use own scribe, if applicable)
More here: NEET notes

What Are The Documents That Should Be Uploaded for NEET 2021?
Follow the list below to know the documents that are mandated by the NTA to be uploaded while online submission of the application form:
Most recent passport size photograph
Most recent postcard size photograph
Signature of the candidate
Candidate's left-thumb impression
Class 10 Marksheet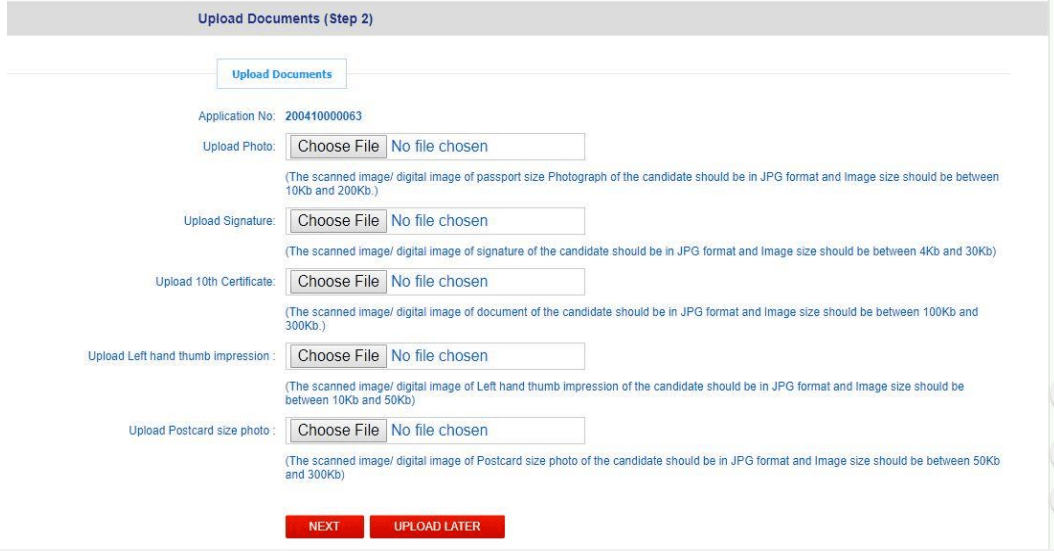 Explore: Quiz videos on NEET

Specifications of NEET Documents 2021
Candidates must follow this set of guidelines to be able to meet the requirements of the images specified. For this, you can use online tools available or simply even a "Paint" application available on your laptops/desktops.
Candidates must submit their signature and refrain from any malpractice, forgery etc in which case the candidature is subject to cancellation, furthermore, a case will be filed against such candidates using the UFM and criminal action shall be launched against them as per the Country's law.
The specifications of the documents are as indicated in the table below:
Document
Format
Specification

Latest Passport size Photograph 

JPG 

Size: 10 kb to 200 kb

Post Card size photograph (4"X6")

JPG

Size: 10 kb – 200 kb

Signature

JPG

Size: 4 kb to 30 kb

Left-hand thumb impression*

JPG

File size: 10 kb to 200 kb

Class X passed the certificate

PDF

File size: 50 kb to 300 kb

Category certificate (SC/ST/OBC/EWS etc.)

PDF

File size: 50 kb to 300 kb

PwBD certificate

PDF

File size: 50 kb to 300 kb

Citizenship Certificate/ Embassy Certificate or any Documentary proof of

Citizenship certificate

PDF

File size: 50 kb to 300 kb
I. Specifications Of NEET Documents 2021 – Passport Size Photograph
Focus of the photo should majorly be on the face with 80% and greater face coverage
Photo must be recent
Clear visibility of the ears
Background of the photo should be white in colour
Background of the photo should be plain and not have any objects or scenery
Caps/shades and such accessories are not acceptable
If you use spectacles regularly, then take them on. Would be better to take without them to keep away light glares
Photographs should not be attested
Computer-generated photographs and usage of Polaroid is not permitted
II. Specifications Of NEET Documents 2021 – Postcard Size Photograph
You can use the same passport size photograph, resize it to get a postcard photo.
Keep handy, at least 5 of these photos for further rounds of admission
III. Specifications Of NEET Documents 2021 – Signature
Signature should not be in Cap locks
Signature should be in running handwriting on a white sheet of paper with a black ink pen
Image should be scanned to upload
IV. Specifications Of NEET Documents 2021 – Left-thumb Impression
As per NTA, the image must be scanned to upload
Thumb impression must not be blurry, must be clear
Smudged impressions are not allowed
V. Specifications Of NEET Documents 2021 – Class 10 Marksheet
Scan the passing certificate of Class 10 to upload
Ensure the image for its clarity and visibility of all details
Upload it to the portal with the required dimensions as described above
Note: Candidates must ensure that the uploaded documents meet all the requirements mentioned in this article. If one fails to upload even one of these documents due to various reasons, the NEET application form will not be submitted, and hence further steps shall be stalled. The next step in line after uploading documents is the payment of fee, which will not take place until the documents are not uploaded with the mentioned specifications, subsequently, the candidate will not be registered. Hence document uploading is an important step in the process.

Discrepancies In Image
In the instance where a candidate faces any differences/issues in the NEET Photo 2021 size, specifications, document format etc, the NTA shall keep the candidate informed about the same either via email or SMS.
Image-Correction Procedure
Visit the official website, ntaneet.nic.in and click on the 'NEET candidate login' tab
Fill in your application number and password (as entered while filling the online form)
Click on the option of uploading documents (signature/photograph) that the screen displays
Upload the corrected image as per specification
Verify the image and then click on submit
You will receive an OTP on mail and phone number
Enter the same
NEET Correction slip is generated
Print it out
For more on NEET 2021, register at BYJU'S.
Related Links: