Here, we have brought to you a short 'My Hobby' essay in English that will help young kids to get a fair understanding of how to write a simple essay on this captivating topic. Young learners can refer to 'My Hobby' essay to get a grasp of the important points to consider while drafting a few lines on this topic. 'My Hobby' essay in English is one of the most trending topics of essay writing and gives an opportunity to the kids to write about their favourite pastime activity.
'My Hobby' essay for Class 1 is a very common topic of essay writing for school kids. Kids have tender minds and they often enjoy penning down their thoughts in simple words. They can write about my hobby essay and simply put across their thoughts. Children usually enjoy drawing, colouring, reading story books and like to pursue them as hobbies. However, holding a child's attention to a particular hobby is rare as they like to explore doing a variety of things, all at once.
The below drawing is 'My Hobby' essay that can be referred to by kids, before they write'My Hobby' essay in English. We hope the below 'My Hobby' essay 100 words will help them in choosing a hobby and write a few lines on this captivating topic. You can also explore interesting English essay topics at the linked article.
Drawing Is My Hobby Essay for Class 1 Kids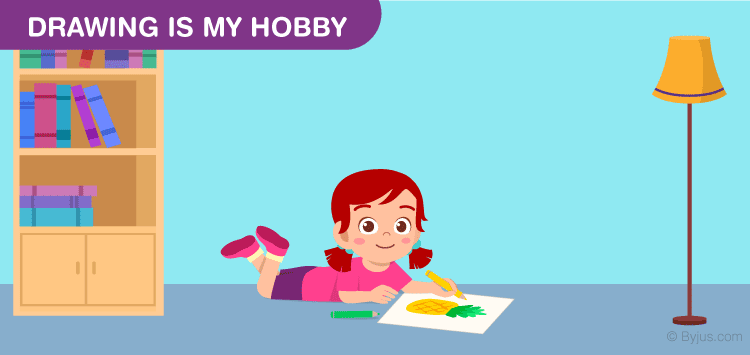 Everyone can have a hobby which rejuvenates them.
Some people enjoy reading, some like collecting old coins and stamps and there are some who enjoy colouring, sketching and drawing as their favourite pastime.
My favourite hobby is drawing and colouring as it makes me feel happy.
I love to draw pictures of my loved ones, animals, trees and birds.
I use water colours, crayons, drawing pencils and colour pencils for drawing pictures.
I give my drawings as a gift to my parents and friends on their birthdays or any special occasion.
I participated in my school drawing competition this year and got the second prize.
I love playing with colours and love to draw the beautiful sunset view from my room's window.
My parents and teachers always encourage me to participate in school drawing competitions or social functions.
It gives me immense pleasure and happiness when I complete a drawing.
We hope the above sample about 'My Hobby' essay drawing for Class 1 kids would prove useful to them while they are asked to write 'My Hobby' essay 100 words on this interesting topic. The essay includes simple language, which can be easy to understand and kids would definitely relate to it as they take charge to write a few sentences on this ever interesting topic.
Interested in more such amazing stuff? For more such interesting kids resources such as colourful worksheets, NCERT Solutions of Class 1, 2 & 3, enchanting tales, engrossing essays, etc. you can check and explore our Kids Learning section for more details and upscale the learning capacity of your little one.