Here, we bring to you "My Brother Essay for Class 2" kids. This essay includes all necessary points that kids can cover while writing a few lines on this interesting topic. Presenting you 10 lines about my brother essay for Class 2 students that will help them to pick some important points and convey their emotions for their siblings in a simple and artistic manner.
Sibling relationships are generally genuine. Having a healthy sibling relationship promotes a sense of companionship and unity among them. They grow up in a similar environment, along with their parents and other elders of the family. They share memories and experiences together and maintain a healthy relationship with each other. Siblings share a unique relationship and cherish this bond throughout their lives.
Having an elder or younger brother is a wonderful feeling for sisters. A brother is like a friend who guides, supports and protects his sister from the evil gaze of bad people. In India, there is a special day dedicated to honour the brother-sister relationship and it is popularly known as "Raksha Bandhan". Sisters tie a holy thread around their brothers' wrists who pledge to protect and ensure their sister's safety throughout their lives.
Here's a modest attempt from our end, "My Brother Essay for Class 2" which we hope will help youngsters to grasp an understanding of the key points to consider, while writing a few lines on their sibling in a creative manner. You can download the colourful PDF for free, through the click provided below.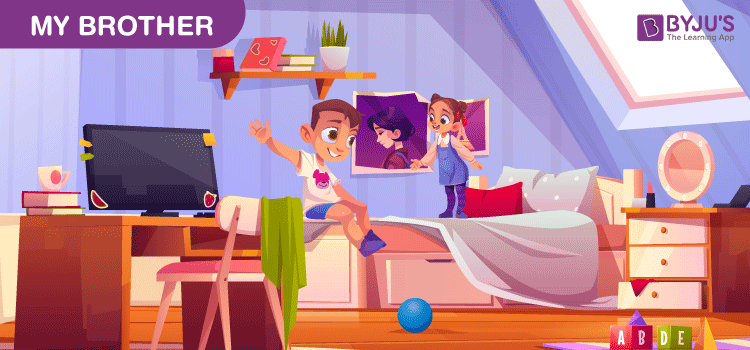 Essay On My Brother In English For Class 2
I have an elder brother whose name is Abhishek.
He has a very caring nature and is three years older than me.
My brother and I discuss every small thing about school, friends and studies with each other.
He is very good in his studies and helps me in doing my homework too.
We go to school together every day and play outdoors after returning from school.
My brother often shares his toys and chocolates with me and we have fun playing together.
He loves playing video games, snakes and ladders and carom during his free time.
Although he fights with me on silly things, he cares for me a lot.
We both love reading books and watching cartoons and superhero shows together.
My brother is my best friend and I love him very much and always pray to God to make our bond stronger.
The above sample "My Brother Essay in English for Class 2" is a humble attempt to guide young minds to convey their feelings for their dear brother(s) in simple sentences. For more such interesting essay topics of Class 2, you can quickly check BYJU'S website and learn more.
Are you looking for more engrossing content to enhance your child's mental horizon? You may want to check our Kids Learning section and explore a huge variety of resources, such as colourful worksheets, poems, stories, easy trivia questions for kids, NCERT Solutions, etc. which make learning a joyride for your little one.