My Dream House Essay is one of the most interesting topics of essay writing for Class 2 kids. Writing my home essay gives a wonderful opportunity to kids to express what fascinates them about their home and pen down a few lines on this topic. For everyone, home is a place where they live with their family members in full security. It is a place where we live with our parents, grandparents, siblings, cousins, etc. in love and harmony.
Home gives us a feeling of togetherness when the entire family stays under the same roof. Every person learns to take to the first and tiny steps of life at home. Here, we bring to you a sample of my home essay for Class 2 kids, which they can refer to while drafting an essay on this topic of interest. You can download "My Dream House Essay" in a colourful PDF, through the link provided below.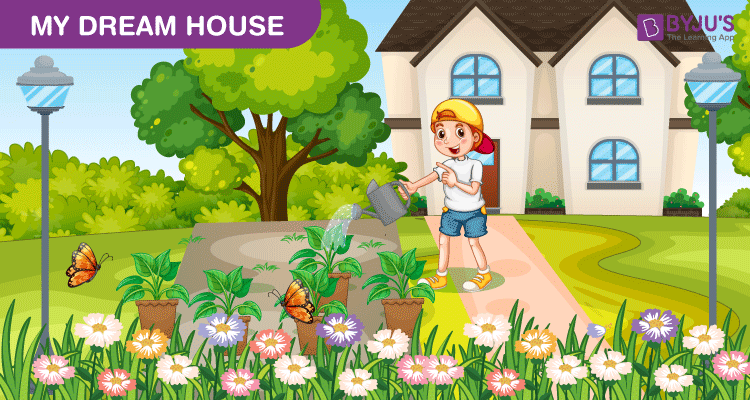 My Dream House Essay For Class 2
My dream house would be the most important place where I want to stay with my family.
It should be a four-bedroom duplex bungalow with a beautiful garden outside.
My house should be built with bricks and cement and should have wooden floors in it.
There should be four bedrooms, one kitchen, three bathrooms and one living room with a fireplace.
The rooms of the house should be well-lighted and airy with huge windows.
The doors and windows should be huge and painted in white colour.
The walls in my dream home should be of cream colour and my room should be decorated with my favourite toys.
There should be a spacious balcony attached to my bedroom from where I can view the garden.
My house should have a green and beautiful garden with plants, trees, a lawn swing and a fence surrounding it.
My dream home should be a perfect place where I should feel a sense of security and togetherness with my family.
Young children have refreshing thoughts in their minds and writing My Dream House Essay for Class 2 would be an enjoyable experience for them. It's a magnificent opportunity to express their thoughts in short and crispy sentences. The above 10 lines on My Dream House Essay 200 words is one small attempt from our end to help young minds put across their thoughts in pen and paper and explore their English writing skills.
Loved the essay? You may want to explore more such Class 2 essay topics for your little one. At BYJU'S, we provide not just the best but unmatched learning experience to your kids. Our Kids Learning section has everything that your child would love to learn in a fun way. So, come fall in love with learning!