Kids are often close to their fathers and look up to them as their role models. Writing 'My Father' essay for Class 2 is a fun activity for young minds as this gives them an opportunity to express their emotions about their dear father. Writing essays not only enhances the writing prowess of kids, but they also get to learn new words in this process.
A father adores his kids from the bottom of his heart. The bond between a kid and his father is extremely precious. Kids often feel free to share their thoughts and feelings with both their parents. They love to spend quality time with their fathers, especially when they are at home. A father often shares his childhood memories and experiences with his child and always wishes the best for them. Here, we have brought to you one of the most simple yet impressive 'My Father' Essay for Class 2 kids.
Given below is 'My Father' Essay for Class 2, which will help students pick some ideas about how they can write a simple essay on this topic. The primary objective of writing 'My Father' essay in English is to imbibe better writing skills and help them understand how to frame short and simple sentences, thereby enhancing their overall linguistic understanding.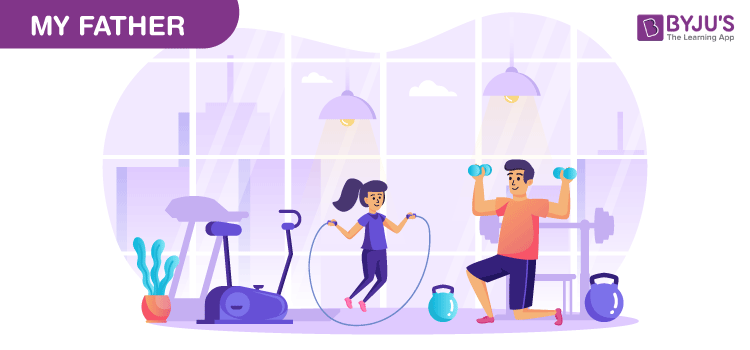 My Father Essay for Class 2
My father's name is Sanjeev Choudhury. He has a very pleasant personality.
He is my best friend, and I look up to him as my role model. He is my inspiration.
He is very active and fit physically, as he exercises every day.
My father has taught me a few light exercises, and I practice them every morning.
He is a doctor by profession and always treats his patients with utmost care.
My father has a fun side, too, and we enjoy watching cartoons and comedy shows together during the weekends.
I share a very strong bond with him and share all my feelings with him. He helps me in my studies too.
He always encourages me to be nice to people, and obey and respect elders.
He narrates bedtime stories of fairies, princes, kings and soldiers to me.
I love my father dearly, and he is the most special person in my life.
Given above is a sample of 'My Father' essay in English for Class 2 students. We have kept the language of the essay simple so that it can be understood by young minds. Essays are supposed to be written in simple words so that kids can relate to 'My Father' essay in English in 10 lines. You can also explore more such amazing essay topics of Class 2 for your child.
Are you looking out for more such engrossing learning opportunities for your kid? Check out our Kids Learning section and explore a plethora of colourful educational resources and make learning an enjoyable experience for your little one!