My favourite toy doll essay for Class 2 is one of the most riveting topics of essay writing for a second grader. Young ones spend most of their time playing with toys whenever they are at home. Toys are their only companion when they want to play indoors. Hence, writing a few lines such as my favourite toy doll essay for Class 2 or my favourite toy car essay for Class 2 gives kids a golden opportunity to express their emotions and to bond with their toys in the form of an essay.
In this article, we present to you my favourite toy doll essay for Class 2 that young learners can refer to before they compose a beautiful essay in simple words. Writing an essay on this interesting subject helps students to pour their hearts out and express their fondness for their respective toys. My favourite toy essay for Class 2 in English is particularly dedicated to all our little friends, who are wondering how to write a simple essay on this interesting topic. For more such amazing Class 2 essay topics, you can check the linked article.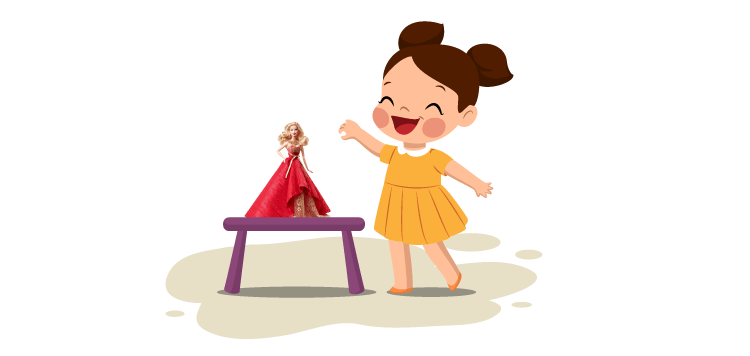 My Favourite Toy Doll Essay For Class 2
My favourite toy is a Barbie doll among all other toys.
My parents gifted me the Barbie doll on my seventh birthday.
I have named her Cinderella as she looks like a fairy tale princess.
She is very beautiful and has long and straight golden hair.
She has bright blue eyes and a cute smile.
Cinderella has different types of dresses – a summer dress, a party wear, a night dress and a woollen winter dress.
I love dressing her according to the occasion and she has matching shoes too.
I can also make different hairstyles with her smooth and long hair.
Cinderella sleeps with me and I shall always take care of her.
My friends and I enjoy playing with Cinderella. I love her very much.
 A Short My Favourite Toy Doll Essay Class 2
My favourite toy doll is a Barbie. I love my Barbie set. My father presented this set for my 5th birthday. I play with my favourite set  and have named it too. My Barbie's name is Shelly. Shelly is cute. Everyone in my family knows that Shelly is my favourite toy. I sing to my toy and we spend a lot of time together. My father has promised me that he will buy me a bigger Barbie set for my birthday this year. I am excited about my birthday.
We hope the above sample on my favourite toy essay for Grade 2 in English will help our young learners to open up their minds and be more expressive when they write an essay on such a topic. Children can write on any of the topics i.e. my favourite toy doll essay for Class 2 or my favourite toy car essay for Class 2, whichever appeals to them more.
Are you looking for more exciting resources such as worksheets and study materials? You can check out our Kids Learning section and learn more and make learning a fun-filled experience for your little munchkin!