Food is essential for survival. Everyone has their own personal choice of a favourite food. Here, in this article, we have brought to you a simple and engrossing My Favourite Food Essay for Class 3 kids to simplify the essay writing process and captivate their interest in writing a fascinating essay of 10 lines on the food they love the most.
Who doesn't love eating food? Almost everyone does. As a matter of fact, food forms a great part of our culture and is not just limited to sustenance purposes only. Different cultures have their own unique variety of food and dishes. Eating food not just satisfies one's tummy but also provides the necessary nutrients for consumption. However, eating proper food during the growing years enhances the overall development of kids. It boosts their metabolism and provides them with energy when all the nutrients are consumed in proper quantities.
Given below is a humble attempt from our end to help kids get clarity on how they can draft a beautiful yet informative 10 lines on my favourite food essay 100 words for Class 3. Furthermore, you can also explore more such amazing essays for Class 3 kids in the linked article.
My Favourite Food Biryani Essay for Class 3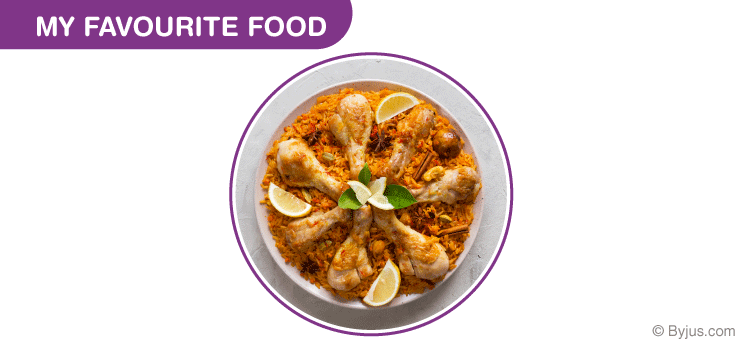 My favourite food is Chicken Biryani. It is served with gravy and raita.
It is a flavourful dish that has a rich taste.
It is a famous Indian subcontinent dish that is popular around the world.
Biryani is prepared from basmati rice mixed with several spices and cooked in a special way.
Chicken Biryani, Mutton Biryani and Veg Biryani are some of the variants of this delicious dish.
This dish is my favourite because it has a lip-smacking flavour, and I love to eat it at least once a week.
My mother prepares very tasty and delicious biryani.
She cooks the dish during weekends or on special occasions.
Biryani is one such mouth-watering dish that is enjoyed by people along with their family and friends.
A Short My Favourite Food Essay Grade 3
I am from Karnataka, and my favourite food is the idli. Idli is a healthy breakfast that is served with delicious coconut chutney and sambar. Idli is soft and fluffy. There are different variants of idli: rave idli, masala idli, flattened rice idli and many more. My grandmother prepares delicious tomato chutney as an accompaniment to soft idli. I love to eat idli with butter and coconut chutney. Idli is the breakfast at our house every Sunday. All my family members sit together and have soft idli prepared by my mother. It tastes best when it is served hot.
Kids especially enjoy eating food of various flavours and tastes. Writing my favourite food essay in English will also help kids to improve their English language writing skills. Here we have brought you my favourite food essay 100 words for Class 3. This essay gives children of primary classes some ideas on how to write 10 lines about their favourite food, their fascination towards it and why it is so popular among foodies.
Looking out for more such exciting and awesome learning resources for your child? BYJU'S provides a one-stop solution where you can check out our Kids Learning section and find everything for your children, such as poems, worksheets, GK questions, stories, NCERT Solutions, easy trivia questions and lots more!