The JAC 10th Board is in charge of conducting the Class 10 Exams in Jharkhand. The Class 10 Board Exams, also known as the Jharkhand Board Matric Exam, is very crucial for the students, as it sets the foundation for the higher classes. Passing the Jharkhand Board Matric Examination is a determining factor for those students who wish to pursue higher education. The JAC 10th Board also formulates the JAC Board Matric (Class 10) Syllabus, along with designing the curriculum and regulating the activities of the various schools under its jurisdiction.
Table of Contents
Preparing for the JAC 10th Board Matric Exams requires a lot of commitment and preparation. Students are advised to study well and revise all the subjects well for the exams of the Jharkhand Matric Board. To study for the exams, we have provided here the resources or study materials that are developed by the board.
Latest Notifications
JAC has released the Date-sheet for the Class 10 Examination, 2022.

JAC has released the NTS exam 2022 application form.

JAC has released the class IX exam form and secondary registration for the AY 2021-23.

JAC has released the NMMS exam application form.
About the JAC 10th Board
Jharkhand as a state was formed in 2000. Jharkhand State Legislature passed an act to form the Jharkhand Academic Council (JAC) in 2002. Education is one of the most important tools. It is that power which enables any lay man to interpret and understand the world in his own way. It helps develop a perspective of life. This is the reason why the Jharkhand state formed a council for education known as JAC which continuously aims at providing education par excellence. It particularly gives more attention to identify talent of young minds and aims at providing a platform to exhibit talent both from academic and non academic point of view.
Functions of the JAC 10th Board
The body continuously aims at providing best of its resources for the betterment of the state of Jharkhand. Few functions it performs are as follows:
Conducts examinations for Intermediate, Secondary, Madhyama and Madrasa

Prescribes course of study

Recommends recognition for various levels

Recommends to the HRD about open permission of school & Inter college

Prescribes the textbooks

Provides with various educational developmental programs

Processes results

Documentation and certification of results
The board conducts examinations for class 10 usually in the month of March – April and announces results in the month of May.
Class 10 is one of the most crucial years in the life of a student. It has the power to decide the future of a student. Hence a lot of attention is given to the academics in class 10. For this, students undergo a lot of preparation. They go through various resources such as textbooks, worksheets, sample question papers, question papers from previous years and also try to look up information online to get information from all possible directions to be able to crack examinations effectively. They try to give their best in core subjects, especially mathematics and science which requires extra dedication by students. If a student tries to stay consistent throughout his academic year by properly following resources and consistently performing well at examinations, he certainly goes on to score really well at examinations.
Overview of the JAC 10th Board 2021-22
Exam Name

Jharkhand Academic Council 10th Examination

, 2022

Conducted by

Jharkhand Academic Council, Ranchi

(JAC)

Exam Dates

24.03.2022 – 20.04.2022

Exam Duration

3 hours

Number of Students

Around 4 lakhs

Official Website

https://jac.jharkhand.gov.in/jac/#

 

Tentative Result Date

May/June 2022 
JAC 10th Board Matric Exam Resources
In this article, we offer dedicated students with all the resources possible, making it a one stop shop for students as well as teachers aiding in their classroom sessions. Following are the offerings:
JAC 10th Board Syllabus
One of the first and most resourceful documents provided by us in this article is a syllabus. Syllabus is safely one of the most underrated tools. There are chances your preparation goes haywire if you have not adopted a practice of using syllabus to learn yet. This is one of the most effective and powerful tools in determining your understanding of a topic, since these are the points of reference from where experts in the examination committee pick their questions from. So a lot of questions are picked from these topics. Especially subjects like mathematics and science which are scoring subjects certainly require the use of syllabus. It helps organise your course of study and also aids in assessing oneself.
JAC 10th Board Textbooks
One of the most resourceful tools, textbooks are the most important books for a student. It provides a structured framework and provides an abundance of information to a student, enlightening students with in depth information. Mathematics and science textbooks are one of the most important books for students. These books are referred to by students during examinations. Experts too pick questions from textbooks in order to frame questions from examinations.
JAC 10th Board Previous Years Question Papers
Practising and solving papers from the previous years has always proven to be a blessing for students. It aims at reducing anxiety amongst students and giving a sense of time to perform better at exams. Solving these papers especially when exams are around the corner is a secret to scoring more marks in exams.
Download the JAC Class 10 Previous years Question Papers
JAC 10th Board Exam Statistics
Total Number of Students:

The average number of students appearing for the JAC 10th Board Matric Exams has roughly been around 4 lakhs. The numbers showed a decreasing trend from the year 2017 when 4,63,311 students appeared for their JAC 10th Board Exams. In 2020, the numbers dipped very much, and 3,85,144 students appeared for their JAC 10th Board Matric Exams. Here is a comparison of the number of students appearing for the Secondary Exams over the last few years.
| | |
| --- | --- |
| Year | Number of Students Appeared |
| 2021 | 4,33,571 |
| 2020 | 3,85,144 |
| 2019 | 4, 38,256 |
| 2018 | 4,28,379 |
| 2017 | 4,63,311 |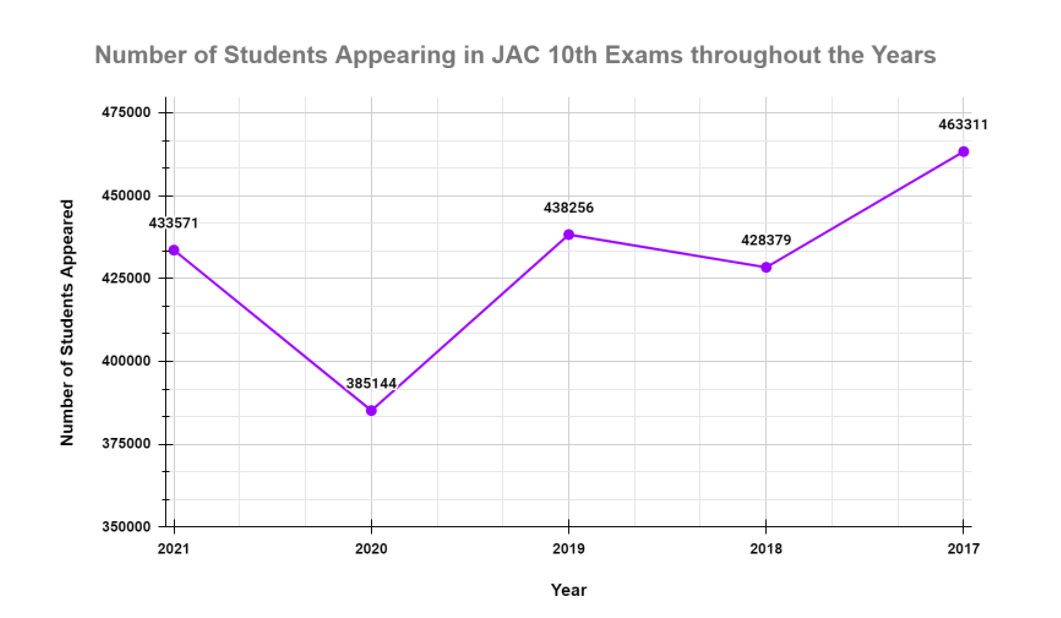 Overall Passing Percent:

The performance of students in JAC 10th Board has shown a steady increase since 2017. In 2019 the overall pass percentage was 70.77%. The percentage increased further in 2020 with 75.01% of the students passing. However, in 2021, 95.93% of the students appearing for the JAC 10th Board exams had successfully qualified. Below is a comparison of the passing percentage of the students year-wise.
| | | | |
| --- | --- | --- | --- |
| Year | Overall Pass Percentage | Boys Pass Percentage | Girls Pass Percentage |
| 2021 | 95.93 | 95.9 | 95.96 |
| 2020 | 75.01 | 75.88 | 74.25 |
| 2019 | 70.77 | 72.99 | 68.67 |
| 2018 | 59.56 | 61.79 | 57.29 |
| 2017 | 57 | 60.88 | 55 |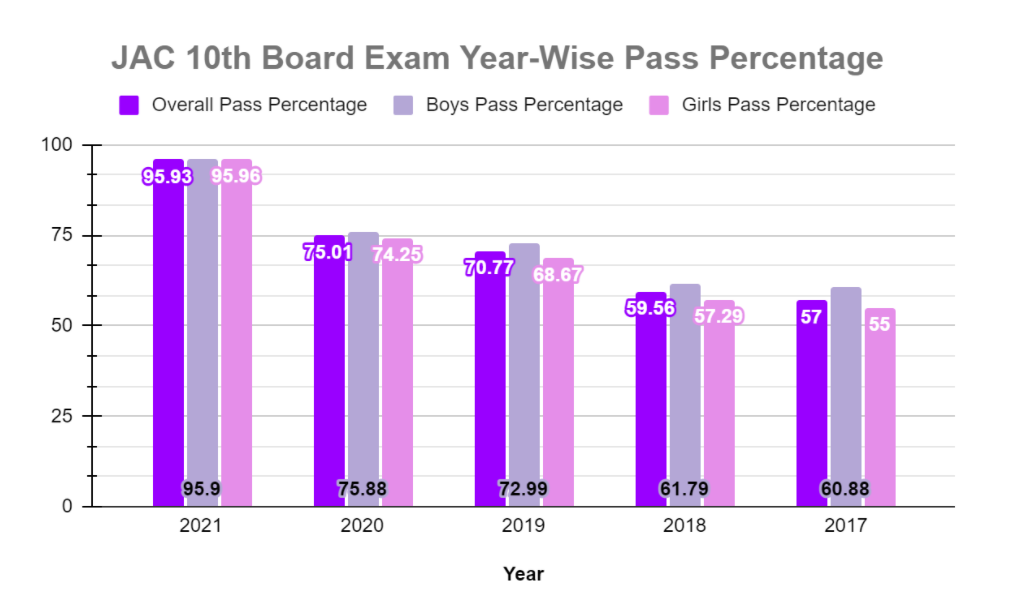 For more details about the textbooks and to get downloadable links to the JAC 10th Board Textbooks, come to BYJU'S.