Dr APJ Abdul Kalam is a name that needs no introduction. He was a scientist as well as a politician whose contribution to India's defence system is beyond compare. Even young children are expected to know about him. Here, we are offering Dr APJ Abdul Kalam Essay in English for kids of primary classes.
The essay on APJ Abdul Kalam will help students get an idea of how to write a simple and interesting essay on the given topic. Click on the link provided below to download Dr APJ Abdul Kalam Essay in a printable PDF format, so that your little one can read and practise the essay even when you are not online.
Dr APJ Abdul Kalam Essay in English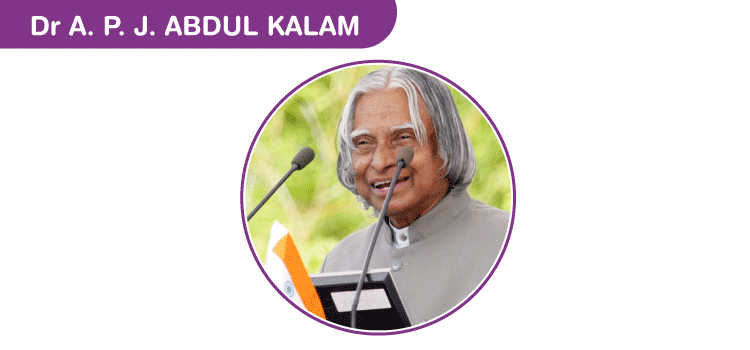 Avul Pakir Jainulabdeen Abdul Kalam, better known as Dr APJ Abdul Kalam, was born on 15th October 1931 in Rameswaram, Tamil Nadu.

Dr APJ Abdul Kalam was an Indian aerospace scientist and politician.

Widely regarded as the People's President, he served as the 11th President of India.

His father's name was Jainulabdeen who was a boat owner and imam of a local mosque.

His mother's name was Ashiamma who was a housewife. Kalam did not marry anyone.

He played a pivotal role in India's Pokhran-II nuclear tests in 1998.

He served as a scientist and science administrator at the Defence Research and Development Organisation (DRDO).

Dr Kalam was known as the Missile Man of India owing to his role in the making of missiles like Agni and Prithvi for India.

He received the Bharat Ratna award- India's highest civilian honour, among other numerous prestigious awards.

Aged 83, Dr APJ Abdul Kalam died from a cardiac arrest on 27 July 2015.

The above-written 10 lines on Dr APJ Abdul Kalam are written in a simple language so that kids find the essay easy to understand and replicate. An essay on APJ Abdul Kalam is a common topic for essays in primary classes. Thus, the above lines will help kids in framing good sentences on the topic at hand.
Short Essay on APJ Abdul Kalam
Dr. APJ Abdul Kalam is considered to be one of the best scientists in the 21st century. Dr Kalam was born on the 15th of October 1931 in Rameswaram, India. He is also regarded as one of the greatest Presidents in India. He always made an effort to motivate kids to learn and explore. He is also famous as 'Missile Man of India.' His contribution to ISRO is commendable and he has played an important role in the development of Prithvi and Agni missiles. Due to such valuable contributions, the Government of India awarded him with the highest civilian award of the country. He died on the 27th of July 2015 in Shillong.
To have a look at more such amazing essays for kids on other topics that are frequently asked in the primary classes, you can explore the linked article. All these essays are available for free download in a colourful PDF format.
Essay writing is encouraged right from the formative years of learning in children. It develops better linguistic skills in students. It also hones creativity and imagination in young minds. Writing essays gives kids a better understanding of sentence structure and boosts their confidence.
Not only enticing essays, we also have a huge collection of useful and fascinating learning resources for your child- intriguing worksheets, brain-tickling general knowledge questions, interesting stories from famous genres, poems for children, 100% accurate NCERT solutions, easy trivia questions, etc. on our kids learning section. This section is entirely dedicated to kids. Click on the linked article and find a one-stop solution for all your concerns regarding your little one's education.
Check out more Essays
Other Popular Contents !
Browse more Categories!