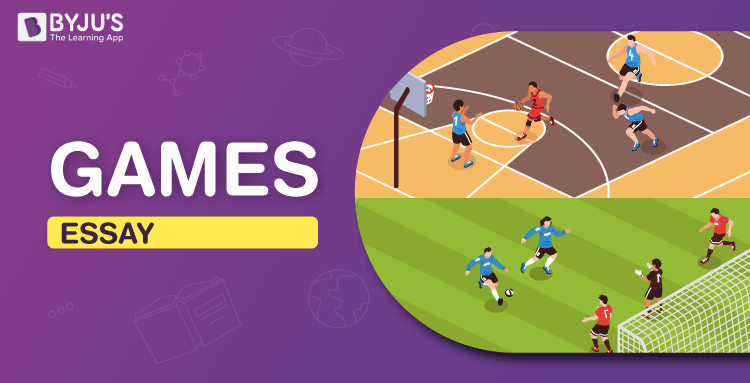 Games are an essential part of everyone's childhood. Games are a fun way to keep kids entertained. They provide an interactive and engaging way to learn something new while considering themselves and others. They give children a break from daily study routines, which provides them with a mental break and can also help with anxiety. Playing games improves kids' immunity and helps them stay strong. BYJU'S essay on games allows the little ones to understand the difference between indoor and outdoor games and the importance of playing games.
Children enjoy playing games and sports. Playing games improves kids' concentration, physical fitness and stamina, relieves stress and builds a team player in them. Games can be played indoors, while sports can be played outdoors. If the sports are played for an extended period without taking a break, it might exhaust the kids. A short essay on games helps children learn the advantages of playing their favourite games.
Table of Contents
Indoor Games
The essay on games is an article that explains why playing indoor games is vital for the development of kids in their early years. Indoor games are essential for kids who spend a lot of time indoors. There are many benefits to playing these games, like improving a child's vision and developing memory skills. These skills help them in academics. While playing indoor games, kids can have a friendly competition and enjoy beating their scores.
The importance of indoor games is something that many people have probably not thought about. Indoor games can teach children how to move a coin, improve coordination, and use their imaginations. Examples of indoor games are carrom board, table tennis, chess, scrabble, charades, paper games, ludo, etc.
Outdoor Games
Outdoor games are essential to children's health and development. Children who play outdoors experience nature, which is good for their physical, social, and mental health. Outdoor games are a fun way to get out of the house, meet new people, and take an opportunity to bond with new friends.
The little ones need to engage in physical activities to stay healthy. They help children develop problem-solving, teamwork, communication, cooperation, flexibility, and physical activity skills. Outdoor activities can be more beneficial than indoor activities because they provide more exposure to sunlight. Examples of outdoor games are kabaddi, cricket, football, kho kho, etc.
Importance of Playing Games
Playing games is an excellent way for kids to learn about the world and make new friends. Games improve kids' learning experience and interest in studies, which helps them score better grades. Experts say playing games has cognitive benefits and can help increase social skills.
When playing games, kids' brains grow stronger and wiser. Games teach children how to interact with others and think strategically while they are still young and learning new things. They also provide a safe place for kids to learn and explore without fear of judgement. You can also use games to teach your child how to communicate using a game board or cards.
To conclude, games are an essential part of early childhood, and an essay on games helps children understand the value of playing games. When kids soak in the sun while playing, they become strong, improving their vitamin D levels. In addition, playing games keep the kids engaged and entertained. For more kid-friendly activities, stories, GK questions and other games visit, BYJU'S website.
Frequently Asked Questions on Essay on Games
What are the benefits of playing indoor games?
Indoor games provide kids with a way to exercise their minds while playing. Solving puzzles or educational games help children learn new skills, strengthen maths skills and improve memory. Research is also being conducted to see how playing indoor board games can improve children's literacy skills.
Why are outdoor games important for children?
Parents should encourage their children to participate in outdoor games to teach them the importance of teamwork and cooperation. Games like kabaddi, cricket, and hockey are a fun way for children to stay active during the summer. They also help children build their physical strength.
Why is BYJU'S essay on games vital for kids?
BYJU'S essay on games is essential for children because it explains the significance of playing and how games allow them to release stress, have fun, and learn valuable skills.