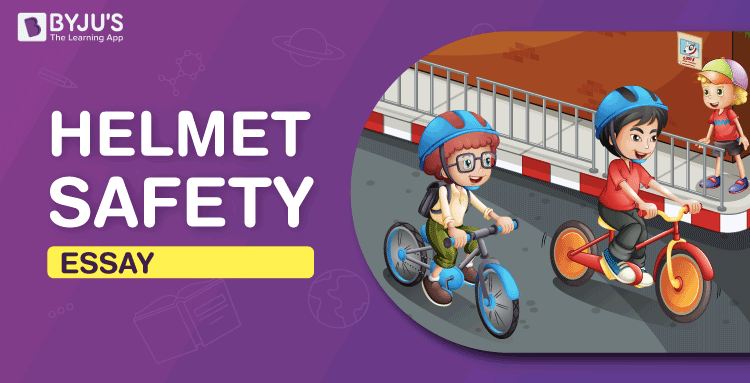 Helmets help to protect riders from injury and death. Helmets shield their head from getting hit by rocks and other objects in the case of a fall. Hence, it is essential to always wear your helmet while riding a bike. BYJU'S essay on helmet safety is an eye-opener for everyone and helps children understand the importance of wearing a helmet while riding.
Helmets are designed to absorb energy and reduce the impact force, so we don't get severe injuries. Helmets are made of the same materials used in car seats, which can be recycled after use, making them eco-friendly. To keep the kids updated about safety rules and helmet safety, ask them to write a short essay on helmet safety.
Why is Helmet Important?
The essay on helmet safety emphasises the importance of using helmets as one of the road safety awareness measures. Helmets are an essential piece of safety equipment that we need when riding a bike. Helmets protect our heads in case of a crash or if we hit our heads on the ground. Helmets are also crucial for preventing concussions. Riders must wear helmets to prevent brain damage or injuries from an accident.
Helmets are also used for many sports, including cycling, football, baseball, horse riding, ice hockey, rugby, skateboarding and skiing. Helmets can also help avoid brain injuries or brain bleeds when an athlete falls onto their head from a height or on the ground.
People often forget about the primary purpose of wearing helmets and leave them on the ground or toss them away. This small act could lead to severe injuries that could cost lives if one were to be involved in an accident without a helmet.
Helmet Safety Tips
While wearing a helmet, you must consider the following safety tips. First, make sure that it fits properly. It should sit at the temples and rest snugly on the head. Another safety tip to note is to secure the chin strap in the helmet to prevent it from falling down from the head and ensure complete safety. Doctors recommend using back and neck support. You should also ensure that you wear the helmet for its intended purpose. Don't wear it on top of your head while running in a park or taking out the trash. Instead, use it as protection when riding a bike or driving a motorcycle.
BYJU'S short essay on helmet safety helps children understand the significance of wearing a helmet and the importance of following helmet safety tips. Motivate kids to write an essay on helmet by referring to a short essay on helmet in English, available at BYJU'S. For more kids learning activities like poems and stories, visit BYJU'S website.
Frequently Asked Questions
Should children wear helmets while riding bicycles?
Yes. Kids must wear helmets while riding bicycles to avoid head injury.
Why should we wear helmets?
We must wear helmets because they help protect the head and vital organs like the brain. The helmet is designed to keep your head safe from outside factors and accidents that could cause injury or death. While wearing a helmet, we are less likely to get injured in an accident.