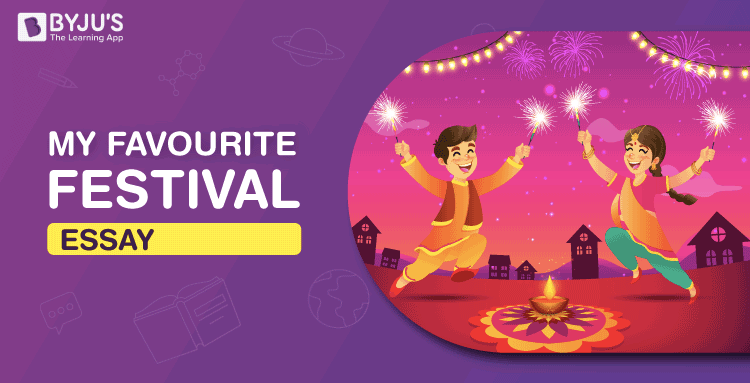 India has many festivals that take place during the year. There are many exciting and culturally diverse festivals held across various regions in India. One of my favourite festivals is Deepavali, also known as the festival of lights. It is the festival celebrated throughout India with bursting crackers, distributing sweets, dancing to music, and celebrations everywhere. BYJU'S essay on my favourite festival helps the little ones understand the significance of celebrating festivals.
The festival is marked by vibrant colours and a sense of love, with people expressing their feelings by bursting crackers. Deepavali is an important festival in India, and it is not just the crackers and lights that make it unique but the spirit behind it.
Deepavali takes place on a larger scale and is one of the most celebrated festivals in India. It is celebrated every autumn, celebrating the return of light after the long and dark monsoon season. Friends, family, and relatives come together to celebrate the festival with love and joy. It is also a time of hope for many people who have lost loved ones.
Deepavali is an important festival for the Indian people as it celebrates the arrival of light and new beginnings. It also has a colourful meaning representing faith, hope, and family. Deepavali celebrations usually include food offerings to the fire god, who resides in all homes. It also brings peace, happiness, and prosperity to one's life.
Importance of Celebrating Deepavali
Deepavali is a festival celebrated in many parts of the world. It represents the different aspects of life and creation. Deepavali is celebrated because it marks the victory of light over darkness and good over evil. On this day, Hindus light candles and a variety of lamps to symbolise light over darkness.
Deepavali is the festival of lights and is celebrated on the new moon day in the Hindu calendar month of Kartik. It is a five-day celebration that begins with the lighting of lamps and candles, followed by exchanging gifts, feasting and family gatherings.
Deepavali highlights the importance of family values, harmony and unity. It is a time when everyone celebrates together as they give each other gifts and pray for prosperity and peace on Earth.
This famous Hindu festival signifies knowledge over ignorance and generosity over selfishness. You can ask kids to 'write an essay on my favourite festival' by outlining the events leading up to Deepavali and its celebration.
The Deepavali, also known as Diwali, is an annual Hindu festival that lights lamps and candles. It celebrates the victory of light over darkness. In addition to being an occasion to illuminate the darkness, the day holds great significance for Indians.
For more kids learning activities like poems, worksheets, stories etc., visit BYJU'S website.
Frequently Asked Questions on Essay on My Favourite Festival
What is the importance of celebrating Deepavali?
Deepavali is one of the most important traditional Hindu festivals. It is a celebration of the victory of light over darkness and hope over despair.
What is the significance of Deepavali?
Deepavali marks the celebration of the victory of good over evil and light over darkness. On this day, houses and streets are illuminated with diyas and colourful lights to symbolise this.