Picnics are a fun way to engage with our family and friends. We get to spend quality time with them. How can kids describe what they love about picnics with the family? To assist kids, we have provided here an essay on Picnic with Family for Class 1 kids.
A close-knit family is the strength of every individual of that family. Members of a family care for each other selflessly. They make an individual's achievements bigger and his problems smaller by being together during the good and bad times. Picnics are a way to stay connected and close to each other.
Given below are simple 10 lines essay on picnic with family for Class 1 kids. These lines will give a clear idea of how kids can write an interesting essay on the given topic. You can also download the essay on family picnic for Class 1 kids in a colourful PDF format for free, through the link provided below.
Essay on a Picnic I Enjoyed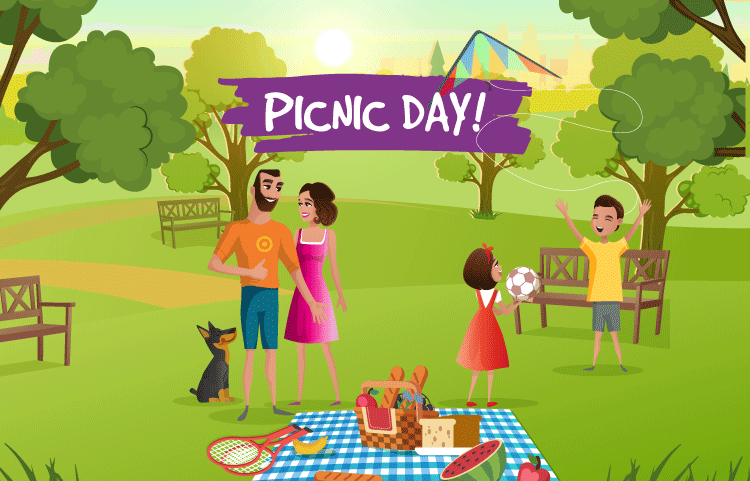 Family picnics are the best ways to spend quality time with our family members.
During picnics, we get to talk a lot to each other and play together.
When we are on a family picnic, we start our journey to the picnic spot early in the morning.
We usually go to the zoo, gardens, farmhouse, etc. which are a little far, but not too far from our home.

My mother and grandmother cook delicious food and prepare snacks for the picnic.
My brother collects all the things needed for games like playing football, cricket, etc.
My father gets chocolates, sweets and other snacks from the shop for all the family members.
My brother and I play games like badminton, cricket and football.
We all play antakshari, hide-and-seek, dodgeball, etc. and then have lunch together. The day slips away with a lot of laughter, chatter and fun.
Family picnics are a great way to rejoice the bond that we all share.
We hope that the above-written essay on picnic with family will prove to be beneficial for your kids in penning down their thoughts about the given topic. Expressing what they like about going on trips and picnics with their family members will arouse a feeling of appreciation for the good times they have spent with them.
We offer a lot of such amazing essays for Class 1 kids that you might want to explore. We have covered all the most-frequently asked essays for kids in the primary classes. You can download these essays in printable format and let your kid learn even when you are not online.
Essay writing refines linguistic prowess in kids. It lets them express themselves and communicate their thoughts about the topic at hand more openly. They are motivated to ponder over a topic and write whatever they feel about that topic. It brings out their imagination skills and creativity. Thus, essay writing should be encouraged in children right from the formative years of their learning phase.
Searching for more such engaging and useful learning materials for your little one? Look no further as we have got your covered. BYJU'S, the world's largest edtech company, is your one-stop solution for all your concerns regarding your kid's education.
In our collection, we have a huge number of worksheets on various concepts, poems for children, most popular stories, must-know general knowledge questions, trivia questions on different subjects and much more. Visit our kids Learning section and find everything that will make learning a fun journey for your child.