Food is one of the basic necessities of every living being. One cannot survive long without food. Moreover, people have their own particular taste for food- some people prefer spicy, while others prefer sweet. In this article, we are offering simple 10 lines on My Favourite Food Essay for Class 2 kids.
Food is very crucial. It fulfils our body's requirements for the necessary nutrients. The right amount of nutrition enhances metabolism and helps in the overall development of children. Though it is true that every living being on this planet needs food for survival, food is not just limited to being a basic necessity. Instead, most people are extremely fond of food. Every human being would certainly have their favourite food and preferences. In India, with people belonging to different ethnicities and cultures, we boast of having a wide variety of food and recipes coming from essentially different states.
Food is the basic need of every living being on this planet, and in addition, every human being would certainly have their favourite food and preferences. This class 2, my favourite food essay, helps the little ones understand the variety of different foods available in India and across the world.
Given below are 10 simple lines on my favourite food pav bhaji essay for Class 2 kids. Let us see what makes pav bhaji such a popular dish among foodies. You can also download the essay on my favourite food in colourful PDF format for free through the link provided below.
Download PDF of "Essay on My Favourite Food for Class 2 Kids" for free
My Favourite Food Essay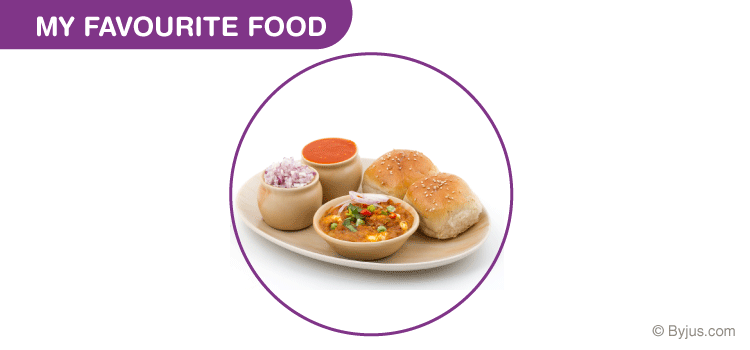 My favourite food is Pav Bhaji. Pav is a soft bread roll, and bhaji is a curry which is flavourful and spicy.
It is served with finely chopped onions and lush green coriander leaves with a dash of yellow lemon.
It is considered to be one of the most famous street foods in India. However, it is now served even in the most elite restaurants in the country.
The dish originated in the state of Maharashtra. The other variants of the dish can be bhaji served with roti, brown bread, milk bread, etc.
My mother prepares delicious pav bhaji at home. It is her way of making me eat lots of healthy vegetables.
The bhaji of the pav bhaji is thick and full of vegetables like green peas, cabbage, carrot, french beans, cauliflower, potatoes, etc.
The pav is lightly toasted in butter, and the bhaji is fried in butter along with pav bhaji masala.
Pav bhaji is a scrumptious food, and its savoury aroma can be recognised from afar.
It is not advisable to eat it on a regular basis as it may create issues of indigestion. So, I love to eat it at least once a week.
My mouth begins watering the moment I see the plate of hot pav bhaji in front of me. I admire its taste a lot.
We sincerely hope that the above-given essay on my favourite food pav bhaji will prove to be helpful for your kid in drafting an impressive essay on the topic. Writing about my favourite food will encourage kids to think about their most loved dish and why they enjoy eating it.
We have a huge collection of essays for Class 2 kids that might interest you. All these essays are designed keeping in mind the grasping power of a 2nd-grade kid.
Writing essays improve the linguistic skills of kids and give them a better understanding of communicating their thoughts about a given topic. Essays offer kids a chance to pen down their feelings and emotions regarding the subject at hand.
Favourite kid foods may include pizza, burger, dal-rice, pani-puri, chole-bhature, etc. Here, our attempt is to make kids aware of how a simple essay can be drafted in primary classes.
Are you looking out for more amazing and enticing learning resources for your little one? Look no further. BYJU'S, India's most loved learning app, is your one-stop solution for all your concerns regarding your child's education.
To get the best of poems for children, stories, worksheets on various concepts, general knowledge questions, trivia questions and much more, you can explore our Kids Learning section. Visit now and kickstart your kid's learning journey with us.