Here, let's have a look at the 'My Village Essay' in English for Class 2 kids. A village is generally spread over a small area. These are far away from the hustle-bustle of city life. There is much more peace and freshness in villages. The air is purer in the villages as they are not choked with traffic like the cities.
'My Village Essay' is one of the most frequently asked topics of essays in elementary classes. Hence, the 10 line 'My Village Essay' given below will assist kids in framing captivating statements about their villages.
While writing an essay on 'My Village', children get a chance to ponder over the topic and pen down their thoughts and feelings about their villages. 'My Village Essay' in English for Class 2 is our attempt to draft an essay on this topic, keeping in mind the understanding level of kids.
You can also download 'My Village Essay' in 10 lines in a colourful PDF format, through the download link provided below.
Download "Essay on My Village for Class 2" PDF for Free
My Village Essay in English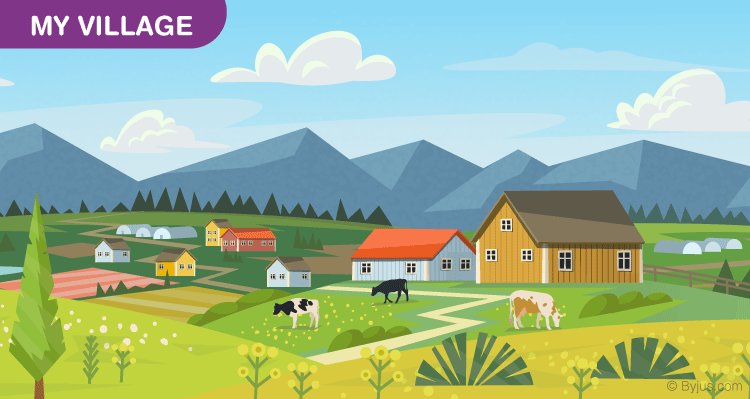 The name of my village is Chitakhal which falls in the Sivan district of Bihar.
I visit my village during summer vacations every year.
My grandparents stay in the village. They feel so happy every time we visit them.
Our house in the village is spread over a large area with big entrance gates.
There is a well just outside our house in the village. All the people of the village draw water from that well.
There are large farms in and around my village where farmers grow crops.
People in my village worship cows, banyan trees and peepal trees.
The farmers are hard-working. They work daily from early morning till late evening.
The food is delicious here. Milk, butter, fruits, vegetables – everything is so fresh and pure.
My village is far from the city. It is full of peace and warmth. People are welcoming and live in harmony with each other.
We hope that the above written 'My Village Essay' in 10 lines in English would prove to be helpful to your little one in understanding how to draft a simple yet impressive essay on the given topic. There are many other essays for Class 2 which are frequently asked in examinations.
Villages might not be as developed as cities, but they are the life and blood of the Indian economy, as we find large farming areas in and near the villages. Kids also attempt to write 'My Village Essay' in 100 words to describe what interests them about villages.
Framing essays upgrades the linguistic prowess of students. It boosts their confidence and improves their sentence-building skills. The more exposure kids have to essay writing, the better comprehension of the language they gain.
We offer a huge collection of learning resources for kids including intriguing worksheets, brain-tickling general knowledge questions, interesting stories, poems for elementary school children, NCERT Solutions, trivia questions on various topics, etc. on our Kids Learning section. Explore the section and give the best learning experience to your little one.