Offered here are 10 lines on 'My Dream House Essay' for Class 3 kids. This essay will help them gather points to write about their dream house. Even kids have their imagination of what kind of home they would like to have. A home is a place where we live with our dear family.
Given below is an essay on 'My Dream House' for Class 3 children. Kids can refer to 'My Dream House' essay for Class 3 and pick some ideas while drafting an interesting essay on this topic. You can also download 'My Dream House' essay in a colourful PDF format, through the link provided below.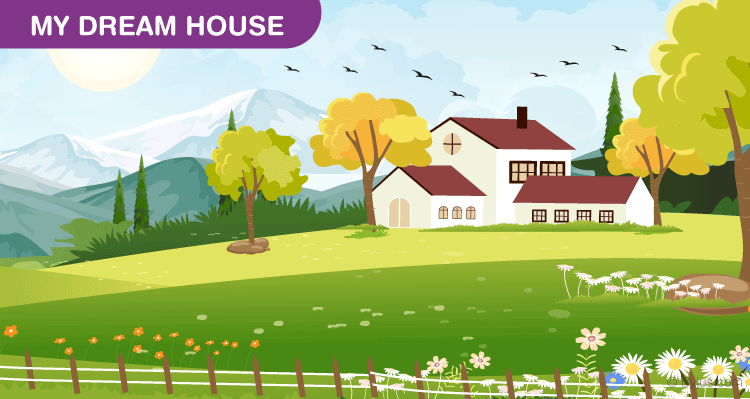 My Dream House Essay in English
My dream house is where I want to live with my parents and loved ones when I grow up.
I want it to be away from the noise of the city and vehicles.
It will be a place full of peace, happiness and inspiration.
My house will have a huge lawn at the front and will be surrounded by a big fence.
The lawn will have a gardening area where we will grow colourful flowers and beautiful plants. We will also cultivate herbs in the garden.
It will have an ample number of rooms to accommodate my family members as well as some guests. It will also have a small library.
My dream house will have a big hall and a spacious kitchen with a long dining table.
It will have proper ventilation with large windows and balconies linked to each room.
My house will have the most modern amenities and furniture in the latest designs.
It will be a place where all of us will feel secure, peaceful and comfortable to live.
Essay writing is loved by people of all ages. They get to pen down their chain of thoughts and ideas when they write an essay about any topic. A child must be able to identify the importance of a house. Home is a symbol of togetherness and affection. Writing an essay on 'My Dream House' gives them an opportunity to convey his/her feelings about the house of his/her dreams using simple words.
The above written 'My Dream House' essay for Class 3 is an attempt to familiarize kids with the most important aspects of a house that they can include in their essay on 'My House'. Everyone has their own idea of their ideal house. Through this essay, we have made an attempt to write what a kid might imagine his/her dream house to be like.
Writing a short essay about 'My Dream House' encourages kids to collect their thoughts and create their own perception about the topic at hand. It builds better linguistic skills and boosts confidence. That is the reason why writing essays is a part of the curriculum from the formative years of kids. To explore more such essay topics, you can have a look at essays for Class 3.
We also have a huge assemblage of interesting learning materials for your little one that might be useful- intriguing worksheets, brain-tickling general knowledge questions, trivia questions, poems for primary classes, stories of various genres and a lot more. Check out our Kids Learning section and help your kid raise the bar of his/her learning.