Presenting My Father Essay in English for kids. Fathers might seldom express it, but their affection for their kids is incomparable. Kids are very close to their fathers. They consider them to be their inspiration. Dedicated to this bond between fathers and children, we are here with My Father Essay for Class 3 kids.
Fathers are very particular about their kids. They teach their kids good habits. They are the ones who educate them on the general situations of life. All of us have learned so much from our fathers. Fathers have a very strong personality. No matter what comes up, they know how to handle it. They are their kids' first teachers and role models. They show how to keep up the morale, compete and conquer even the worst problems.
Read on to find an essay on My Father for Class 3 kids. This essay will aid students in getting a grip on drafting good essays on various topics. You can download these 10 lines on My Father Essay for Class 3 in a colourful PDF format, through the link provided below for free!
Download PDF of "My Father Essay in English 10 lines" for free
My Father Essay in English for Class 3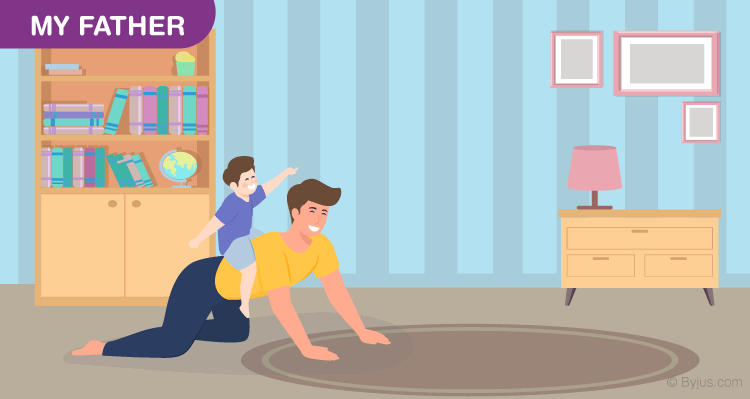 My father's name is Mr. Sandeep Joshi. He is 38 years old. He regularly does exercise and yoga in the morning.
I consider him my role model. When I grow up, I want to be like him.

He takes care of all the needs of our family. He is a perfect father.
He is working in a big IT company in a managerial position. He is a very hardworking and responsible person.
He respects and obeys his parents. He is always very attentive to their requirements.
Every few weeks, he brings ice creams and chocolates for all of us. Sometimes, he takes us to restaurants, malls, movies, etc.
On the weekends, he watches cartoons with me. He reads me interesting stories of kings, fairies, etc. from fictional books.
Even though he must be tired, he always spends time with all of us when he returns from the office. He encourages having breakfast and dinner together.
He believes in honesty. He teaches me to be honest, helpful, kind, polite and obedient.
I can share everything with him without any second thought. I really feel blessed to have a father like him. I admire him very much.
The 10 lines of My Father Essay for Class 3 in English has been drafted keeping in mind the thought process of a child. The language has been kept quite simple so that kids find it easy to understand and replicate. There are other aspects that children might want to add about their fathers to the above essay. We have plenty of such amazing essays for Class 3 kids on the topics that are most frequently asked or taught in primary school.
Children are close to their fathers. They can share their feelings and thoughts about anything without any fear. Every child knows that if he/she gets into any trouble, his/her father would definitely find a way out of it. Children trust their fathers as their real-life superheroes who can solve problems of any scale.
Writing a few lines about My Father Essay for Class 3 gives kids a chance to explore and pen down their feelings about their fathers. It lets them ponder over what makes their fathers so special to them. There are numerous things that kids appreciate about their fathers but rarely express them. My Father Essay in English provides them with an opportunity to think about the topic and come up with their own sentences about their fathers.
There are numerous ways fathers make children feel special. They might not tell it in words, but they express it through their actions and care. They always support their kids in whatever they wish to pursue. They try to fulfil their wishes as far as possible. Fathers are selfless who never expect recognition. They take in the pain and spread happiness in their families. Truly, they are nothing less than superheroes! My Father Essay in English 10 lines is an attempt to celebrate this selfless love of a father and the bond he shares with his kid(s).
Looking out for more such enticing learning resources for your little one? Check out our Kids Learning section and explore a plethora of brain-tickling worksheets, stories, poems, general knowledge questions, NCERT Solutions, easy trivia questions, etc.