Here, we are going to discuss "My garden essay for Class 3" kids. A garden is an organized plot of land next to a house. It is set aside for growing new plants, shrubs, herbs, flowers, fruits, trees, etc. A garden can consist of natural as well as artificial materials. For instance, we can find artificial grass in some gardens. The garden consists of both natural and man-made materials.
Gardens are a very crucial part of the house. They provide fresh air and a natural environment. They add up to the beauty of homes. The below given 10 lines on my garden for Class 3 will aid kids in framing out sentences about their gardens. You can also download this essay on my garden in a colourful PDF format, through the download link given below.
My Garden Essay in English for Class 3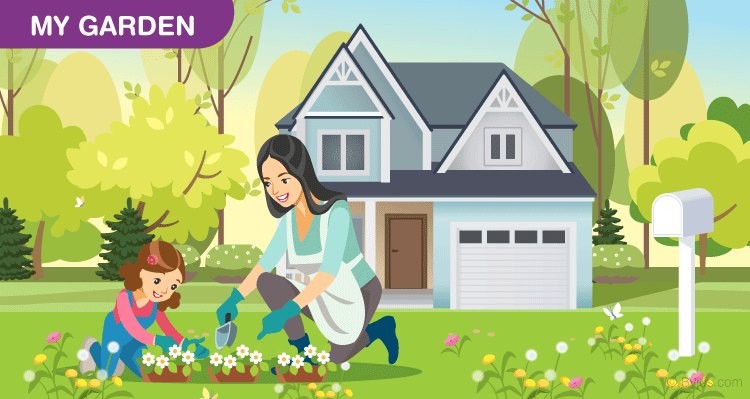 I have a beautiful garden adjoined to my house.

My mother spends half an hour each day in the morning and the evening to tend to the garden.

My garden has a small fountain at its centre. It looks very beautiful in the night when we light up the colourful lights around the fountain.

My elder sister is fond of growing herbs and vegetables in our garden.

She grows fenugreek, mustard, coriander and garlic plants in the garden.

She collects plant saplings and seeds from the nurseries whenever we visit our village.

My mother is fond of growing flowers and decorating the garden. There are many kinds of flowers in the garden like roses, dahlia, daisies, lilies, mogra, marigold, etc.

My grandmother had planted a mango tree, an apple tree and a pomegranate tree three decades ago. They have all grown into huge trees and bear delicious fresh fruits.

The garden looks heavenly when sunlight falls on all these plants, trees, flowers and leaves early in the morning and evening.

We have a set of chairs placed in the garden. Almost every day, we take time to sit there and spend our time together in the lap of nature.
Loved the "My garden essay in English"? We hope that the above written my garden essay for Class 3 would prove to be helpful to your little one in understanding how to draft a simple yet impressive essay on my garden. There are lots of other essays for Class 3 which are frequently asked in examinations. My Garden paragraph is a very common topic for essays in primary classes. Hence, the above 10 lines on my garden for Class 3 will assist kids in framing fascinating sentences about their gardens.
Gardening is pursued by many people as their hobby. It gives them peace and a way to connect to nature. Growing various types of flowers, vegetables, plants, trees, etc. is an activity that is good for health and mind. You can grow and eat fresh fruits and vegetables in your own garden.
Writing essays improves the linguistic prowess of students. It boosts their confidence and enhances their sentence building skills. While writing an essay on my garden, students get a chance to ponder over the topic and pen down what they love about their gardens. My garden essay for Class 3 is our attempt to draft an essay on this topic, keeping in mind the thought process of the students.
We have a huge assemblage of learning resources for kids including intriguing worksheets, brain-tickling general knowledge questions, interesting stories, poems for children, NCERT solutions, easy trivia questions, etc. on our Kids Learning section that you can explore.