My Grandfather Essay for Class 3 kids has been provided here for your reference. Grandfathers are very close to kids. Kids are also adored by their grandparents. They feel free to share their thoughts and feelings with their grandparents.
Given here is "My Grandfather Essay for Class 3" which will help students get an idea about how they can write an impressive and simple essay on this topic. Essay writing not only improves the writing skills of the students but also enhances their overall linguistic grasp.
Essay on My Grandfather for Class 3 Kids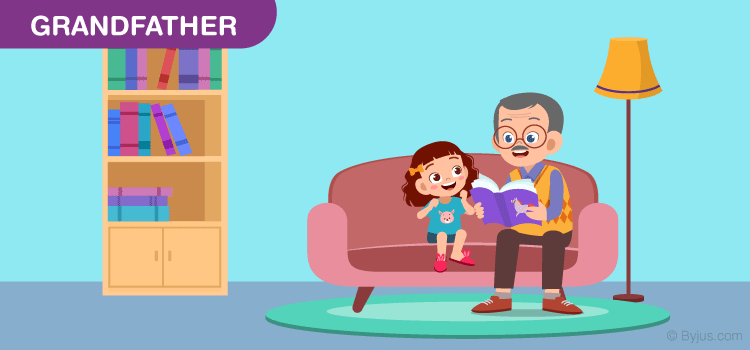 My grandfather is the head of our family. His name is Mr Shankar Tripathi.
He is 63 years old but very active.

He exercises every morning and also does yoga every day.
My grandfather is my first friend as he was the first one to play with me.
We love spending time with each other.
We watch cartoons and comedy shows together. We even play video games.
I can share anything with him. We talk about my school, friends, studies, teachers, etc.
He encourages me to help people in need and obey elders.
He tells me stories of kings and their valour. He is my inspiration.
I love my grandfather and I wish that he lives a long healthy life.
Provided above are 10 lines on My Grandfather essay in English for Class 3 students. The language of the essay on my grandfather for Class 3 has been intentionally kept simple. Class 3 essays are meant to be drafted in a very uncomplicated way so that kids can relate to the lines. You can get access to more such interesting essay topics of Class 3.
The bond of a kid and his grandfather is very precious. They both are fond of each other. Kids love to spend time with their grandfathers and grandfathers are very lenient with them. Grandfathers take them to parks, play with them, tell them stories and their experiences as children and bring them sweets and chocolates. The given my grandfather essay for kids will help them frame their thoughts and feelings under the topic.
Looking out for more exciting learning opportunities for your little one? Check out our Kids Learning section and explore a plethora of resources like worksheets, general knowledge questions, poems, stories, easy trivia questions, etc., and make learning a fun experience for your kid!