The shrill whistle of the train is all that needs to straighten one up, and for many, travelling by train brings many strong memories. Any journey is sure to brighten up our day, but a train journey will indeed fill us with excitement and adventure. Whether short or long, train journeys have a special place in our hearts, and they will never leave you bored but instead make you crave more.
To get you started on a journey by train essay in English, we have compiled a beautiful one for your reference. It would be easier for you to write an essay on a journey by train with this sample essay.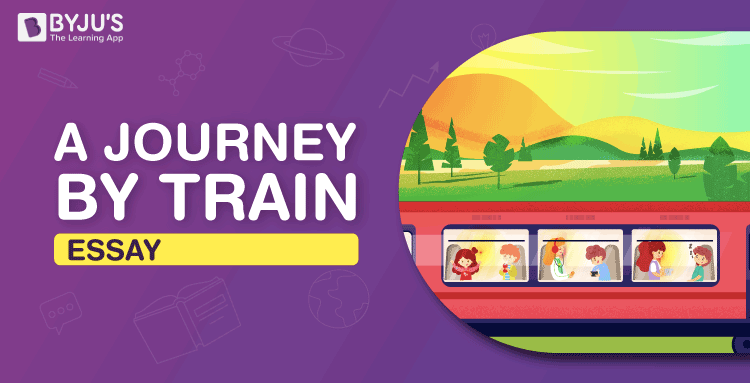 Experience of a Journey by Train
As a young kid, I usually jumped with enthusiasm whenever my parents planned a trip, as I loved travelling, especially by train. My journeys by train were always comfortable and unforgettable. I always looked forward to my vacations because that was the time when I got to visit my father's ancestral home located in a remote village. Due to my father's job, we were stationed in a town, and it was during my 10-day vacation that I was able to journey by train to meet my grandparents.
Normally, we start early in the morning as our train will leave at 7.30 am from Hasanpura station. Inside the train station, many porters circled my parents, demanding to carry our luggage. But we used to get past them to reach our platform and wait for a few minutes before the train arrived. Nonetheless, the wait is not dull as I get to observe many people around and listen to their chitter-chatter.
We kept our bags ready as we heard the announcement of the train arriving. After boarding the train and sitting near the window, I heard the station master blow the whistle and wave the green flag. Slowly, the train started moving, and once it left the platform, it sped up. From here begins my joyous ride on the train. The most exciting part of my train journey was the number of vendors that passed our berths, where I could eat some delicious snacks and buy some colouring books. The seat was spacious, and yet I jumped to the top berth to enjoy colouring or get a good sleep.
After some time, I sat by the window and took in the beautiful sights of the village. With blooming trees and working people on the fields, it was truly an attractive sight outside. If I were to travel by car or bus, I wouldn't have been able to see these wonderful places as I easily became travel sick. But a journey by train enables me to enjoy each moment and experience.
Moral of the Essay
Even though we like all sorts of travel, it is the journey by train that makes it special. We would be able to feel nature at its best and interact with people from different backgrounds while travelling on a train. A journey by train essay for kids would undoubtedly enable them to think about their unique train journey experiences and help them to identify which aspect of the journey interests them more.
FAQs
Are train journeys more comfortable than other means of transport?
Yes. Train journeys offer you the maximum comfort where you have the provision for sitting, standing or lying down. You can also move around freely, and there are convenient sleeping berths to relax.
Is it possible to carry our food while travelling on a train?
Indeed, trains allow you to pack your food and have it on the way to your destination. Also, many hawkers sell candies and snacks on the train as well as deliver food parcels. It is completely safe to buy from them.
How can we book tickets for a train journey?
It is wise to book your tickets at least 3 months in advance of your planned journey. You can either check online for tickets or visit the ticket counter at your nearest station.