The Ugly Duckling story is one among the classic bedtime stories for kids, which mentions a duckling who faces indifference from his siblings because of his odd appearance, but gradually grows up to become a beautiful swan. The Ugly Duckling moral is that we shouldn't judge a book by its cover. We must know that it can be worthy even if it looks different from others. 
Read the enticing bedtime story for kids and you can also download the Ugly Duckling story with pictures through the link below in colourful PDF format for free through the link provided below.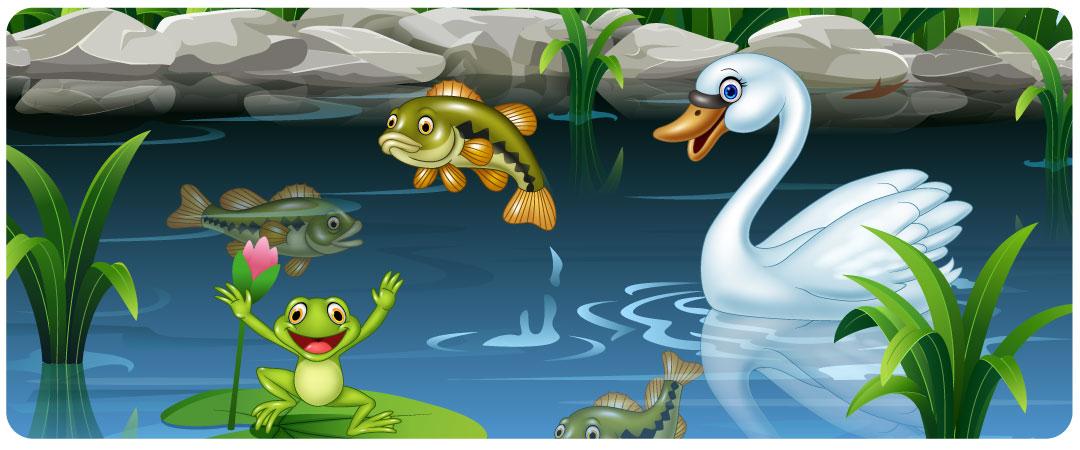 One hot summer day on a farm, a mother duck sat on her nest and wondered when her eggs would hatch. One fine day, the eggs started cracking and hatching and tiny little ducklings started coming out of the shells one after another. The tiny ducklings flapped their wings and cried "Quack, quack!" The mother duck was happy to see all her ducklings, except for the last one which emerged as a strange-looking duckling with grey feathers.
Mother duck called out to all her ducklings for their first swim in the pond. She led all her children to the nearby pond and began teaching each duckling how to become a proper duck. All the ducklings quacked in joy, except for the one with grey feathers which made a crackling sound. The other ducklings stared at him and began to laugh. The ugly one hung his head in shame.
In due course of time, the mother duck and her ducklings started ignoring him while the others practised quacking, swimming, diving and splashing water in the pond. Feeling dejected and unwanted, finally one evening the ugly duckling decided to leave his home in winter and ran away to live in a swamp all by himself.
On his way, the ugly duckling stumbled across a farmer who took pity on him and offered him food and shelter. However, the duckling was terrified of the farmer's mischievous children, so he escaped the place. 
At last, as spring arrived the duckling was happy that he could start swimming again in the lake. He went to the nearby lake where he found a flock of beautiful swans swimming and gazed at their beauty. As the duckling had fully grown now and he approached the swans if he could join them, completely assured of rejection. To his surprise, the swans welcomed him warmly. 
While getting into the lake, he saw his reflection in the water and was surprised to see that he is not an ugly duckling anymore. He had transformed into a beautiful swan. Soon he joined the flock of beautiful swans and was happy to fly off with his newly found swan family.
Enjoyed the ugly duckling story – a children's bedtime story? There are lots of such exciting bedtime stories on BYJU'S website to enthral your kid. You may also wish to have a look at our collection of stories for children like Fairy tales, Panchatantra stories, Moral stories, Akbar Birbal stories, etc. 
We hope that the ugly duckling short story will also give your kid an idea of the summary of the story. Once you download the ugly duckling story with pictures, your kid can read this engaging story anytime, anywhere. 
Looking out for other such relevant resources for your kids? We have got you covered. Just visit our Kids Learning section and get access to GK Questions, colourful worksheets, easy trivia questions, essays on most common topics, poems for kids and lots more. Kickstart your learning journey with us and fall in love with learning!