Here we bring to you an amazing Children's Day Essay in English for kids. Children's Day is a special occasion in the lives of kids. In India, Children's Day is celebrated on the 14th of November each year with great pomp and enthusiasm.
For adults, it is a reminder of all the wonderful things they enjoyed doing when they were young. Children's Day is a day that marks the joys of childhood. So, drafting an essay on Children's Day in English offers a wonderful opportunity for children to write a few lines on this interesting topic.
Your child can check the below sample "Children's Day Short Essay" so that they can pick some ideas on how to write a few compelling lines on this trending topic. So, what are you waiting for? Let's explore the Children's Day essay in English:
Children's Day Essay in English for Kids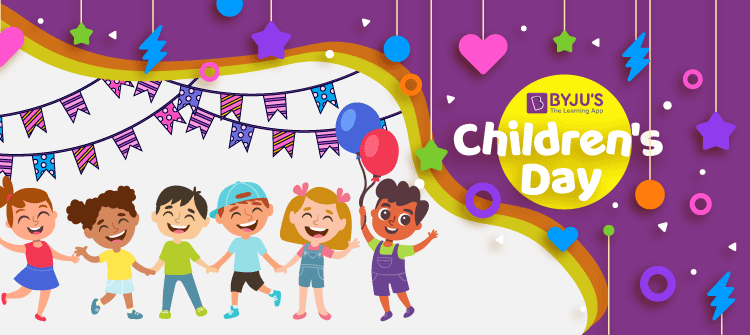 "In India, Children's Day is celebrated on 14th November every year to commemorate the birth anniversary of our first Prime Minister, Pandit Jawaharlal Nehru. He loved children dearly and is fondly remembered as Chacha Nehru by them. After his death in 1964, his birthday was declared as Children's Day nationwide.
Pandit Nehru was very fond of kids and advocated children's education as he strongly believed that they were the future leaders of the nation. He was a strong believer of instilling rich moral virtues in children. He was of the opinion that children should be moulded from a young age properly so that they can become productive and responsible citizens of the country.
On this special day, most schools across the country celebrate it by organising socio-cultural programmes for children. Some of the events include poetry, recitation, fancy dress competition, singing and dancing events, skits and plays for children. Besides refreshments, kids are also gifted toys, clothes, stationery, chocolates, toffees and other interesting goodies. Sometimes, they also watch child-friendly films and shows.
Children's Day, therefore, emphasises the importance of showering love and affection to each child. It is celebrated with great fervour and enthusiasm across the country. Every child cherishes this day as they get to enjoy it to the fullest. It is important to remember that this special occasion is celebrated to take Pandit Nehru's dream of providing quality education to each child so that they can become the future building blocks of the nation and contribute towards the greater benefit of the society."
Enjoyed the above essay on Children's Day in English? You can explore more such amazing essay topics for kids on BYJU'S website and make learning an enriching and fulfilling experience for your child.
Young kids are often encouraged to participate in essay writing on Children's Day to understand the importance of this day in their lives. To teach your child a little more about this special day and help them understand what it symbolises, we bring you a few lines of essay on Children's Day in English.
For more awesome resources such as Colourful Worksheets, General Knowledge Questions, Enchanting Stories, Essays on most frequently asked topics and Easy Trivia Questions, you can check our Kids Learning section and gift your child the joy of learning. You can access the BYJU'S website for several other useful study materials and open up newer avenues for your little one where learning is FUN!