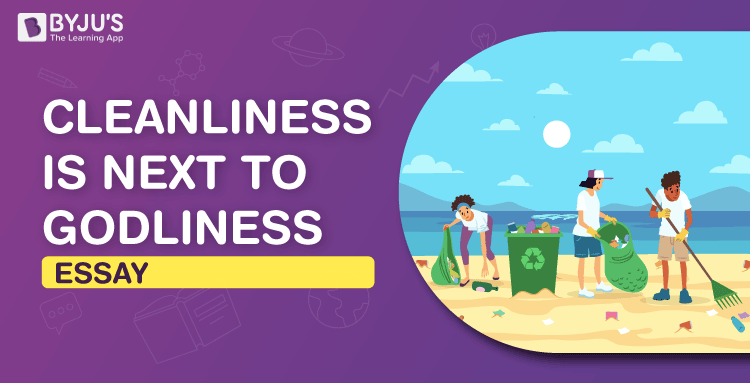 A clean environment is healthier. Cleanliness is essential to have a healthy lifestyle. It is necessary to clean your house regularly to prevent dirt and other things from gathering around. One way to ensure the environment is clean is to have a cleaning schedule for your workplace and home. BYJU'S cleanliness is next to godliness essay teaches the little ones the importance of personal hygiene and keeping the surroundings clean.
It is essential to maintain a clean lifestyle and wash your hands often. It is easy to see how living in a filthy environment affects your health. Dust, bacteria, and other particulates in the air can lead to an increased risk of asthma, heart disease, and impaired quality of life. Help children understand how to stay hygienic; ask them to write an essay on cleanliness is next to godliness by referring to BYJU'S short essay on cleanliness is godliness.
Benefits of Cleanliness
An essay on cleanliness is next to godliness is an eye-opener for everyone and a reminder to maintain cleanliness. Cleanliness is a crucial factor in the health of you and your family members. Cleanliness helps protect our health and spirit and save Earth's environment. It also brings us closer to God because it allows us to worship God with our hearts and souls. If your home is too dirty, it can lead to illness, nose bleeds, eye infections, and respiratory problems. Be sure your home is always clean to avoid these things from happening.
Cleanliness is one of the many benefits of living in a clean home and healthy lifestyle. It has fewer problems and lasts longer. Keeping a clean house will make your family happier, healthier, and safer.
Moreover, cleanliness boosts our immune system, helps us sleep better, and makes us happier. There are many different ways to maintain a clean body, but some of the easiest ways are washing our hands frequently and showering before bed.
In addition, you can keep the little ones engaged in one of the best kids learning activities, let them write essays on cleanliness is next to godliness and help them improve their communication.
How to Stay Clean?
Cleanliness is next to godliness essay explain us the need and benefits of staying clean. Now, let us learn how to maintain basic hygiene by reading BYJU'S essay on cleanliness is next to godliness.
It is always important to stay clean. Keeping up with your hygiene will make you feel more confident and enhances your peace of mind. If you are interested in learning how to keep clean, here are some tips: Wash your face every morning and before bedtime. Brush your teeth regularly. Bathe every day. Floss regularly.
Moreover, dustbin hygiene is essential. They can be wiped out with a wet cloth, and then you should use a dry disposable cloth to wipe the edges. Then, when it is dry, you can put trash covering it. Finally, close the lid tightly every time you open it so that flies or any pests don't enter it.
Furthermore, keeping the toilet clean is one of the most important parts of cleanliness. To maintain a hygienic toilet, clean the outside and inside of your bathroom at least once every week. Clean out the tank after every flush, scrub with a toilet brush and use medically certified disinfectant liquids.
To conclude, providing kids with BYJU'S short essay on cleanliness is next to godliness is one of the best ways to help them understand the importance of personal hygiene. For more essays, stories, poems and other kid-friendly activities, visit BYJU'S website.
Frequently Asked Questions on Cleanliness is Next to Godliness Essay for Children
Why is personal hygiene important?
Personal hygiene is important because it helps prevent diseases and infections. If you don't maintain personal hygiene, it can lead to irritation and other health problems. You should also make sure that you wash your hands regularly to avoid developing diseases like colds, flu, and other infectious illnesses.
Why should kids read BYJU'S essay on cleanliness is next to godliness?
Kids must refer to BYJU'S essay on cleanliness is next to godliness because it explains the significance of keeping oneself clean and their surroundings hygienic.