Provided here are 10 lines on Discipline essay in English for kids and students. Discipline is one of the most important conducts of our lives. Just like ethics and morals, discipline makes humans different from other species. Discipline, by definition, is "the practice of training people to obey rules or a code of behaviour".
Discipline is a very important aspect of human life. It helps in setting and achieving goals. Disciplined people are more respected and looked up to. Indiscipline can create chaos and confusion in one's life.
Click on the link provided below to download this short essay on Discipline for kids in a printable PDF format. Once downloaded, this PDF can be referred to anytime and anywhere, even when you are not online.
Download "10 Lines on Discipline Essay for Kids and Students" PDF for Free
Self Discipline Essay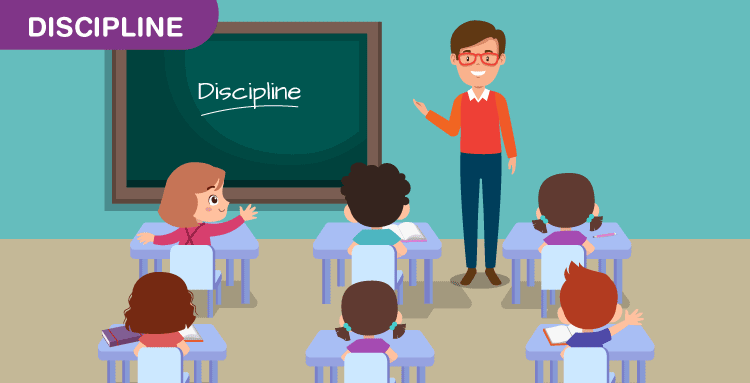 Discipline should be the fundamental way of one's life.

Discipline implies the practice of obeying rules. It builds self-confidence and self-control in people.

We are taught discipline at home, school and places of work.

From the way we dress to the way we arrange things on our shelf, from punctuality to a sense of moral behaviour, everything is linked to discipline.

In school, when we don't dress in proper uniform or when we reach school late, we get punished because such actions are against the practice of discipline.

We are also corrected when we do not stand in a straight line for the morning assembly or do not complete our homework on time.

Through proper training and corrections, schools teach us to be disciplined.

Discipline is kept in check not only among students, but also professionals, army men, sportspersons, etc.

Maintaining a life of discipline is tough but important. That is why it is taught to us right from our formative years.

Discipline helps us in leading a peaceful and organised life.
We hope that the above 10 lines on Discipline essay in English for kids would help your little one in drafting a nice and simple essay on this topic. You can check out more such amazing essays for kids on other topics that are frequently asked in the primary classes.
In the given article, we have also included points on a short essay on discipline in school and essay on discipline in student life. Kids can accordingly write these lines under both these headings. Discipline is considered to be one of the most important qualities in a student. That's why kids often are told to write an essay on discipline in English.
Essay writing develops sound creativity and imagination skills in students. It works on the overall development of one's linguistic skills. It builds better vocabulary and sentence formation skills. Essay on importance of discipline in student life focusses on why discipline is crucial in an individual's life. There is a high value of discipline in our lives. The most important thing that helps a person in chasing his/her goal is discipline.
The above-given child discipline essay in English is our attempt to offer a good example of writing a short essay on discipline. We have kept the language of the essay in such a way that kids find it easy to understand and replicate the essay.
We have a lot of such engaging and engrossing learning resources for your little ones – intriguing worksheets, brain-tickling general knowledge questions, interesting stories from very popular genres, poems for children, most accurate NCERT solutions, easy trivia questions on several subjects, etc. on our kids learning section. Explore this section and get a one-stop solution for all your needs to help your child excel as an individual.