Walking is an essential part of everyone's life. It helps us clear our minds, think about the day ahead and focus on anything and everything given before taking a step. When one is not feeling well or struggling with daily tasks, one can try to get up early in the morning and walk for at least 30 minutes.
The advice given in this essay on morning walk is intended for students who want to start or improve their routine. This exercise can help in overall fitness and should be done daily without fail.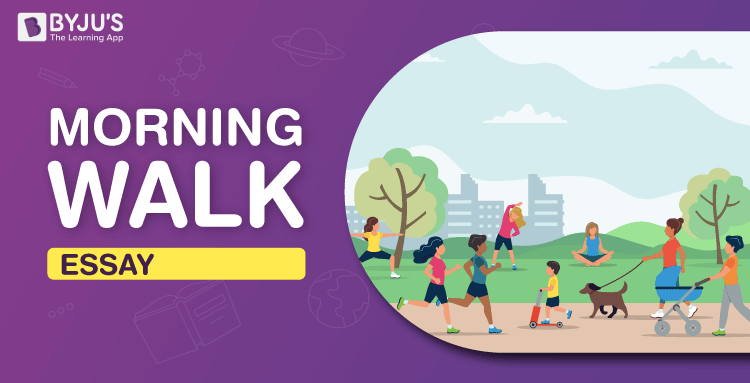 The morning walk is a practice that can help us in many ways. It helps bring our body and mind into balance, makes us feel healthy, and relieves stress. Walking for just five minutes before breakfast improves our mood, alertness, and concentration.
Walking is a form of physical activity that can help to improve mood and reduce stress levels. It has many benefits aside from the health-related effects. Morning walks also help with concentration, creativity, and mental focus.
Moreover, as an additional activity, you can ask the little ones to write an essay on morning walk, perusing BYJU'S essay on morning walk as a reference.
Importance of Morning Walk
It's not just a physical exercise that we should be doing in the morning; it's an emotional one too. Walking in the morning helps regulate our stress levels, which significantly impacts our mental health. This can also help us sleep better at night and be more alert during the day.
Going for a walk in the early hours of the day will help to gain more energy for the day because our body will have enough time to metabolise the food and extract the maximum amount of nutrients. We should also wake up every morning before 7 am to warm up our bodies before exercise.
A morning walk can improve mood and health by increasing circulation and providing physical and mental benefits. Walking for just 10 minutes a day can help improve our mood, reduce the chances of depression, and lower blood pressure. It also increases bone density, aids weight loss, promotes healthy ageing and helps to prevent certain diseases. This article gives you some tips on starting walking in the morning.
One of the most essential and everyday habits for good health is to get up early in the morning, take a walk, and exercise. This habit can help improve our mental health, physical health, sleep quality, weight loss and overall well-being. Morning walks have been shown to even improve memory function.
A morning walk can have many benefits for health. To conclude, people who get up early in the morning tend to conquer negative situations and can cope with life's daily challenges more efficiently.
Frequently Asked Questions
Q1
What are the benefits of a morning walk?
A morning walk can help you wake up early and start your day vigorously. It also keeps your body active and healthy. When you're walking, you will feel happy and energised.
Q2
Why should one go for a morning walk?
Staying active through walking has many benefits. It helps people feel more energised and boost moods. If one finds themselves bored or wanting to avoid spending time doing something else, a morning walk is the best option.