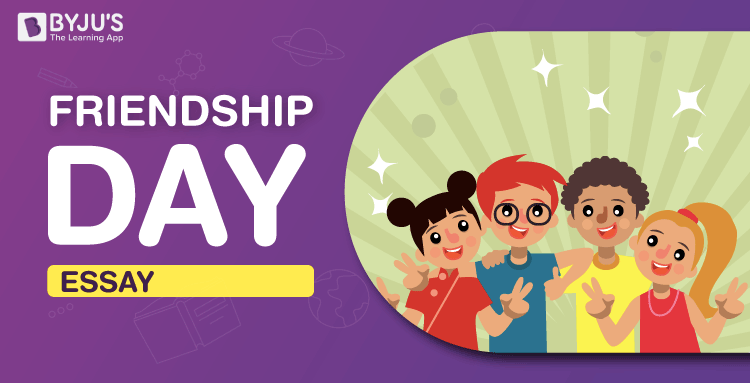 Friendship Day is celebrated on the first Sunday of August. It is important to tell someone we care about to appreciate their friendship. One can spend time with them by inviting them over for cake cutting or lunch or go to the park to spend the evening. BYJU'S Friendship Day essay is a helpful tool to teach kids the value of friendship.
Friendship Day essay teaches kids to value and appreciate friendship. It is not just a day filled with chocolates and presents; it is also a day to meet friends, share food, and help others.
The Friendship Day essay in English explains that it is a day where people get to show their love for friends and family. People can spend time with the important ones in their lives the way they want. There are many ways to celebrate this special occasion by making sure you have a fun-filled day with all of your closest friends and family.
Having a friend is a blessing. Friends make us feel accepted, understood, and loved. When we reach out to friends for help or advice, they are always willing to lend a hand. While friendship is sometimes fleeting and difficult to maintain, it is always worth the effort.
Importance of Friendship
Friendship Day is essential to show appreciation and love for our friends. We cannot always express it, so this day is a great way to show how much we cherish them. A short essay on Friendship Day helps us understand the significance of friendship and bonds.
Friendship is one of the essential things in life. It gives us support, builds trust, and teaches us valuable life lessons. Friendship can also be a vital source of motivation and inspiration for people who want to pursue their dreams as it pushes them to achieve success.
There are many reasons to have friends. One is that they are our support system. If we need someone to talk to, a friend will listen and help us understand what we are going through. They will be there for you and make sure that they will help in any way possible if you need assistance. But one of the significant benefits of having a friend is that it is fun. We get to spend time with people who care about us and make us feel good about ourselves. Friends from different phases of life can last for a lifetime.
Without friends, we would be lonely. Friendships are meaningful because they help us grow and learn in many different ways. Friendships also have a positive impact on our mental health and well-being. They help us feel more confident, better cope with stress and have more self-esteem. With so many benefits of friendship available, it is hard not to want them around.
Friendship is an integral part of building healthy relationships. They provide support and allow us to share what we feel. This is important in life because, as humans, we need to feel accepted and loved for who we are, no matter what. To conclude, friendships are a blessing, and we have explained the importance of friendship in BYJU'S short essay on Friendship Day. For more kids learning activities, such as questions, GK questions, stories etc., visit BYJU'S website.
Frequently Asked Questions
When is friendship day celebrated?
Friendship day is celebrated on the first Sunday of August.
What is the importance of friendship?
Friendship is important because it is a bond that can bring people together. It is essential because it can provide support and help in difficult times. Many people have friends they have known since childhood and have helped throughout their lives. Every person has different definitions of friendship, but everyone is likely to agree that it helps make life easier and happy.