Provided here for your reference is My Neighbour Essay for kids. Neighbours are the people who live near our house. They are the ones whom we interact with almost every day. Nothing is better than having a helpful neighbour. Here today, let's see how we can draft a simple essay on my neighbour.  
The essence of neighbours is understood in tough times. Given below are 10 lines on my neighbour essay that will aid students in understanding what points they can include while they draft an essay on the neighbour. You can also download this 'my neighbour paragraph' in a colourful PDF format for free through the link provided below.
My Neighbour Essay in English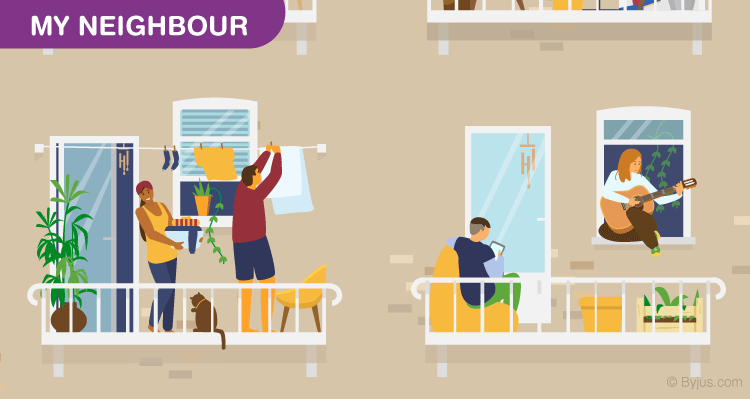 My neighbour's name is Preeti Garhewal. She is around 25 years old.
She stays with her mother in my neighbourhood. Her mother is a very generous lady.
I address her as 'didi' which means elder sister.
She is an extremely cheerful and polite person.

She gets me chocolates and gifts whenever she visits our home.
She takes very good care of her mother.
She accompanies her mother in evening walks and to the market.

I have always seen her smiling and energetic.
We invite each other on every occasion and celebrate festivals together.
We help each other in tough times and feel fortunate to have each other as neighbours.
The above essay on my neighbour has been drafted in a simple language and short lines so that kids find it easy to understand and replicate. Students of Class 1 to 3 will be able to frame my neighbour essay 10 lines in English taking into consideration the above points. They can also include other aspects and characteristics of their neighbours. This is a sample essay to give an idea to the kids on how they can write an impressive essay on neighbour in English in simple words.
After our family members, neighbours are the next set of people whom we can contact in times of emergency. Their homes are near to ours. So, they can help us in bad times at the earliest. Sometimes, people get such great neighbours that they become like a family. They share their good and bad days. They celebrate functions together. They rejoice in each other's successes and share sadness during failures.
Writing essays builds up a better linguistic understanding. It enhances students' imagination power and boosts their confidence. My Neighbour Essay is a common topic for essay in primary classes. We have several other interesting English essays that might interest you. Young minds can learn and practice essay writing on the most frequently asked topics.
You can check other fascinating learning resources such as worksheets, stories, essays, GK questions, poems, NCERT Solutions, easy trivia questions, etc. for your kids in our Kids Learning section.